Study abroad still fresh at 50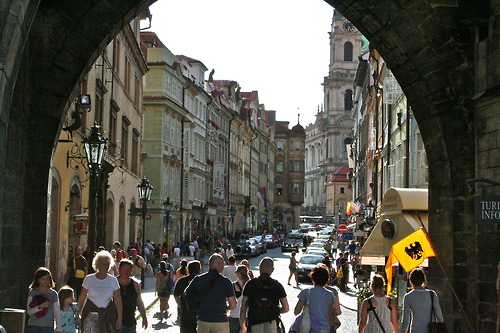 European Jewish history is not a subject that UC Berkeley junior Mikayla Lyles would normally go out of her way to study.
But over eight weeks this summer, the media studies major not only went out of her way, but across foreign cities and countries to immerse herself in the subject.
The trek through Germany, Austria and the Czech Republic was part of a program created to celebrate the 50th anniversary of the UC Education Abroad Program (UCEAP). Lyles and eight other students from across the UC system joined UC Irvine German professor Glenn Levine on the ultimate field trip, exploring medieval synagogues and ritual baths, touring old cemeteries, visiting Holocaust sites and hearing first-hand stories from local historians.
"It's been a long-term fantasy of mine to travel around and actually show people the things I'm talking about," said Levine, who has taught a large lecture course on European Jewish history for years.
The group enrolled in Levine's course this summer included students from five UC campuses, in majors ranging from psychology to mechanical engineering. Most, like Lyles, had never been abroad; none was a history or Jewish studies major.
Levine's course was one of three faculty-led tours offered this summer by UCEAP. They included a course by UC Irvine professor Isaac Scherson on 21st century technology and the digital divide, and a course on religion, secularism and civil society taught by UC Riverside professor Vivian-Lee Nyitray.
The programs take UC courses out of the lecture hall and into the world — and they represent what UCEAP directors say is a promising new model for study abroad.
Expanding options for international study
Faculty-led study-abroad programs on individual UC campuses have grown both in number and in popularity over the last several years. Rather than spend a semester or a year attending a foreign university, students in these shorter, intensive sessions travel in small groups with UC faculty and learn about their subjects directly in the countries and cultures they are studying.
Intensely immersive, but shorter in duration than the more traditional education abroad experience, these programs fill a need for students who might otherwise not have the time or resources to participate, said Emilia Doerr, UCEAP systemwide marketing and communications director.
UC mirrors the nationwide trend, with shorter summer programs the fastest-growing area of study abroad.
"Year-long immersion has been the bedrock of our program as it offers maximum benefit and value for study-abroad participants," Doerr said, "but we see more and more students that are interested in shorter-term programs, and we want to be able to meet the needs of these students as well."
To address these trends, UCEAP has been actively developing new summer programs. New opportunities for summer 2013 include a multi-city global business program in Shanghai and Hong Kong, and a Quinn School of Business internship at University College in Dublin.
A half century of foreign study
Launched in 1962, UC's Education Abroad Program has grown to become the largest undergraduate study abroad program in the country, having sent more than 81,500 students abroad and hosted almost 25,000 students from partner institutions in other countries.
Students are able to use financial aid to help cover the cost of studying abroad, putting the program in reach of many students who otherwise would be unable to participate. More than two-thirds of participants receive some sort of financial aid, and more than 40 percent are Pell Grant recipients, the federal aid program for low-income students.
Even so, with rising tuition costs, increased course loads and job pressure, many students are finding it hard to allocate a year or even a semester to study abroad.
Lyles is a case in point. Prior to the trip, she had never been out of the country. She yearned to travel, but her rigorous schedule as a guard on the Cal women's basketball team meant she couldn't leave for a full semester. And unlike students who take a summer to sling on a backpack and hit the road, she needed to earn course credit over the summer.
The course in European Jewish history let her do just that — earning course credit for travels that were funded in part through financial aid.
"It was a really intimate learning experience," she said. "There's a lot of stepping outside of your comfort zone, a lot of embracing of the uncomfortable. The thing that I will apply to every facet of my life is perspective. It takes a lot to witness the lives of others through their eyes instead of your own."
Learning from local experts and inconveniences
In addition to being more attainable for some students, the faculty-led programs give students an experience that can't be replicated in the classroom.
Students in Scherson's technology course, for example, met with French telecom experts to glean insight into the challenges of adapting wireless technologies to cities with centuries-old infrastructure. They toured museums full of early steam engines and Industrial Revolution-era gadgetry to see the roots of today's wireless world.
They also navigated a variety of challenges, from learning to adapt in new and unfamiliar environments to dealing with local inconveniences like cancelled trains.
All these experiences help develop cultural competency, said Nyitray. "These situations force them to think about how it would be different back home."
"You're not only the students' professor, but their guide, their practical and emotional support," said Scherson. "For students and faculty to work together in such close proximity is already an enriching experience. To do it in a foreign country where you also need to understand the language and culture is that much more so."
UCEAP was essential in providing the support infrastructure for faculty who were shepherding students from place to place. Support ranged from extensive pre-trip health and safety planning to assisting one student who lost his wallet and needed help cancelling credit cards and obtaining short-term cash.
For Lyles, the program didn't just whet her appetite for travel. It gave have her an educational experience she counts as among the most profound of her college career.
The history of Jews in Europe "is a very emotional history. It's a heart-wrenching history. In order to make sense of what happened, you have to be able to immerse yourself in it, to see it and feel the emotional connection with it," she said. "There is no way I could've grasped the entirety of this subject in a classroom."