September 11, 2014
Harry Mok
,
UC Newsroom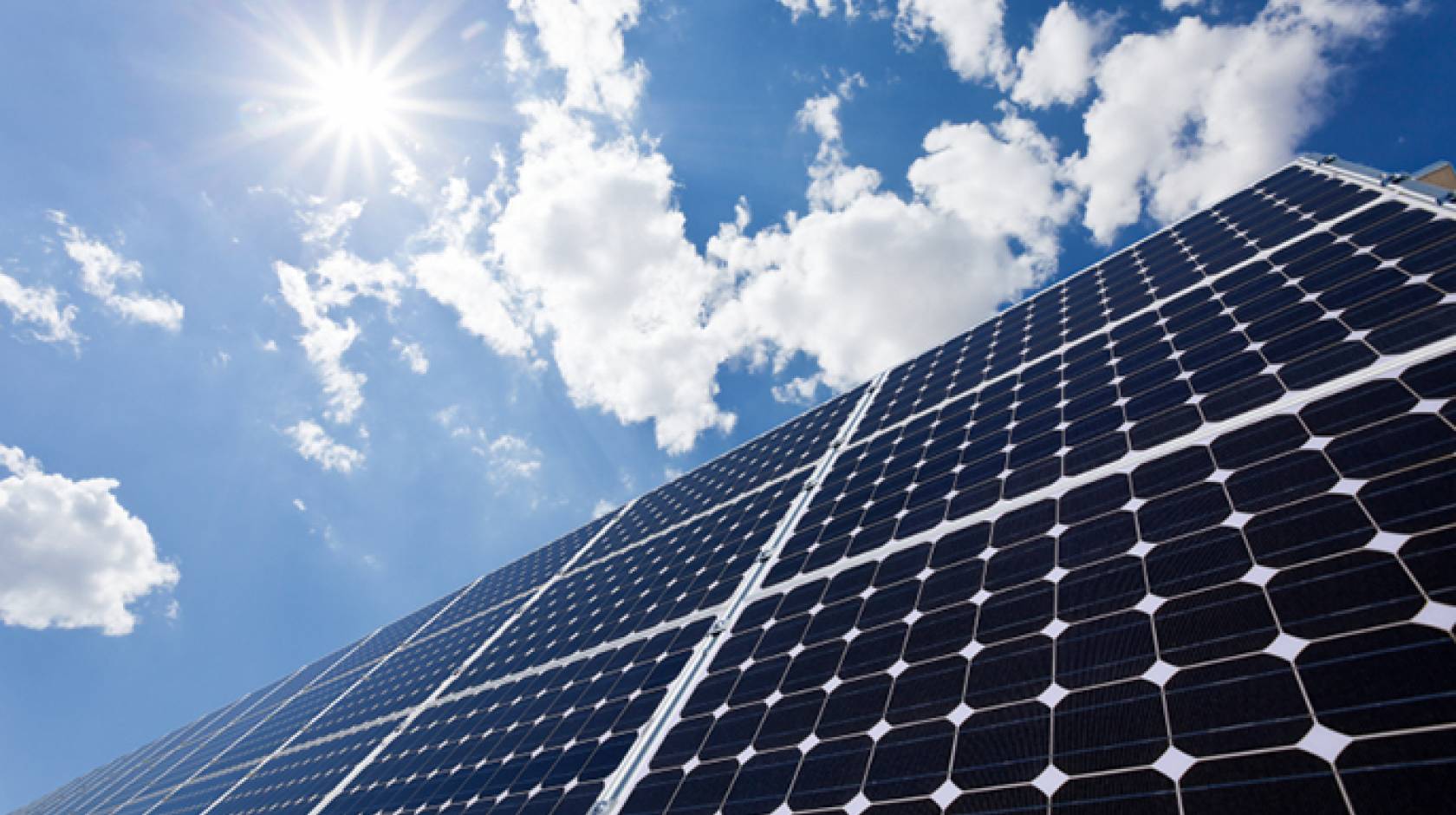 The University of California has a bright future that will be powered by the sun.
Through two new agreements, UC has committed to the largest purchase of solar power by any university in the country.
The deals with Frontier Renewables will supply UC with 80 megawatts of solar capacity — enough to power about 27,000 homes — that will keep an estimated 88,000 metric tons of carbon annually from being emitted into the atmosphere.
The groundbreaking solar purchase moves UC one step closer to achieving carbon neutrality by 2025, a goal for the university set by UC President Janet Napolitano.
UC Solar Capacity
CAMPUS
INSTALLED
EXISTING+PLANNED
BY 2017
Berkeley
80 kilowatts
1,330 kilowatts
Davis
760
17,060
Davis Med Center
145
145
Irvine
1,031
4,231
Los Angeles
39
177
Merced
1,000
2,000
Riverside
4,000
4,350
San Diego
3,175
3,175
San Francisco
250
1,000
Santa Barbara
650
650
Santa Cruz
250
250
Total
11,380
34,368
The deals are the first enacted by UC's new energy services unit, which was created earlier this year to explore procurement of large-scale renewable energy, said Wendell Brase, a vice chancellor at UC Irvine and co-chair of the President's Global Climate Leadership Council.
"We now have the business plan, the people and the organization in place to help propel us forward toward carbon neutrality," Brase said.
Frontier Renewables will supply UC's solar power from two large arrays it is constructing in rural Fresno County that are expected to come online at the end of 2016.
No other university or college system comes close to UC now in terms of its commitment to solar energy. American University, George Washington University and George Washington University Hospital agreed earlier this year to buy 52 megawatts, which until now had been the biggest solar purchase among higher education institutions.
"As a national leader in sustainability, the University of California is taking on bold, new goals and transforming our approach to procuring and using energy in more sustainable ways," Napolitano said in announcing the agreements. "Our partnership with Frontier Renewables will ensure that UC has a steady supply of cost-effective, climate-neutral electricity."
UC has long been a national leader in sustainable business practices. Napolitano, who took the helm at UC a year ago, has set the bar even higher.
At her first governing board meeting in November 2013, Napolitano pledged that UC would become carbon neutral by 2025, something no other university system has been able to achieve. In June, she formed the Global Climate Leadership Council to help UC achieve that ambitious goal.
It will require figuring out cost-effective ways to replace UC's dependence on fossil fuels — the leading source of carbon emissions — and power itself instead with wind, solar, biogas and other clean energy sources.
"The energy supply from the sun has a time horizon of billions of years," said Roland Winston, director of UC Solar, a multi-campus research unit that develops new solar technologies. "That makes it a natural place to look for alternative energy."
Building on existing solar power
UC's 80-megawatt purchase will augment the 11.4 megawatts of solar energy that its campuses and medical centers already produce through rooftop solar panels. Another 22.9 megawatts are planned or under construction. Combined, UC will generate or purchase enough solar energy by 2017 to power about 38,000 homes.
UC's leadership in all things green stems in part from its Sustainable Practices Policy. Enacted in 2004, it has been steadily advancing the university's standing as a national leader in environmentally sound operations.
The policy covers nine areas — green building, clean energy, sustainable transportation, climate protection, sustainable operations, waste reduction and recycling, environmentally preferable purchasing, sustainable foodservice and sustainable water systems.
In each of those areas, UC's public service mission, curriculum and research align with operational efforts that put a premium on being good stewards of natural resources.
Solar energy is no exception. UC researchers have long been at the forefront of developing technologies to make harnessing the sun's energy more efficient and cost effective.
UC Solar, for example, brings together scientists and engineers from UC Berkeley, UC Davis, UC Irvine, UCLA, UC Merced, UC Riverside, UC San Diego, UC Santa Barbara and UC Santa Cruz in the quest to make solar the nation's cheapest, cleanest energy option.
Through UC Solar, UC has developed a number of promising technologies. Winston himself developed the External Compound Parabolic Concentrators, or XCPCs, which generate thermal energy by gathering and concentrating sunlight onto specially made collector tubes.
XCPCs offer a big cost advantage over solar collectors that require tracking mechanisms to follow the sun and they can also capture thermal energy on hazy or foggy days.
Mongolia National University is testing XCPC technology for heating buildings, and the system is being used at the world's largest sugar refinery in Dubai, Winston said.
Other projects in the works
Across UC, researchers are laying the foundation for the next generation of solar power technology. Here is a sampling of some of the research projects:
UC Berkeley is a lead partner in the Bay Area Photovoltaic Consortium, which was awarded a $25 million Department of Energy grant to fund research into improving the performance of solar cell technology and making it more cost effective. The consortium is supporting more than 30 projects and scientists from more than 20 universities and research centers.
The Joint Center for Artificial Photosynthesis is the nation's largest research program dedicated to the development of artificial solar-fuel generation technology. The DOE-supported project funds more than 160 researchers from partner institutions that include Berkeley National Laboratory, UC Berkeley, UC Irvine and UC San Diego.
UC Davis and UC Santa Cruz are partnering with universities in Denmark on a $4.5 million National Science Foundation-funded project to address the technical, social and economic hurdles to implementing community-scale microgrids powered by solar and other sources of renewable energy.
At UCLA, a research team led by professor Yang Yang is developing two-layer, see-through solar film that could be placed on windows, sunroofs, smartphone displays and other surfaces to harvest energy from the sun.
UC Riverside researchers have launched the Sustainable Integrated Grid Initiative. The goal is to study the best way to build a next-generation energy grid that combines solar panels, high capacity battery storage and a system of electric and hybrid electric vehicles.