Sustainability savings add up: $91M and counting
The University of California has saved $91 million in energy costs since 2004, and it expects even greater dividends ahead as it ramps up its sustainability practices. UC anticipates saving $37 million more this year from its energy efficiency investments, including $5 million from projects that came on line last year.
Nathan Brostrom, UC's executive vice president for business operations, will report those energy savings and other achievements Wednesday (Jan. 16) at a meeting of UC's Board of Regents when he presents the 2012 Annual Report on Sustainability Practices.
Campuses are serving as living laboratories for innovative technologies that are contributing to energy savings and reductions in greenhouse gas emissions. For example, UC Davis is installing efficient lighting systems designed by its California Lighting Technology Center that will help cut electricity use from lighting by 60 percent by 2020.
Other key successes in 2012 for UC include:
Reaching a goal to generate 10 megawatts of power from renewable sources — enough to power about 3,500 homes — two years ahead of schedule.
Receiving its 100th LEED certification for green building, making UC the first university to hit that milestone. It earned 32 certifications in 2012, now totalling 119.
"This annual report demonstrates the breadth and depth of UC's sustainability commitment and accomplishments," Brostrom said. "I am very proud of what we've achieved by reaching a milestone 100 LEED certifications and meeting our onsite renewable-energy generation goal two years early. The cost avoidance we've achieved on energy use shows that sustainability and administrative efficiency go hand in hand."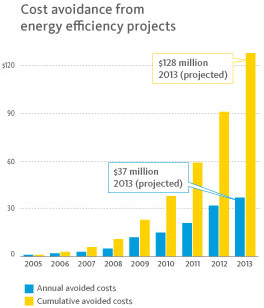 UC's Policy on Sustainable Practices guides campuses in nine areas: green building, clean energy, sustainable transportation, climate protection, sustainable operations, waste reduction and recycling, environmentally preferable purchasing, sustainable foodservice and sustainable water systems.
UC maintained its leadership in green building by adding 32 new LEED certifications during 2012 and now has 119, the most for any university. LEED, or Leadership in Energy and Environmental Design, is the industry standard third-party certification program created by the U.S. Green Building Council that rates environmental impact and performance in such areas as location and planning, sustainable site development, water savings, energy efficiency, materials selection and indoor environmental quality.
UC's power bill goes up each year due to growth and rising energy costs. But it is working to find ways to reduce and avoid costs as much as possible, a goal that aligns with sustainability efforts. By its own estimates, the energy efficiency projects that have been enacted since 2004 have helped UC avoid $91 million in costs.
Much of those savings comes from participation in an Energy Efficiency Partnership with the California State University and the state's investor-owned utility companies. UC has received more than $66 million in incentives to fund energy efficiency initiatives since 2004 through the utility partnership.
UC has set ambitious goals for further reductions in energy use and greenhouse gas emissions. Under its sustainability policy, UC by 2014 will cut its greenhouse gas emissions to 2000 levels, and reduce its growth-adjusted energy use to 10 percent below 2000 levels.
And by 2020, UC has committed to further reduce greenhouse gas emissions to 1990 levels; to achieve zero waste sent to landfills; have 20 percent of the food served on campuses come from sustainable sources; and to reduce potable water use by 20 percent.
After meeting its 2020 goals, UC plans to achieve a net-zero carbon footprint as soon as possible. Using power from renewable energy sources is a key way to cut carbon emissions.
UC San Diego stands out for its efforts, which generate 5.8 megawatts of renewable-sourced energy, enough to power about 2,000 homes. A fuel cell that converts methane gas from the city's wastewater treatment plant into electricity generates another 2.8 megawatts. It expects to generate another 3 megawatts from solar energy later this year. Along with a co-generation plant that burns natural gas, UC San Diego generates about 90 percent of its electricity needs on campus.
To develop its renewable energy projects, UC San Diego received incentives from the California Solar Initiative and low-interest federal Clean Renewable Energy Bonds, and also partnered with local energy companies and San Diego Gas & Electric.
"We wanted to do the right thing, and the UC mandate gave us the extra incentive," said Dave Weil, director of building commissioning and sustainability at UC San Diego. "We started by developing a strategic energy plan for installing renewable energy and then once things starting moving it just all came together."
At UC San Diego, a campuswide electric microgrid offers scientists a chance to test new technologies in real-world conditions. The work is just one example of how researchers across UC are finding new ways to conserve energy, make solar power more viable and create alternative fuel sources.
But energy efficiency alone may not be enough to achieve greenhouse gas emission goals, and UC is exploring other renewable energy sources, such as biogas, that hold great promise.
Long-term, the university is considering whether it could meet its carbon emission goals through the large-scale procurement of renewable energy that could be used systemwide.
UC's new policy for sustainable water systems calls for reducing per capita potable water use by 20 percent from a three-year average baseline set by each campus and medical center. The policy goal calls for the 20 percent reduction goal to be met by 2020, but eight of 15 UC locations achieved the reduction by the end of the last fiscal year.