July 7, 2015
Brad Hooker
,
UC Davis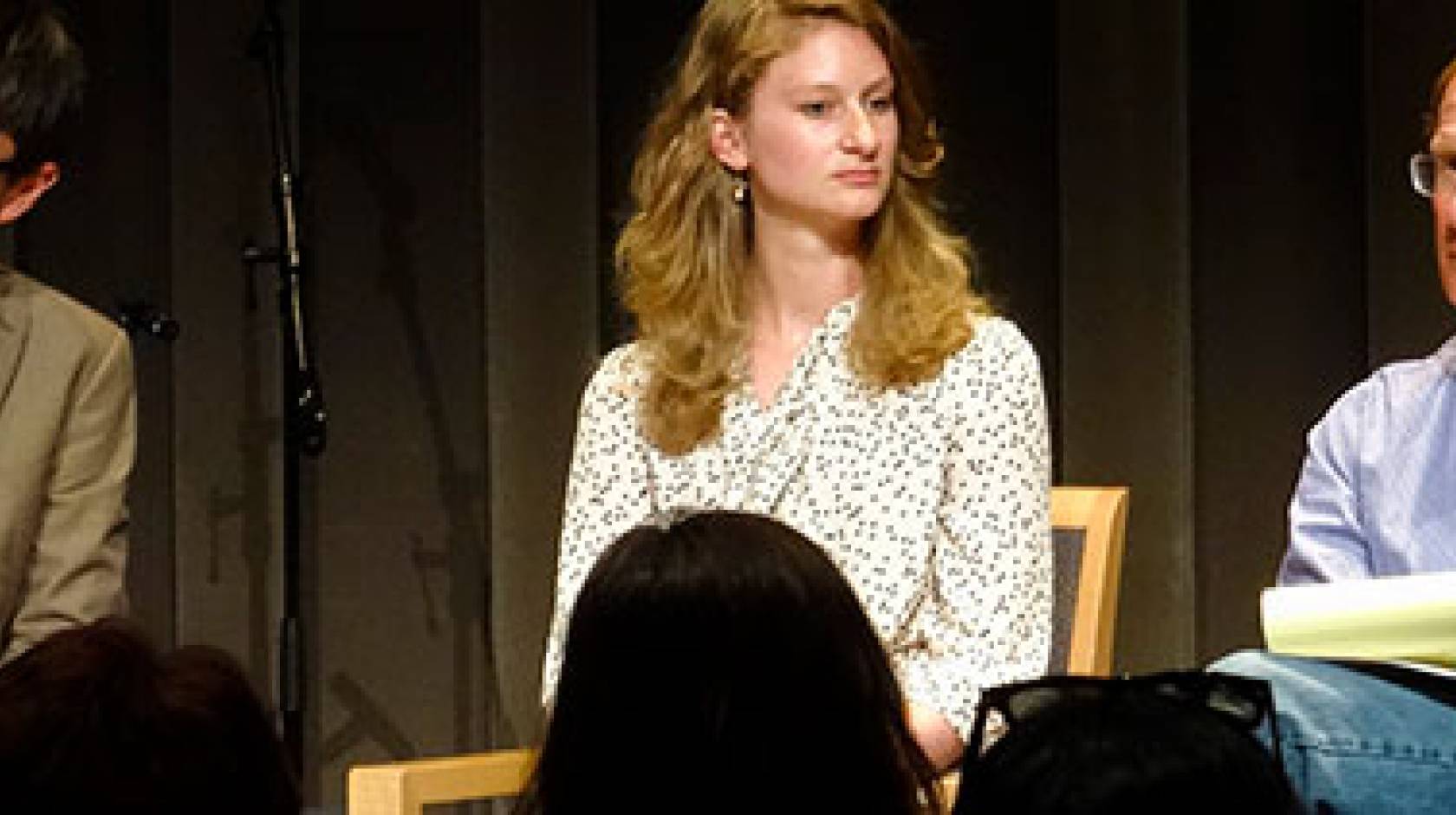 Credit: Shannon Albers/UC Davis
Like many regions of the world, California is facing a barrage of environmental challenges. One that often bewilders scientists is a deep skepticism growing among consumers who are taking a more critical look at the food they eat — as in where it comes from, what it's made of and how it's made.
This while researchers are looking to the same processes and technologies as one hope for sustainably and nutritiously feeding a rapidly growing global population under the threat of climate change. Both sides met recently at UC Davis to establish a middle ground.
"I won't be here in 2050, but we have a deep responsibility to leave our children with a world that is as nice as ours was," said Bruce Chassy, a professor emeritus in food and nutrition at the University of Illinois at Urbana-Champaign and a moderator at Food for Thought: Communicating Agricultural Science.
Held on June 3, the first symposium by the Institute for Food and Agricultural Literacy (IFAL), a unit initiated by the UC Davis World Food Center and a partner in the UC Global Food Initiative, convened journalists, scientists and foodies to discuss the controversies surrounding genetic engineering technologies.
Much of the audience — students, faculty, researchers or family from the UC Davis community — wanted to know how to better explain their complex genetic research to the public, to the media and to skeptics.
Genetic engineering = sustainability
"It's important not to confuse a privilege with virtue," said Ted Nordhaus, chairman of the Breakthrough Institute, in his talk at the IFAL symposium. "Nor should we think an individual food system can feed the planet."
More food must be grown on less land to preserve our natural areas, he explained, adding that raising solely grass-fed cattle — as some celebrity authors have encouraged — is a western luxury that would be impossible for feeding the entire world.
Similarly, Marian Swain, a conservation analyst also at the institute, spoke on how Indonesian farmers applying slash and burn agriculture are trading primary forests for palm trees. This trend can be flipped, she said, with genetically engineered palm trees. The new varieties can produce more oil, are more disease-resistant and encourage farmers to be more productive on the land they have.
From the local farming community, Tom Muller, a Central Valley alfalfa grower, charmed the audience with his stilting personal stories and honest humor. He told of his struggle to kill weeds in his non-GMO crops and of trying to maintain his business during a devastating drought.
"I lost two wells yesterday. They sucked in gravel," he said. "It's just a big game right now."
The cost of innovation
"I've shaken hands with people who have tiny skeletal hands from having no food," said Kevin Folta, who was visibly shaken when recalling his experience.
Folta, a horticulture professor at the University of Florida, spoke on how engineered foods can help undernourishment abroad as well as with drought resistance at home. This opened the conversation to the heavy scrutiny U.S. regulatory agencies have had with genetically engineered products.
Kent Bradford, a UC Davis plant science professor, adviser to the World Food Center and audience member at the symposium, brought up the case of the destructive bacterial leaf spot disease in peppers and tomatoes.
"It's a very minimal thing," he said of developing a genetically resistant crop. "But the path they map out for regulatory is still half a million dollars. A whole new variety may make only a quarter of a million in its lifetime."
This is why these technologies often fall to the large multinational corporations that can afford the regulatory costs, said Pamela Ronald, a UC Davis professor, IFAL faculty director and co-organizer of the symposium.
Gateway to the public
Concerned about the health impacts of a GMO corn crop, the U.S. Centers for Disease Control and Prevention and the Food and Drug Administration monitored the plant for seven years, said one audience member, citing a news report she had read.
Ronald explained the science behind this story: how the corn was made as animal feed but was found in tortillas and how the agencies meticulously investigated the crop but found no evidence for the alleged causes for sickness.
"How do you deal with the emotional barrier?" asked another attendee.
"I really don't like the term GMO because it means something different to everyone," responded Ronald. "The only way to have a valuable discussion is to break it down to why farmers are using it and that each crop is different."
Another audience member said that transparency is key and offered her experience working for Calgene with the famous Flavr Savr tomato that was genetically altered by the company in the 1990s.
"We labeled it, talked to the public and the tomatoes flew off the shelves in Davis," she said.
Common ground in science communication
"When talking to me, I need you to speak in specific clear sentences," said Russ Parsons, a food editor and columnist at the Los Angeles Times in his talk on how scientists can better explain their work to journalists.
Nathanael Johnson, a reporter for Grist, said to meet him as a fellow critic.
"The way to be a journalist is to be a skeptic and I'm looking for skeptics when I'm talking to scientists because that's the way to be a scientist," he said.
The Science Babe blogger, Yvette d'Entremont, who was once a skeptic herself before confronting the controversial blogger Food Babe on her anti-GMO advice, has found that more than anything those who are devoutly against the science of genetic engineering have simply received bad information and shouldn't be blamed for that.
"The people who try out the Food Babe's advice are not unintelligent. They are desperate," she told the audience. "You don't want to lose people who could be your best allies."