The tech declared 'coolest' at SXSW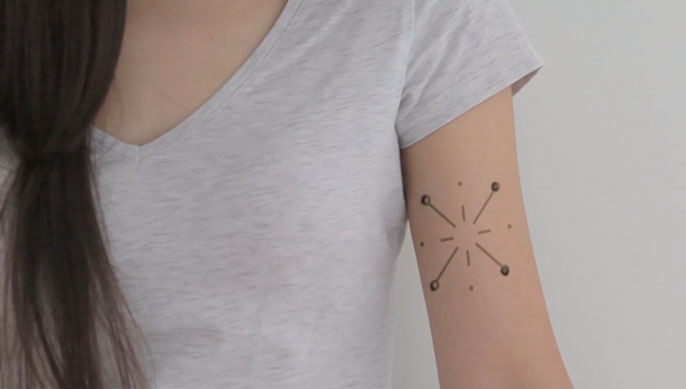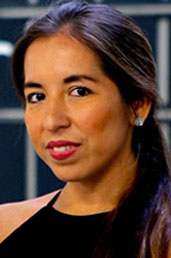 Katia Vega, an associate professor of design, has taken her "beauty technology" a step farther to create biomedical tattoos — a project for which she and her colleagues earned an Interactive Innovation Award at the South by Southwest (SXSW) Conference earlier this month.
The tattoos, in which biosensors substitute for ink, turns your skin into an display that changes colors to indicate what's going on in your body, say, your glucose level.
The SXSW Conference, exploring "what's next in the worlds of film, culture, music and technology," declared the tattoos "the coolest scientific achievement or discovery that before 2017 was only possible in science fiction." In winning the "Sci-fi No Longer" award. Vega and team beat out four other projects, including two from Google.
"One of the defining features of science fiction is that it empowers you to imagine the world differently," said Dean Elizabeth Spiller, describing Vega as "an example of how our faculty across the College of Letters and Science pursue innovations that allow us not just to imagine, but to live the world differently."
Vega collaborated on the project, The Dermal Abyss: When Tattoos Meet Biotechnology, with Nick Barry, Viirj Kan and Xin Liu, MIT researchers during development; and Nan Jiang and Ali Yetisen, Harvard Medical School researchers.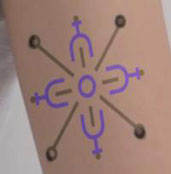 The SXSW award, Vega said, will hopefully encourage biotechnologists "to improve biosensor compatibility with tattoos and embrace the idea of human device symbiosis."
Vega, who joined UC Davis this academic year, previously turned such beauty products as artificial fingernails and eyelashes into technological devices. "You can play a virtual piano by just moving your fingers with false nails, change television channels by simply blinking the eyes adorned with artificial eyelashes or control your phone by just touching your hair," CNET en Español wrote last October in naming Vega one of the "Top 20 Most Influential Latinos in Technology."