As the world continues to confront the global pandemic, the University of California community has stepped up like never before, drawing on the spirit of ingenuity and service that defines us.
From hospitals and labs to neighborhoods across California, UC staff, faculty, alumni and students are putting their creativity and compassion to work to help their neighbors and save lives. Here are a few of their inspiring stories: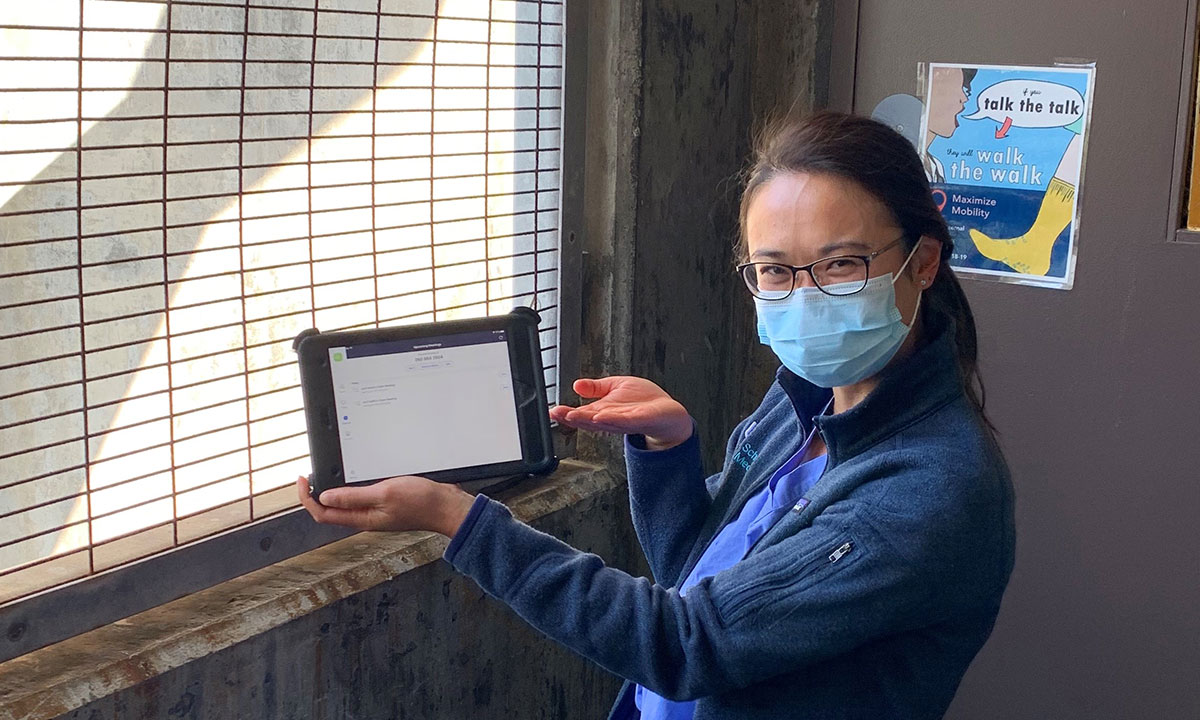 A group of first-year residents at UCSF launched an effort to let critically ill patients stay connected to their loved ones, despite COVID-19 safety protocols that prohibit family from being by patients' bedsides.
Through a program called Connecting During COVID they bring digital tablets to patients at three San Francisco hospitals and help set up video calls with friends and family. Dozens of medical school students have pitched in to help with logistics and scheduling.
"I was feeling very burnt out by seeing people struggle alone. This felt like a way to help," said Smitha Ganeshan, a resident in internal medicine at the UCSF Parnassus campus. "There's so much joy for patients in seeing the face of a grandchild or hearing a familiar voice."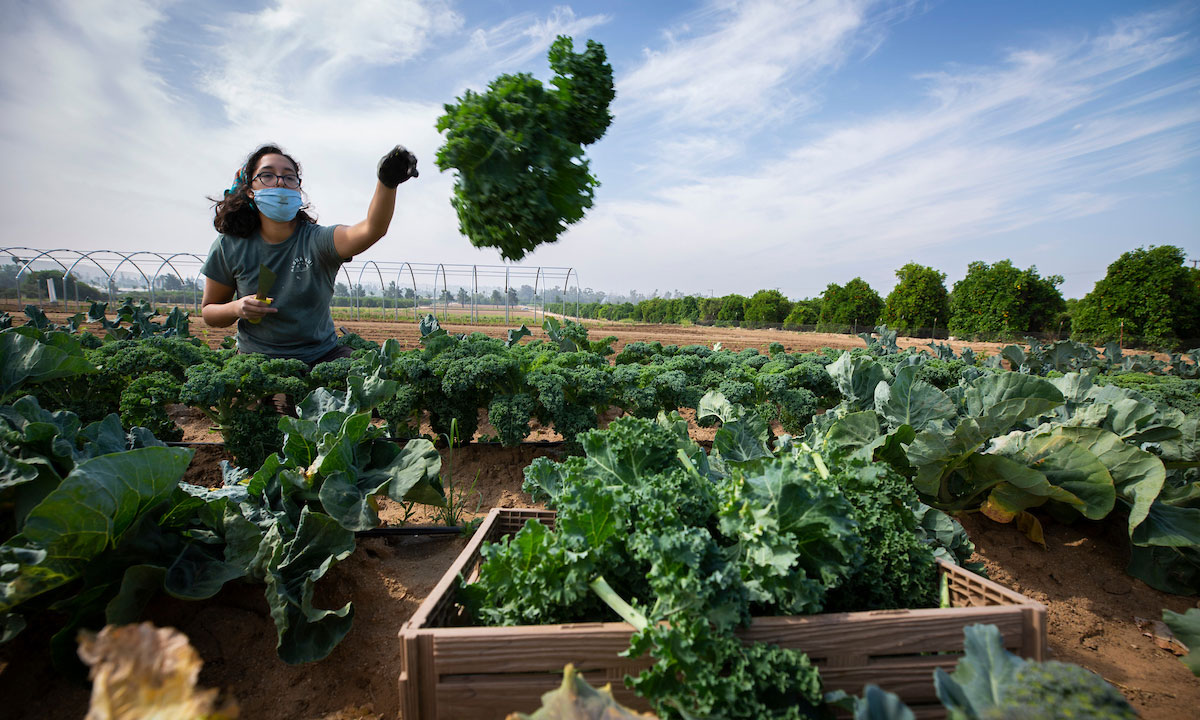 UC Riverside student Julia Perez, who interns at R'Garden, the campus organic garden, shows up as early as 7 a.m. to harvest produce and distribute it to the students who have remained on campus during the pandemic.
Perez, along with two staff members and another student intern, has not only kept the garden going, but is helping to feed a community of roughly 1,200 students, including those who live full-time in campus housing or who have been unable to return home.
"It's good work," says Perez, a fourth-year student majoring in entomology. "People need to eat and we have food."
The team just harvested cauliflower, kale and the first crop of strawberries. Soon it'll be zucchini, tomatoes, squash, bell peppers and watermelon.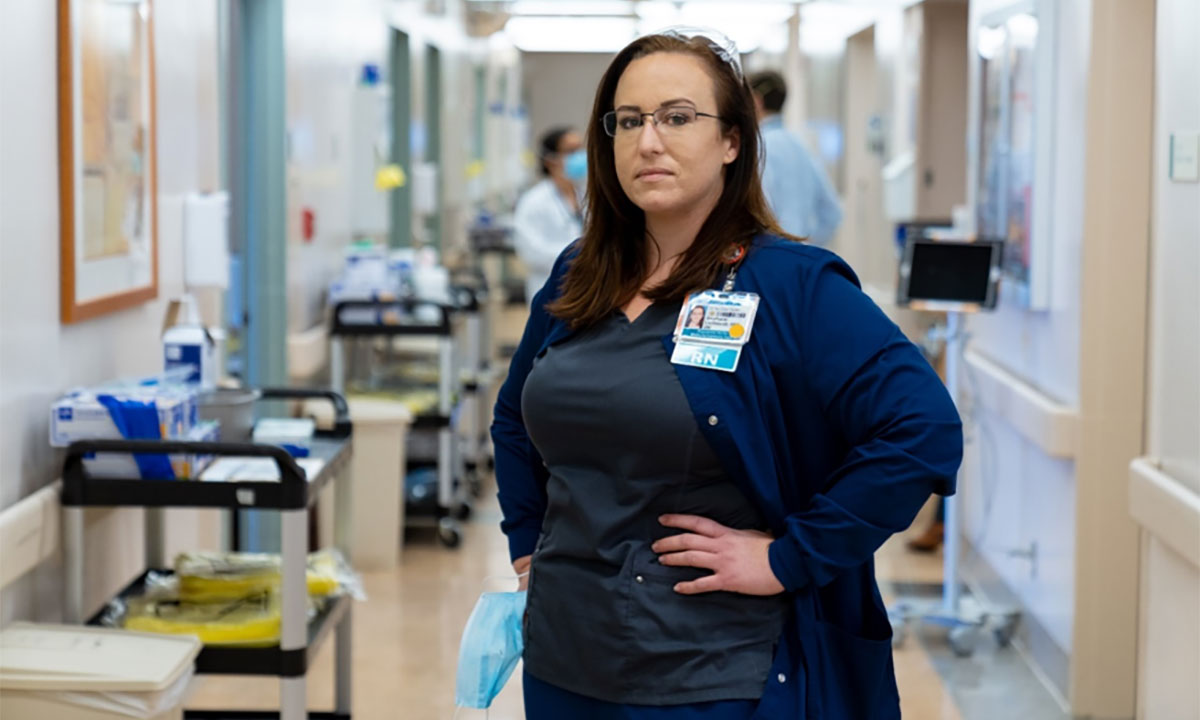 12-hour shifts. Weeks without seeing her young son while she cares for COVID-19 patients. That's the current reality for Stephanie Lichtwardt, a nurse in the intensive monitoring unit at UC San Diego Medical Center.
Bringing not just her medical expertise but also food, warmth and companionship, Lichtwardt has become like a second family to many of her patients, some of whom spend weeks isolated from family and friends while hospitalized. It's a tough job, she says. But it's worth it to help those who are suffering — and to do all she can to help them get better.
"I want to see my patients return home. That's why I became a nurse."
Concerned with growing hunger in the community, Erin Meyer, a staff member in UC Merced's sustainable food program, created the weekly Pop-up People's Pantry at a local commuity garden.
The program collects produce from neighbors with backyard fruit trees and gardens to give to those who are food-insecure. Residents come by Saturday afternoon to load up on free strawberries, grapefruit, kale, chard — even eggs from the backyard chickens.
"It's all nutritious, fresh and local — and it costs almost nothing to run," Meyer said. "It's such a beautiful, sustainable model. I hope it continues long after the pandemic."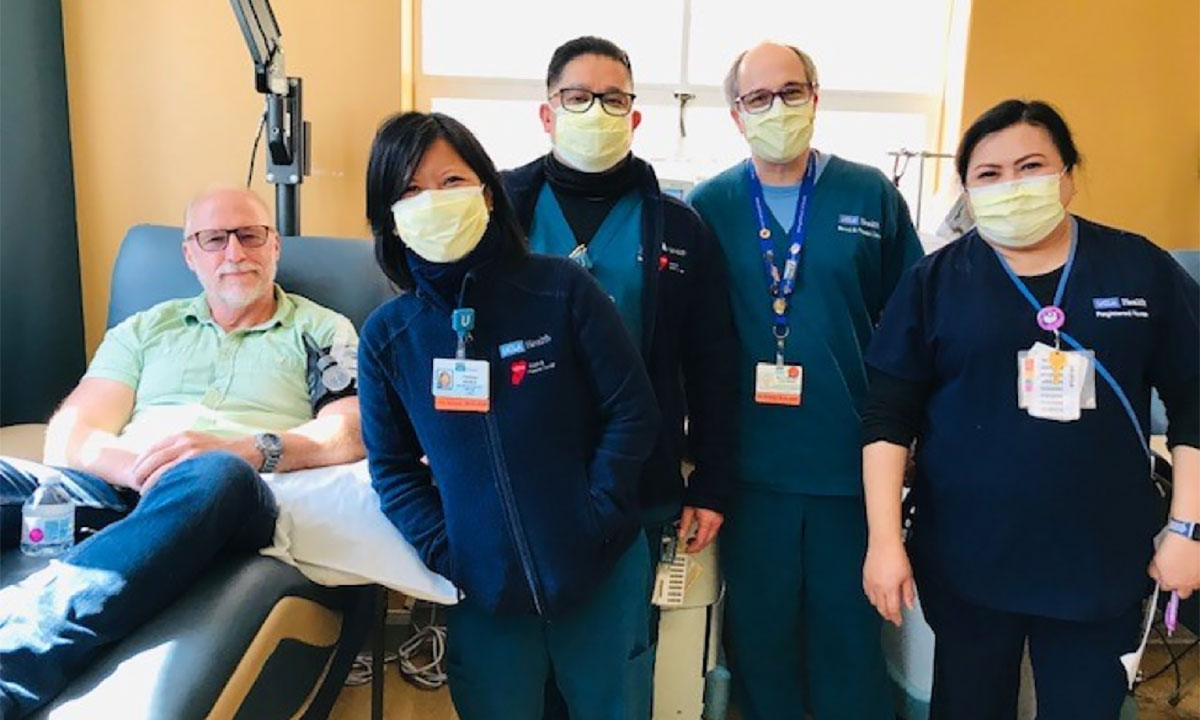 Could the blood of people who have recovered from COVID-19 yield a treatment for the deadly virus? UCLA is leading a clinical trial as part of a nationwide effort to test that theory.
Led by Dr. Alyssa Ziman, medical director of transfusion medicine, the trial administers plasma from recovered patients to those who are critically ill. Some patients have been taken off ventilators and even returned home after receiving the serum, according to Ziman.
Some 800 people who tested positive for the coronavirus have contributed their plasma for this and other UCLA research efforts — including an A-list donation from actors Tom Hanks and Rita Wilson.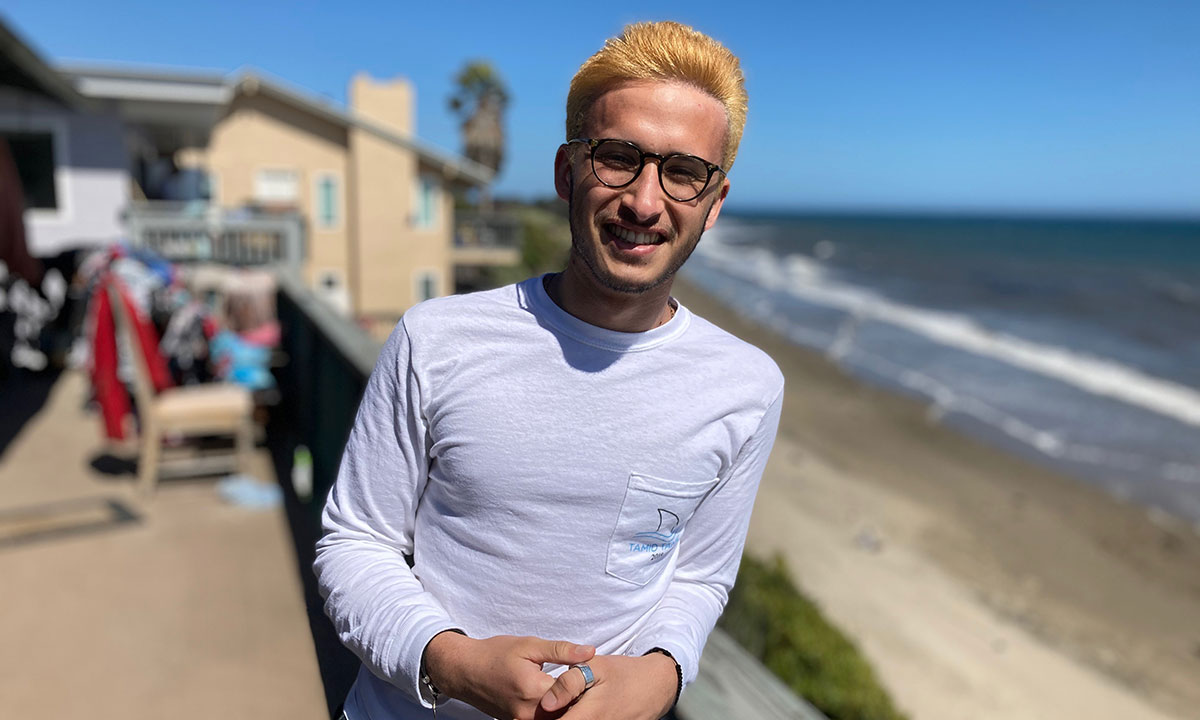 Computer science major Eran Naveh had been devouring news of the pandemic, but he noticed there wasn't an easy way to compare COVID-19 trend lines from different places. So he decided to make one.
The UC Santa Barbara sophomore built a COVID-19 tracking program while sheltering in place at home. The U.S. Covid-19 tracker uses publically available data from The New York Times and the U.S. Census Bureau to let people compare the rates of infections, hospitalizations and deaths for every state and county in the U.S.
It's now being used by local officials and UC Santa Barbara researchers in their quest to fight the virus. "I'm just happy I've created something people can use and I can continue to improve," he said.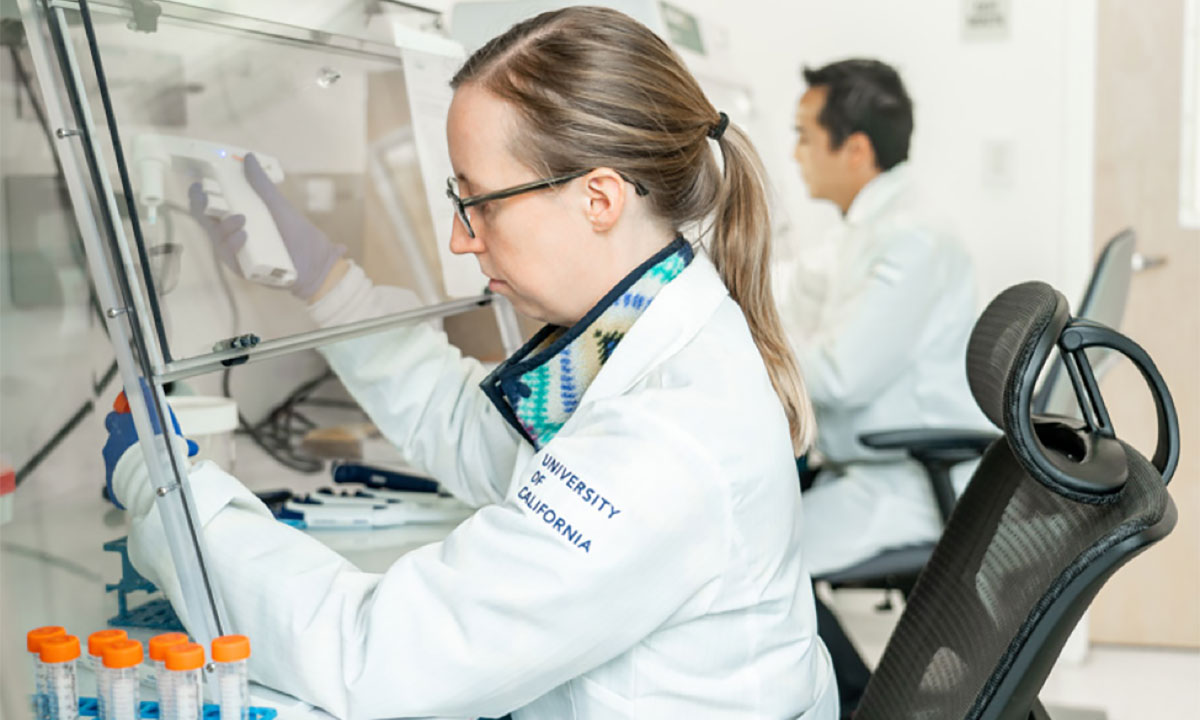 Faced with the urgent need for widespread COVID-19 testing, CRISPR inventor Jennifer Doudna and the Innovative Genomics Institute at UC Berkeley shelved their regular research to create a pop-up diagnostic facility almost overnight.
With the help of robots to analyze patient swabs, and dozens of volunteers and researchers, the lab is processing 1,000 to 3,000 tests daily — an effort that is critical to reopening the state and bringing people back to campus. The lab is already at work testing first responders, utility workers, nursing home residents and others at increased risk of exposure.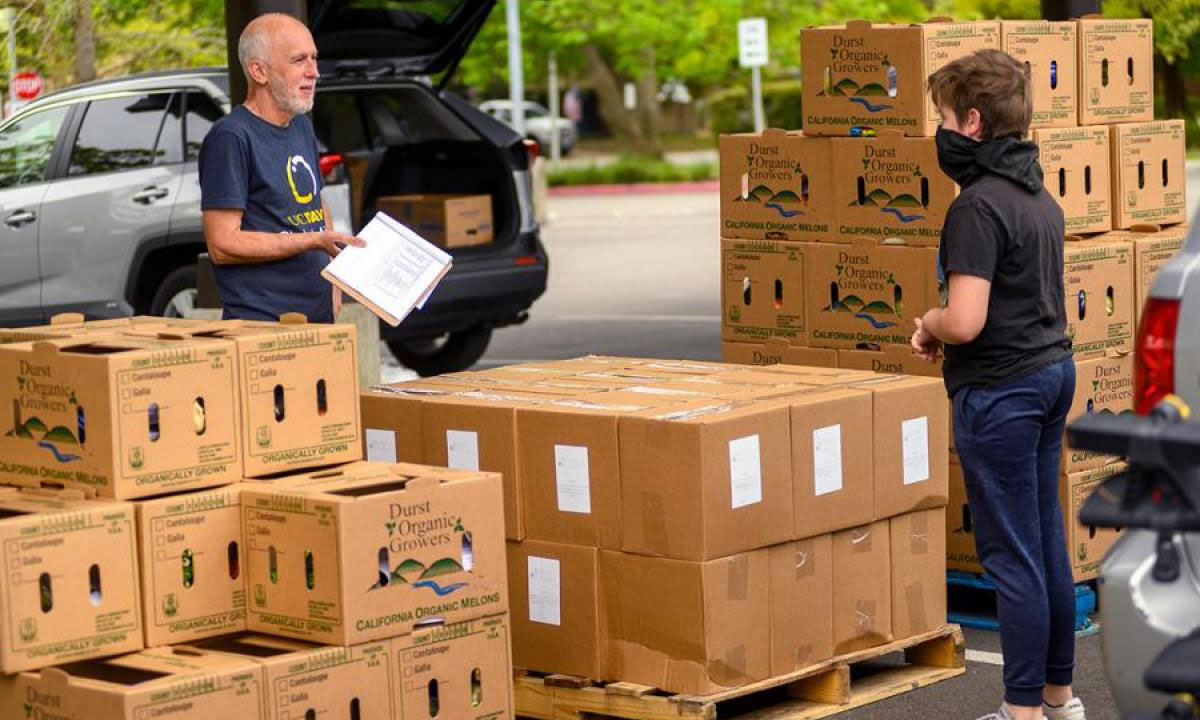 Seniors and residents with medical conditions who rely on the Yolo County food bank now have a way to get their food safely, courtesy of a special delivery service developed by UC Davis volunteers.
The program was started by UC Davis staff member Robb Davis, who has taken a leave from his post as Global Affairs intercultural programs director to coordinate the food bank's coronavirus response.
He's enlisted a team of volunteers including many UC Davis students, who are serving nearly 2,000 households by bringing food and and other essential supplies straight to their door. The Global Affairs students even set up a program to coordinate delivery routes and drivers based on GIS training they received on a recent study abroad program in Bhutan.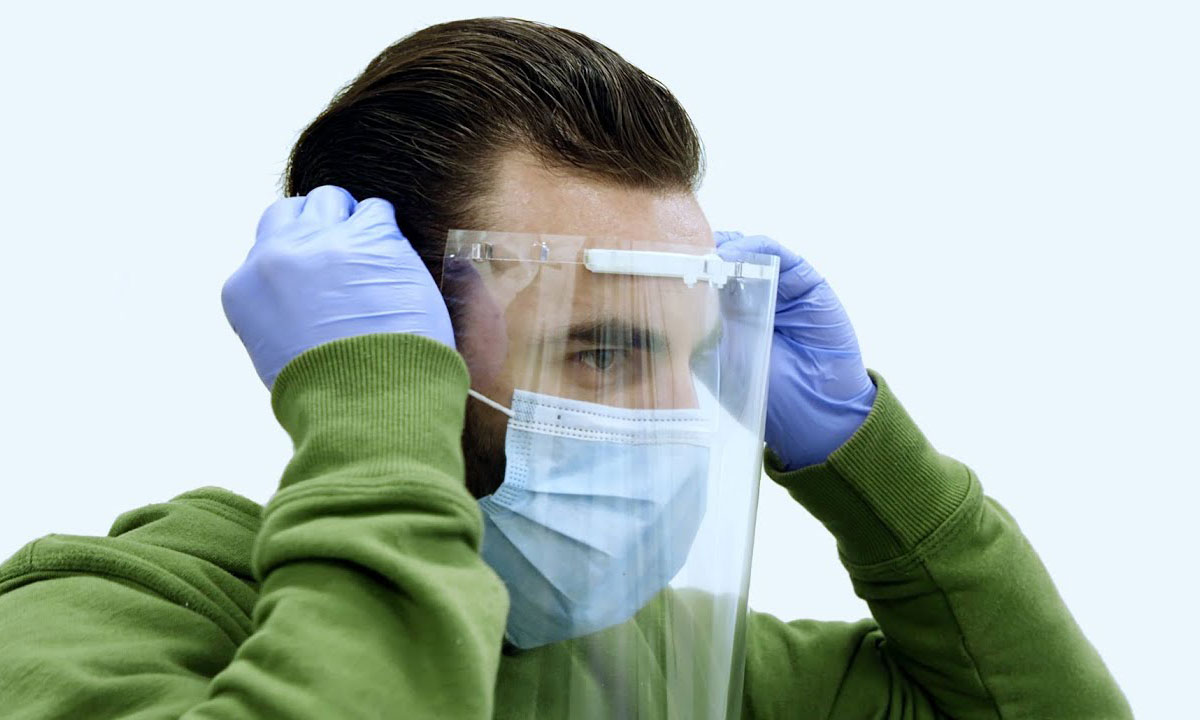 With their colleagues at UC Irvine Health risking their own safety to care for those with the virus, UC Irvine students and faculty in engineering, arts, medicine and nursing came together to draw on their ingenuity and produce vital protective gear.
Over six short days, the team designed and tested effective, disposable face shields. A team of volunteers at UC Irvine Beall Applied Innovation then produced and assembled the equipment, using 3-D printers and laster cutters to manufacture 5,000 shields in 11 days.
The shields were delivered to UC Irvine Medical Center and are now being used by providers on the front lines.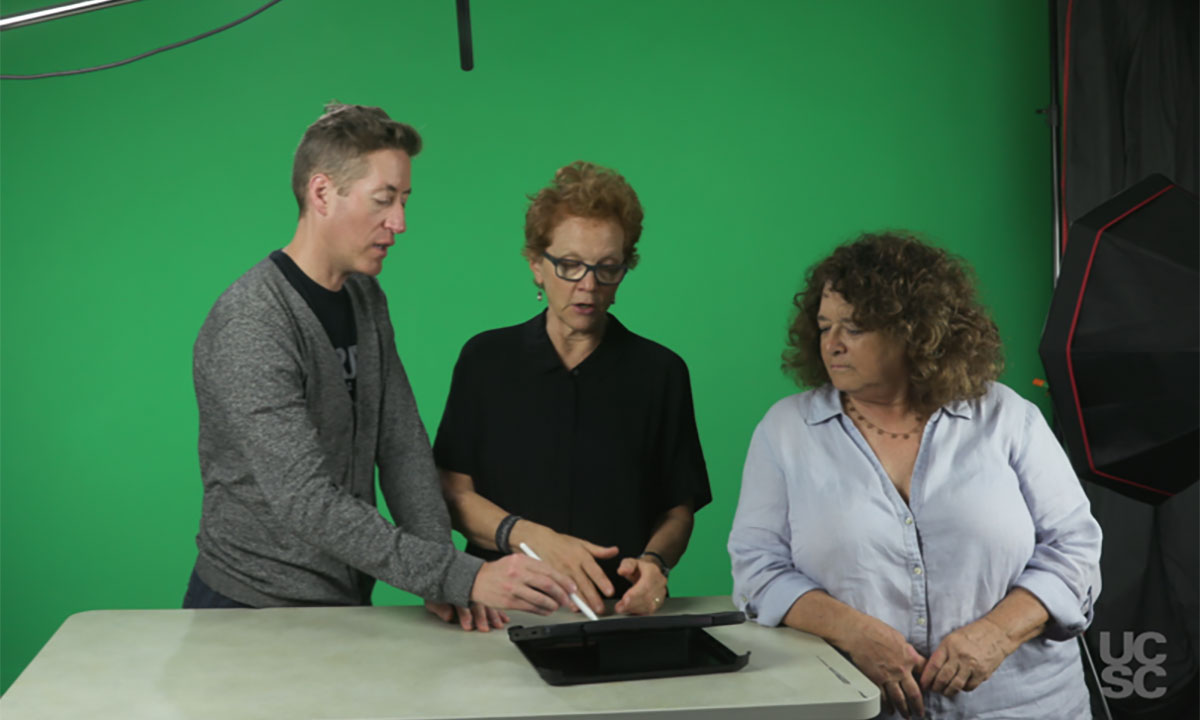 When the pandemic hit, instructional designer Aaron Zachmeier and his colleagues in the online education unit at UC Santa Cruz faced an enormous task: help hundreds of faculty members make a warp speed shift to online instruction.
The team worked around the clock to train instructors in tools like Zoom and Canvas, iron out technical hitches and help faculty learn how to put their curriculum online. "I don't think I took a day off for weeks," he said.
Now the unit is working with faculty to further refine how they use digital tools and technologies, with the goal of enhancing how they teach. "The best part has been working across the lines that usually separate us — the collaboration has been incredible."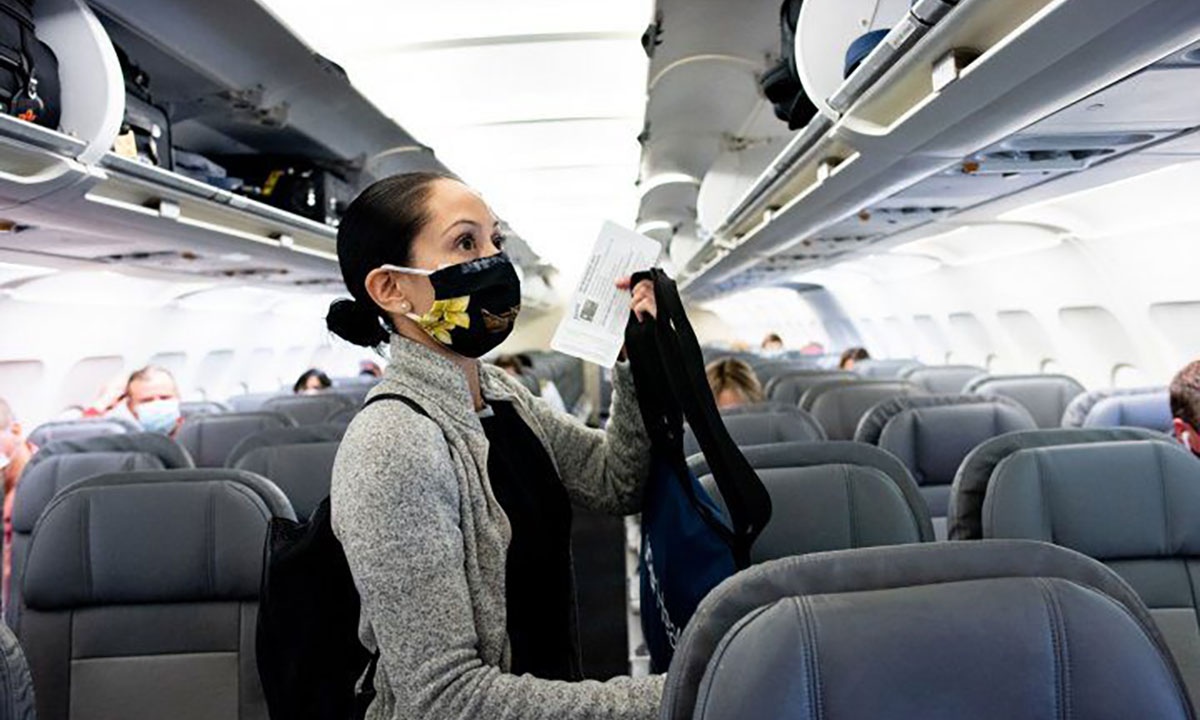 No area of the U.S. has been harder hit by COVID-19 than the Navajo Nation — a Native American reservation that spans a vast expanse between Utah, Arizona and New Mexico.
Rural hospitals in the area have been overwhelmed by patients infected with the virus, and the area now exceeds New York as having the highest per capita rate in the nation. UC San Francisco has responded by sending teams of doctors and nurses to the area to provide urgently needed support.
Volunteers stay for up to two months, providing critical care, intensive care, acute care and hospital medicine.
"The medical team from UCSF has been a blessing to the Navajo people," said Navajo Nation President Jonathan Nez. "Their resources, combined with our resources, have certainly saved lives."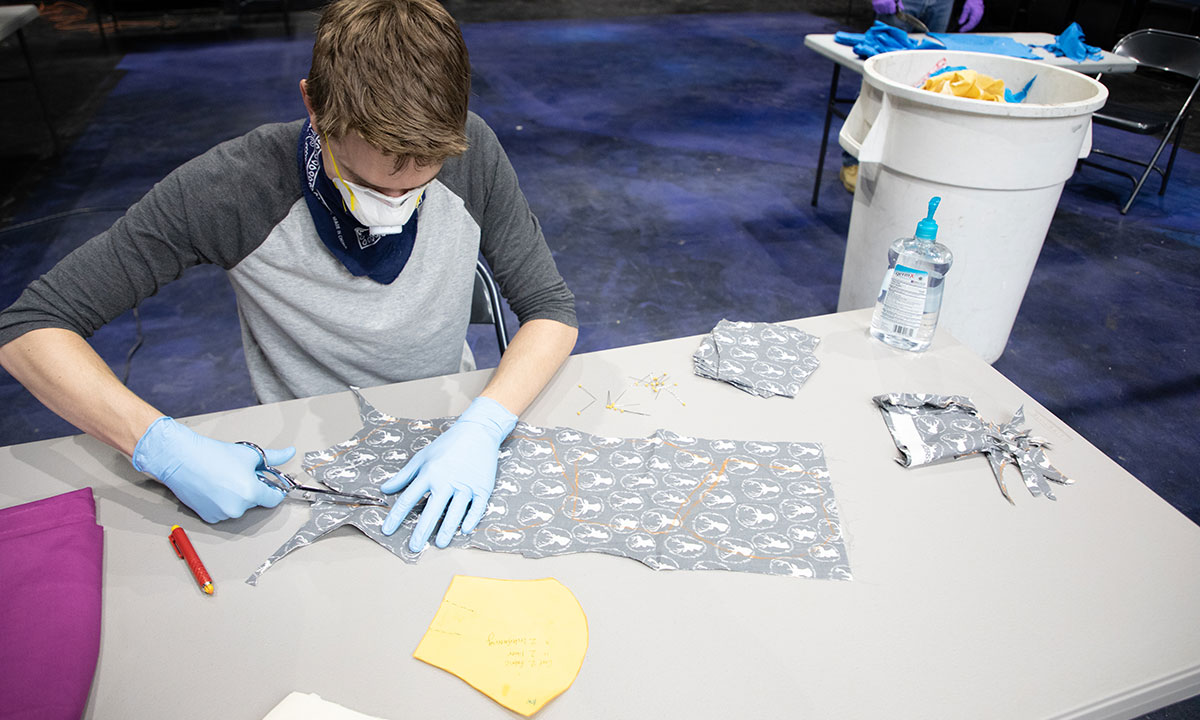 Their stages darkened, costume makers and set designers with UC Riverside's theater department have found another way to employ their talents: making masks for essential campus staff.
Scene shop foreman Joshua Stephenson (UC Riverside class of '17) and five of his theater colleagues hit their sewing machines, and within a week, cranked out 750 face masks from material lying around the shop.
Their handiwork can be seen on public safety officers and others who are keeping campus running during the pandemic. According to Stephenson, the masks are a way of thanking "some of the people that are out there every day" making sure "our corner of the world keeps on spinning."
Top photo: First-year residents Leslie Chan and Brian McSteen distribute tablets so patients can see their loved ones.