Thrills, tears and jubilation mark Match Day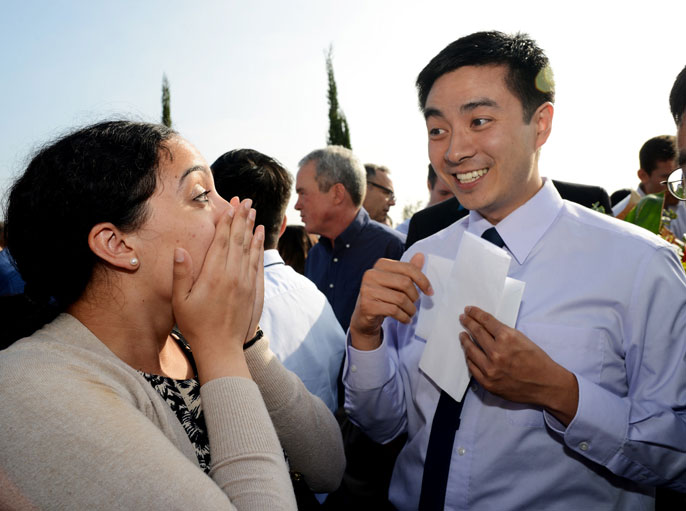 Shouts of joy. Tears of jubiliation. The thrill of matching.
Match Day is March Madness for medical students, when they find out where they have been accepted for residency to continue the next phase of their training as doctors.
On March 18, 693 UC graduating medical students were among thousands of medical students across the country who learned where they were matched to residency positions.
Virtually all UC graduating medical students matched, including 108 at UC Davis, 111 at UC Irvine, 165 at UCLA, 132 at UC San Diego and 177 at UC San Francisco. Most will continue their training in California.
UC San Diego medical student Jessica Cruz Whitley matched with a residency in internal medicine at UC Davis.
Growing up, Cruz Whitley regularly crossed the border into Mexico to accompany her mother for health care. Her mother could not afford treatment in San Diego for chronic diseases that included hypertension and diabetes.
Watching her mother's struggle motivated Cruz Whitley to pursue a career in internal medicine. She was the first of six children to graduate with a four-year college degree from UCLA. Her parents, who did not graduate from primary school in Mexico, supported her decision to attend UC San Francisco for graduate studies.
While at UC San Diego School of Medicine, Cruz Whitley's mother suffered a stroke and was placed on dialysis. Once again, Cruz Whitley was by her mother's side, drawing inspiration and lessons she would apply to her own patients someday.
"To go to medical school is a really big deal, especially for my community in Southeast San Diego," she said.
Matching couples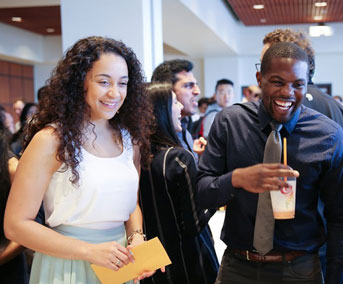 Glenn Wakam and his partner, Kiyanna Williams, were among 10 couples in UC San Francisco's class of 2016 who attempted to match together at the same or adjacent institutions, a process that is even more unnerving than matching singly. Of Match Day, Wakam said, "It was incredible. I couldn't have been more thrilled. It's this extreme elation, realizing you've reached your dreams." Wakam is headed for a surgery residency at the University of Michigan, where Williams matched in dermatology.
Having a partner in medical school has many benefits. Wakam and Williams met as students at UCSF. "It's been amazing to go through the process with someone to look to and to lean on," she says.
A computer algorithm from the National Resident Matching Program matches the preferences of applicants with the preferences of residency programs at teaching hospitals throughout the country. The students from traditional medical schools such as UC apply for the available residency positions along with thousands of independent applicants, including osteopathic students and graduates of foreign medical schools. Overall, more than 42,000 individuals – including more than 1,000 couples – applied for more than 30,000 residency slots across the country.
Overcoming the odds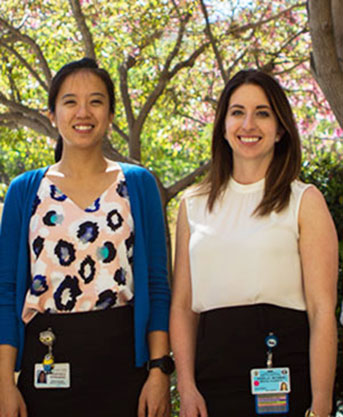 Among the medical students who were on the receiving end of hugs, tears and kisses was UCLA's Francesca Hernandez, 30, the daughter of Chinese and Vietnamese refugees who fled to the U.S. as boat people during the Vietnam War. From the age of 7, she was expected to stay home after school and on weekends to rear her three younger siblings so that her parents could go to work as a grocery clerk and manicurist. The first in her family to graduate from high school and to attend college and medical school, she matched at Harbor-UCLA Medical Center for pediatrics.
Danielle Wickman of San Diego had to work two jobs in high school to help relieve financial stress on her single mom. Despite a high school counselor bluntly telling her she "wasn't meant for college," she thrived at UC Riverside, graduated and entered UCLA's medical school. Since then, she's traveled to Malawi to research obstacles to HIV treatment for pregnant women and conducted HIV research in South Africa. She's going to USC for a residency in emergency medicine.
Giving back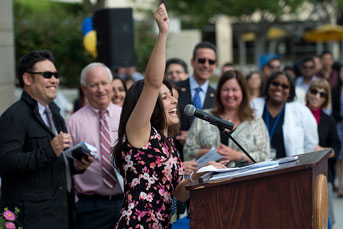 Raised by a single mother and her grandmother, Melissa Perez worked her way through UC Berkeley, became a medical student at UC Irvine and now has gained an obstetrics-gynecology residency position at UC Irvine. More than a dozen members of her family came south from the Bay Area to cheer her on.
UC Irvine medical student Erick Castillo received a family medicine residency position at White Memorial Medical Center in Los Angeles. He will follow in the footsteps of his father, Arturo, who founded the community-based La Concepcion Medical Clinic in West Covina.
UC Davis medical student Gerardo Hernandez, who completed his bachelor's degree at Long Beach State, will be serving a residency in family medicine at Long Beach Memorial Medical Center.
"For me this means going back home, helping the community that's in need and serving the underserved," Hernandez said.
UC's newest medical school, UC Riverside, will graduate its first class of medical students in 2017.