April 21, 2022
Matt Coker
,
UC Irvine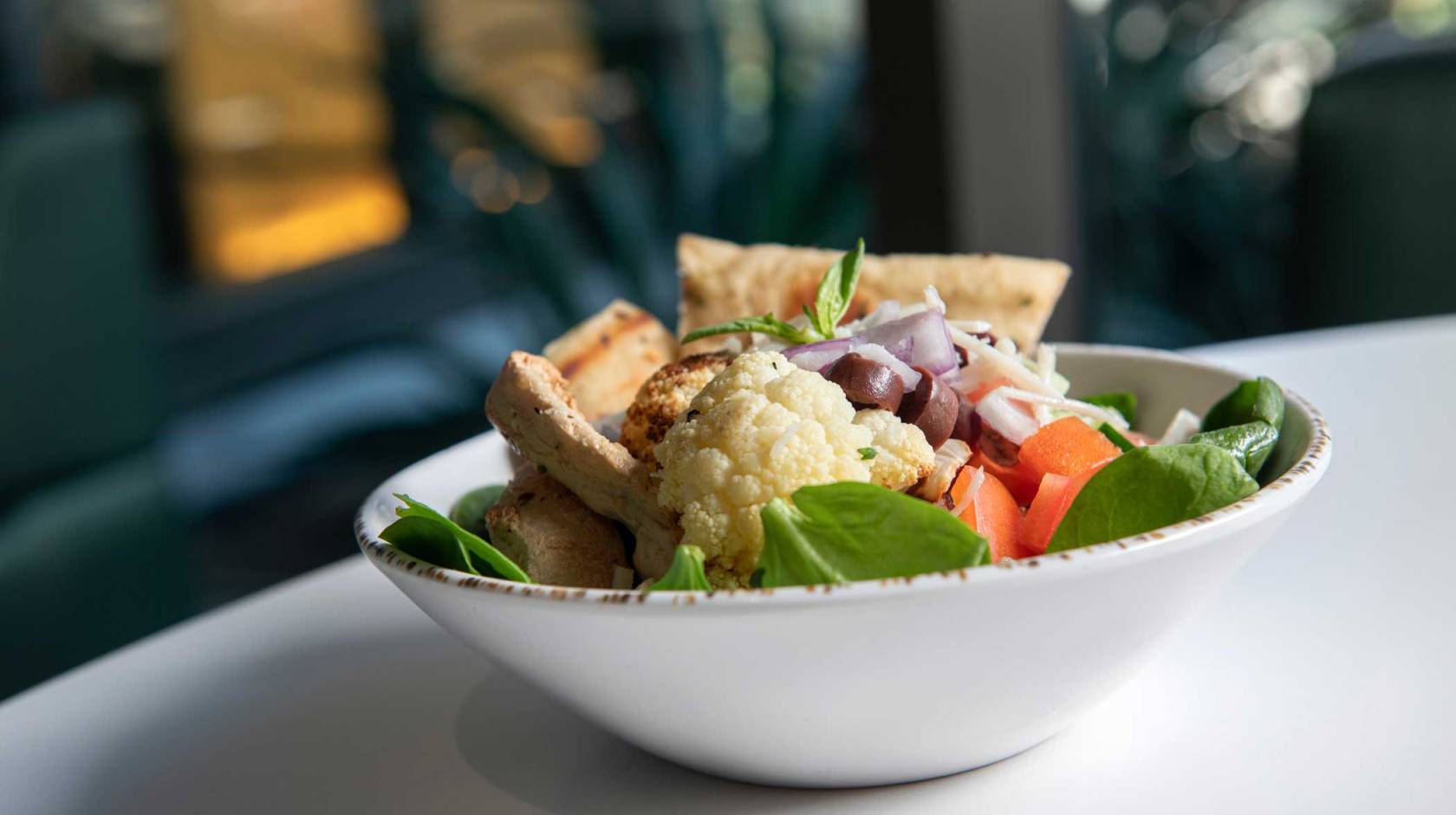 Considering that UC Irvine is among the leading universities for research, innovation and sustainability, it makes sense that on-campus dining adheres to the same mission. Because Aramark constantly researches food trends, the university's dining hall contractor has innovated in recent years with vegan and vegetarian options that are healthier and more sustainably sourced than their meat-based counterparts.
Of course, you can't make such a blanket statement around a research institution without corroborating data. According to Aramark's 2021 impact report, more than 35 percent of main dishes are either vegan, vegetarian or plant-based on all company menus, which are found in hospitals and workplaces as well as U.S. colleges and universities. That matches the plant-based percentage of UCI Dining Services' total food expenditures in 2021, up from 31 percent in 2019 and 21 percent in 2020, a year when purchasing was skewed by the pandemic and supply chain issues.
"We're not stopping here either," vows Sean Tedder, resident district manager with UCI Dining Services. "Our goal is to ultimately get to 50 percent plant-based menu items by 2025 – and, hopefully, to inspire more Anteaters to become plant eaters."
Responding to surveys showing that three-fifths of Americans want to eat less red meat and more fruits and vegetables, Aramark plunged into the "plant-forward" movement in 2018, partnering with the Humane Society of the United States to train chefs to make meals with fruits, vegetables, whole grains and legumes as main ingredients. Shortly before Earth Day 2019, Aramark launched The Twisted Beet, a dining concept that puts healthy, plant-based, animal protein-minimized spins on such popular items as meatball subs and macaroni and cheese.
"I'm very proud to say that our culinary teams take great pride in making our plant-based menu items just as accepted and desirable as our meat-based options," Tedder says. "And all of their hard work and efforts are paying off, because these items are absolutely delicious."
Among the most popular plant-forward selections on UCI menus are the pesto portobello spinach wrap, the vegan chick'n grain bowl, ratatouille, fresh tomato and basil penne, the Mediterranean vegetable wrap and the Southwest cheddar jack panini, according to Aramark.
Last month, UCI joined nine other American universities in having Aramark menus featuring Cool Food Meal badges from the World Resources Institute, which distinguish dishes that produce small carbon footprints.
"With an increasing demand for vegan and vegetarian options and a growing awareness among younger generations, the food industry is responding by creating and offering more plant-forward and vegan menu items than ever before," says chef Sharron Barshishat of the Anteatery dining hall in Mesa Court housing. "Aramark is at the forefront of this effort, offering more healthy menu items, making protein substitutions to reduce the dependence on meat-based products and implementing programs with our supply chain to source more produce locally."
He adds: "All of these efforts contribute to minimizing our carbon footprint, providing more nutritious meals and, above all, serving the ever-growing demand from our guests for healthier options that are good for people and good for our planet. I'm very proud as a chef at Aramark to be part of that effort and will continue to innovate and, hopefully, inspire future generations at UCI."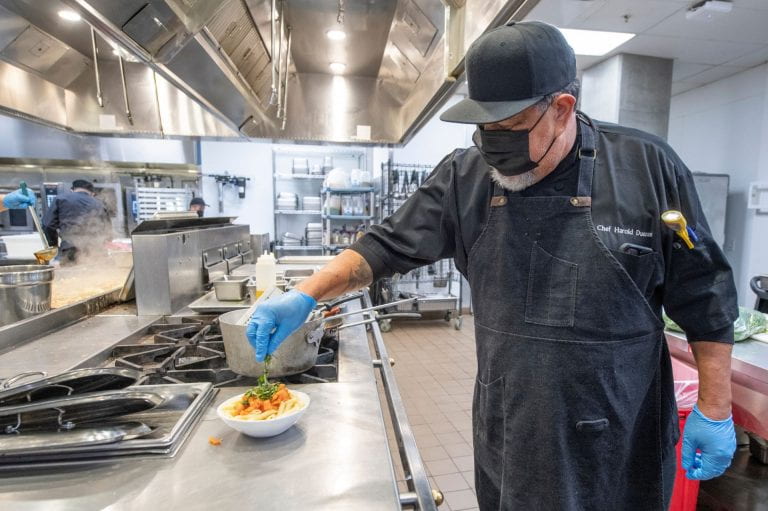 Steve Zylius/UCI