October 25, 2017
UC Newsroom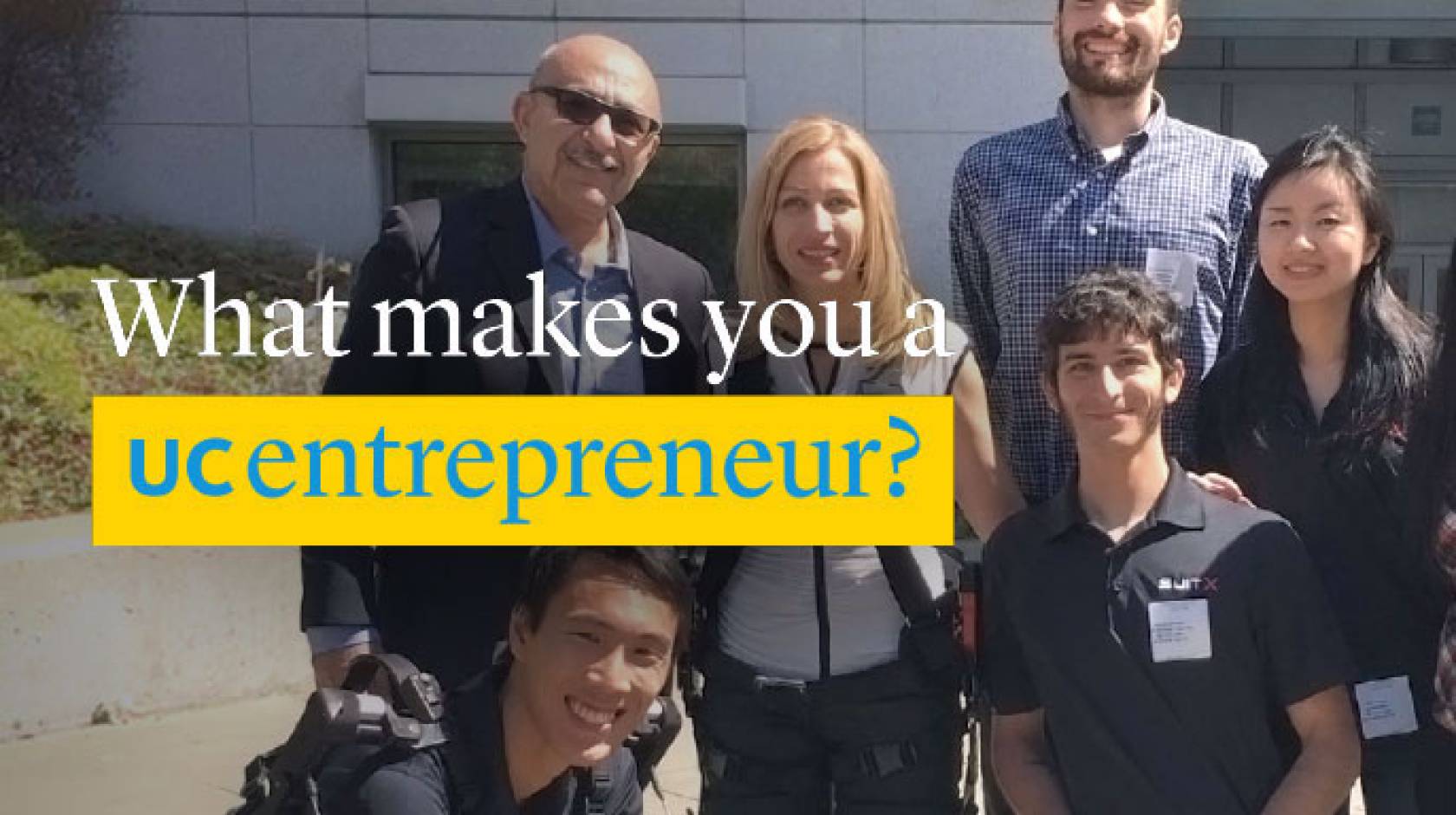 Credit: University of California
Are you a University of California alum with a killer startup idea? Fire up your pitch decks: You could win a chance to pitch to hundreds of business leaders and venture capitalists early next year.
UC's Office of Innovation and Entrepreneurship is inviting UC alumni entrepreneurs to submit two-minute videos explaining their vision and strategy to a panel of distinguished mentors, who will look for innovation, marketability and societal impact in their business ideas, as well as honed presentation skills.
There's a reason the panel is made up of "mentors" rather than "judges." As their prize, five finalists will receive one-on-one coaching from members of the panel to get them ready to pitch their startup to more than 600 business leaders and venture capitalists at the 2018 Global Corporate Venturing & Innovation Summit in Monterey in January 2018.
Mentors for the contest include Barbara Burger, president of Chevron Technology Ventures; Vitaly Golomb, partner and global startup evangelist at HP Tech Ventures; Francis Ho, managing director and head of digital health at Samsung Catalyst Fund; Jeremy Kranz, SVP and head of Technology Investment Group at GIC; and Lo Toney, founding managing partner of Plexo Capital.
UC decided to launch the contest to celebrate and recognize the entrepreneurial spirit of UC's 1.8 million living alumni, said Christine Gulbranson, senior vice president of innovation and entrepreneurship.
"At UC, we're exceptionally proud of how our alumni take what they learn on our campuses and go on to build great companies," Gulbranson said. "These companies created by UC alumni have played a huge role in making California a recognized world leader in innovation, and many have also influenced innovation on the national and world scale."
UC: Where startups get started
The University of California system is known for its research and education, but it's also an economic powerhouse for California. UC generates an average of five inventions per day and holds more patents than any other university in the country.
The alumni competition aims to show that innovation at UC doesn't stop at the campus gates — that's just where it begins.
Renowned companies from Intel to GoPro to Lyft were started by UC alumni, companies that employ many thousands of Californians and have a worldwide impact. UC President Napolitano built on this history by launching the Innovation and Entrepreneurship Initiative in 2013 to leverage the scale and diversity of the UC system to build an even more vibrant entrepreneurial culture.
Submissions to the University of California Alumni Entrepreneur Contest are open through December 15, 2017, and the videos will be featured on http://entrepreneurs.universityofcalifornia.edu/. Finalists will be notified in early January 2018.
----------------
How to enter
All UC alumni are encouraged to enter the University of California Alumni Entrepreneur Contest by going to http://entrepreneurs.universityofcalifornia.edu/
Submit a video no longer than two minutes in which you describe your entrepreneurial activity, a pitch deck of up to 10 slides, using the template provided on the submission page, and a completed online form available on the contest website.
All submissions must be received by 11:59 P.M. Pacific Standard Time on Dec. 15, 2017.
Details on submissions, contest rules and eligibility can be found on the contest page.