UC campuses among top 'best values' in 2016 Kiplinger rankings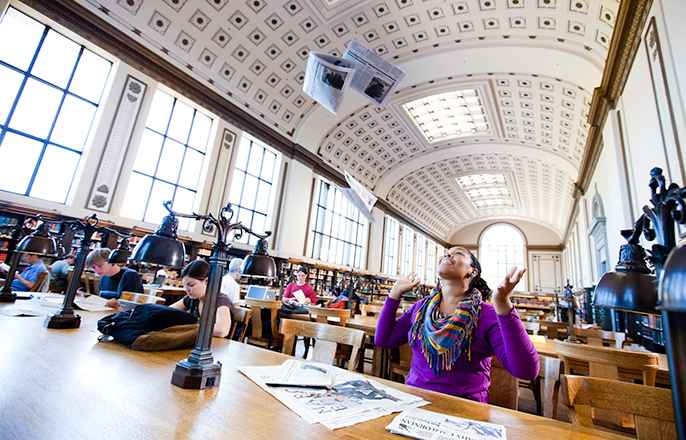 UC Best College Values
| | |
| --- | --- |
| 4. | UC Berkeley |
| 6. | UCLA |
| 18. | UC Santa Barbara |
| 20. | UC San Diego |
| 29. | UC Irvine |
| 39. | UC Davis |
| 78. | UC Santa Cruz |
| 94. | UC Riverside |
Kiplinger Personal Finance rated eight UC campuses as best values for public universities in its 2016 college rankings. Two UC undergraduate campuses — Berkeley at fourth and UCLA at sixth — made the top 10 and six others were in the top 100 of Kiplinger's best college values.
Kiplinger developed its rankings by assessing a variety of quality and cost measures, including admission and retention rates, student–faculty ratio and four-year graduation rate, data on tuition, financial aid and tuition-related debt when students graduate to form its best value rankings.
"All of the schools in our rankings offer generous need-based financial aid—often reducing the average price to about half of the published sticker price. Many also offer non-need-based aid (sometimes called merit aid), further reducing costs for students with top marks and other accomplishments," Kiplinger's said in a release on their findings.
That is certainly the case at UC campuses. Systemwide, 57 percent of undergraduates pay no tuition through UC's Blue and Gold Opportunity Program. UC students also graduate with student debt that is significantly lower than the national average, and 45 percent of undergraduates have no loans at graduation.
UC campuses are consistently ranking among top colleges in a variety of assessments that measure access, academic excellence and value.
Nine UC campuses were listed among the 2015 Academic Ranking of World Universities, an annual ranking focused on research and faculty quality that Shanghai Jiao Tong University released in August.
Washington Monthly magazine ranked eight UC campuses on its 2015 list of the nation's leading universities that serve the public interest. UC San Diego No. 1 for the sixth straight year, and UC Riverside repeated its No. 2 ranking for the third straight year. Six other UC campuses were listed, and UC Berkeley, UCLA, UC Santa Barbara and UC Davis placed among the top 20.
The Center for World University Rankings listed all 10 UC campuses among what it called the 1,000 best universities in the world, and ranked UC Berkeley first for public universities, with UCLA in second place, UC San Diego in fourth and UCSF in sixth.