UC to Congress: Federal financial aid helps keep college affordable
Students, faculty, staff and alumni from across the University of California are in Washington, D.C., today (May 19) to put a human face on the role that federal financial aid plays in opening the doors to college.
The nation's lawmakers may be surprised to learn that 42 percent of UC undergraduates — roughly 80,000 students in all — receive Pell Grants, the federal college aid program for students from low-income families.
"No other research university in the country enrolls as many low-income students as UC," said Gary Falle, associate vice president of UC federal government relations.
Federal Pell Grants and federal student loans are vital to UC's success in enrolling and graduating significant numbers of low-income and first-generation students.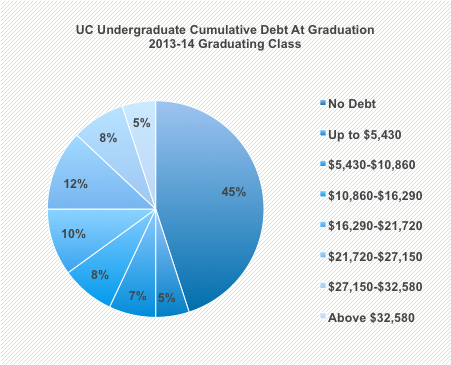 "We want lawmakers to know that a strong and sustained investment in financial aid helps ensure that students from every income level have access to a college education," Falle said. "Federal financial aid is key to helping UC students pursue a high-quality education that prepares them with the skills and knowledge they need to succeed in life."
The university offers one of the strongest and most progressive financial aid programs in the nation.
The University of California expects a partnership between UC, the students, parents, as well as state and federal governments to help finance a student's total cost of attendance.
UC expects all undergraduates seeking financial aid to cover part of their cost of attendance through a combination of employment and loans. UC has structured its aid programs to ensure that student debt remains at manageable levels.
Nearly half of UC's 2013-14 graduating class had no student debt. And for the 55 percent of graduating seniors who did have debt, the cumulative average was $20,600 — well below the national average of $25,700.
UC's spotlight on the importance of the federal investment in financial aid comes amid a national debate about how to improve college graduation rates, especially among the nation's low-income students. The topic is likely to get even more scrutiny in the coming months, as Congress considers reauthorization of the Higher Education Act.
University of California leaders have already begun making recommendations on proposed legislation.
UC would like to see continuation of the in school interest subsidy, lower interest rates for federal student loans, elimination of the loan origination fee, and other changes to help students repay their loans and manage debt.
UC officials are also urging Congress to strengthen the Pell Grant program by protecting funding surpluses and by restoring year-round Pell awards for students who enroll in summer courses.
"Financial aid works," Falle said. "It opens the doors to college and offers quality educational opportunity to students from all walks of life. "