UC 'eclipse addicts' are ready for the big day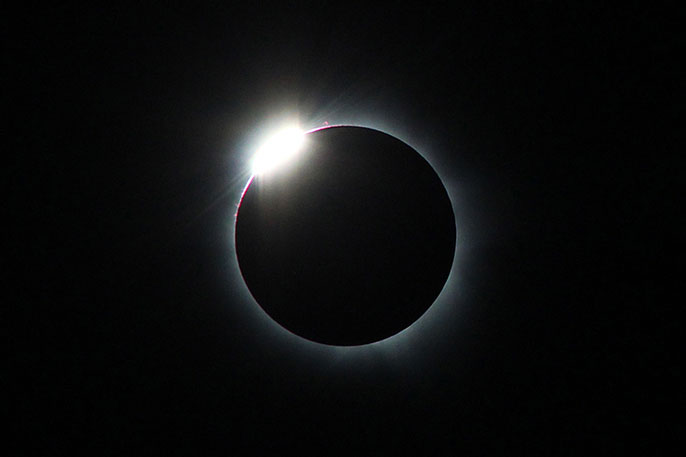 As the total solar eclipse begins to trace its path over the United States on the morning of Monday, August 21, UC will be ready. From amateur astronomers to self-described "eclipse addicts," many in the community have been looking forward to his event for a long time, and are excited to share the viewing experience with others.
Alex Filippenko, a UC Berkeley professor of astronomy and self-proclaimed "eclipse-o-phile," has seen 15 solar eclipses since his first one in 1979. He wouldn't miss this for the world.
"The feeling I have when I see a total solar eclipse is one of just stunning majesty and awe," Filippenko said. "For the first time in a century, we've got the path of a total solar eclipse going from coast to coast, and for the first time anywhere on the continental U.S. in 38 years. Go see it if you can."
To that end, Filippenko has organized a trip near Sunriver, Oregon for UC Berkeley alumni, friends and family to experience a total eclipse right in the heart of the umbral shadow.
Several hundred miles east, UC Santa Cruz alum Douglas Duncan (Ph.D., '80), now director of the Fiske Planetarium at the University of Colorado, will be doing the same thing. While many eclipse fans have planned ahead, Duncan may have them beat — he booked 300 rooms in a hotel in Jackson Hole, Wyoming, four years ago. He's also developed an online course about the eclipse to prepare as many people as possible for "totality" — the zone in which the darkness of a total eclipse will settle in.
"This is something you will not forget to your dying day," Duncan said. Aside from the apocalyptic effect of the moon blocking the sun, other memorable behaviors occur during an eclipse. Five minutes before totality in Galapagos, where Duncan observed a 1998 eclipse by boat, the undersea life began to stir.
"Every whale and dolphin in the vicinity swam back and forth" during the event, only to vanish once it was over. Accustomed to a typical 12 hours of daylight near the equator, the animals came up to see what was going on.
Viewers of this year's eclipse will no doubt be in for a treat, too. And if you aren't planning on being in the "path of totality" — a band 60 to 70 miles wide that travels across central Oregon to the South Carolina coast — you'll be able to enjoy a partial eclipse. Visit the Google/UC Berkeley collaborative project, Eclipse Megamovie 2017, to find out what you'll see, and when, from wherever you are in the United States (check it out here: https://eclipsemega.movie/simulator).
Excited for the eclipse yet? Dive into these UC resources so you can safely enjoy the event and learn more about this rare celestial phenomenon.
UC Berkeley
Megamovie project
The eclipse will cross the United States in about 90 minutes on Monday, August 21. Even if you are on a plane tracking it, you'll only be able to take in about 5 minutes, as the moon's umbral shadow travels at an average speed of 1,651 mph (2,657 kph). To capture the full trajectory of the eclipse, UC Berkeley and Google researchers have been working on the Eclipse Megamovie Project, which calls upon thousands of citizen scientists and photographers to take snaps from wherever they are of the eclipse and upload them to the site. Learn more about the project, and how to outfit your phone to capture the eclipse, here: http://news.berkeley.edu/2017/02/21/megamovie-project-to-crowdsource-images-of-august-solar-eclipse/
The Megamovie app
Download the Megamovie app, which will take pictures throughout the eclipse automatically, here: https://www.universityofcalifornia.edu/news/new-app-makes-photographing-eclipse-snap
More about professor Alex Filippenko
Read a Q & A with professor Alex Filippenko: http://alumni.berkeley.edu/travel/cal-discoveries/north-america/total-solar-eclipse-oregon/q-professor-alex-filippenko
UC Merced
Find out what to expect from a partial eclipse (if you're not one of the 7 million people traveling to the "dark zone") from physics professor Wil van Breugel here: http://news.ucmerced.edu/news/2017/professors-demystify-eclipse-merced-skygazers
UCSF
Staring at the sun is never good for your eyes, and even a few seconds can cause damage. Follow these precautions to enjoy the eclipse safely: https://www.ucsf.edu/news/2017/08/408076/viewing-solar-eclipse-take-precautions-avoid-serious-eye-damage
UC Santa Barbara
Solar eclipses aren't just a neat visual phenomenon — they also helped confirm Einstein's theory of general relativity, as UC Santa Barbara's Andy Howell explains here: http://www.news.ucsb.edu/2017/018172/total-eclipse-sun
UC Santa Cruz
Hear more tales of the chase from UC Santa Cruz alum and astronomer Douglas Duncan here: https://news.ucsc.edu/2017/08/chasing-eclipse-with-douglas-duncan.html
Where to watch on UC campuses:
UC Irvine: https://www.physics.uci.edu/eclipse-information
UCLA: http://newsroom.ucla.edu/releases/ucla-scientists-invite-public-to-free-eclipse-watching-event
UC Riverside: https://ucrtoday.ucr.edu/48500
UC Santa Barbara: http://www.physics.ucsb.edu/news/event/1427
Ed. Note: Listings to be added as they come in ... check back shortly if you don't see your campus!