May 15, 2015
Alec Rosenberg
,
UC Newsroom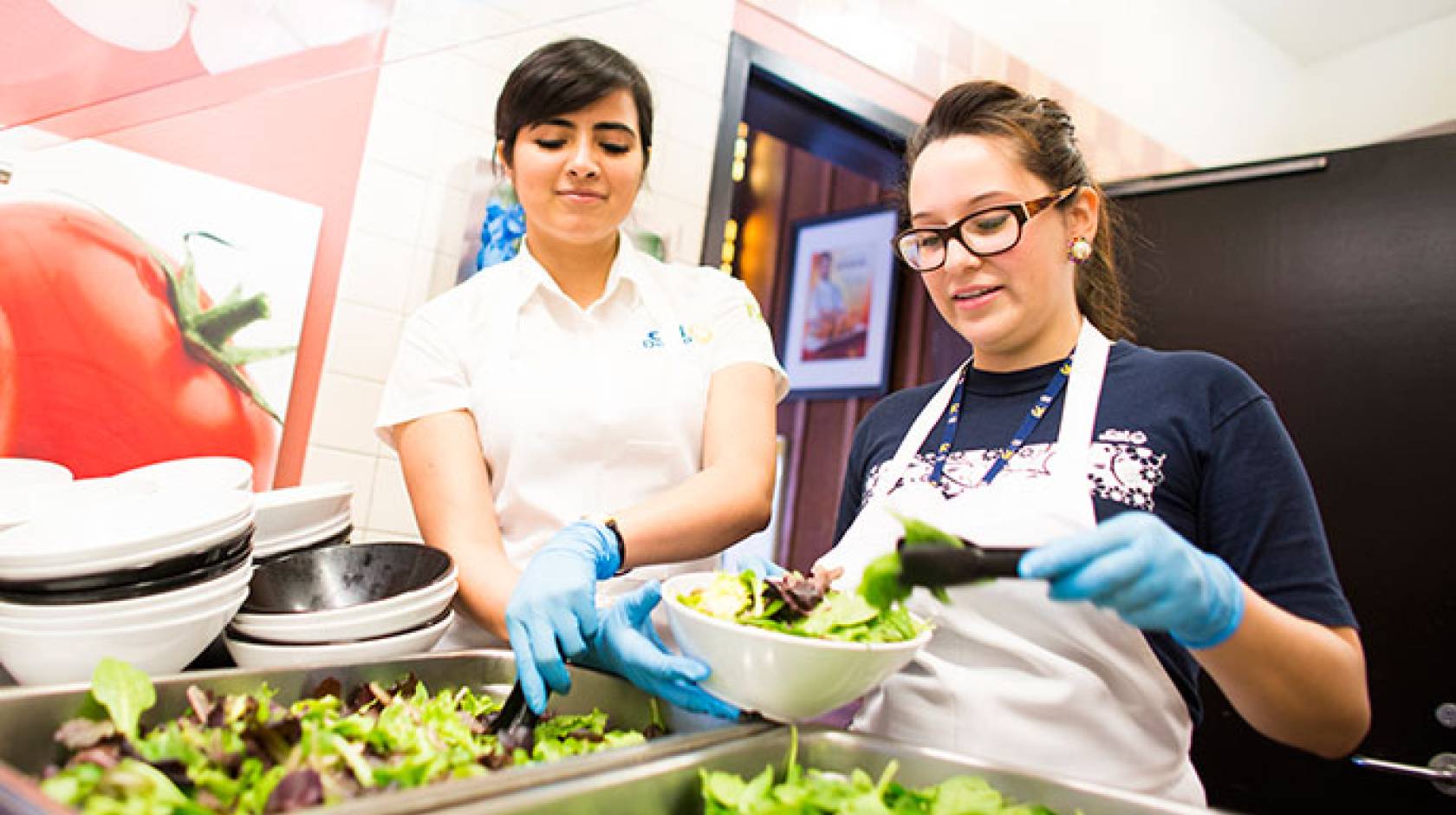 The University of California is tackling one of the toughest issues facing college campuses across the country: student hunger.
As part of its Global Food Initiative, the university is looking inward, ensuring that its own students have food security, as it takes on the bigger issue of hunger around the world.
UC campuses this spring are surveying students to assess the scope of food security issues, implementing short-term relief where needed and exploring long-term solutions that address student nutrition.
UC President Janet Napolitano in March allocated $75,000 per campus to support the effort, and next week the UC Board of Regents will discuss ways to sustain food security across the university.
Addressing student hunger has been a key part of the Global Food Initiative, which Napolitano, together with UC's 10 chancellors, launched in July to develop, demonstrate and export solutions — throughout California, the U.S. and the world — for food security, health and sustainability.
Pivotal in that process has been a GFI subcommittee on food security and access led by Student Regent Sadia Saifuddin of UC Berkeley and staff members Ruben Canedo of UC Berkeley and Tim Galarneau of UC Santa Cruz.
A national crisis
"It's a national crisis," Canedo said. "For us to take on the challenge as a UC system is going to serve as a blueprint for other universities across the country to alleviate hunger and malnourishment."
Saifuddin, who began working on student food security issues three years ago, is excited to present the item to UC regents next week.
"After the tuition increases, (hunger) affected a lot of my peers," Saifuddin said. "For some, it meant working more hours. For others, it was skipping meals and not being able to afford rent and, in a few extreme cases, taking a break from classes. I thought no student should ever have to make a decision between a meal and a textbook."
In January, their GFI subcommittee held the California Higher Education Food Summit at UC Santa Barbara. Those discussions led to the proposal, funded by Napolitano, to allocate $75,000 per campus to support food security and access for students.
Each campus is now forming a food security working group of students, faculty, staff, administration and community experts, and will submit a plan for using those funds to address short- and medium-term efforts such as staffing and buying food for emergency relief. Campuses are encouraged to provide matching funds and seek community donors to broaden the impact.
Surveying the system
UC also is working to better understand the scope of student hunger on its campuses and how to alleviate it.
Amid recession-driven budget cuts resulting in tuition increases and changes in federal student loan policies, college campuses in the past decade began hearing more anecdotal reports of students skipping meals to buy books and pay fees, and not having enough money for food.
Some 200 U.S. colleges now have food pantries providing emergency relief to hungry students, including seven UC campuses, with the remaining two UC undergraduate campuses developing pantries.
The Swipes program, which allows university students to donate unused residential meals to help feed the hungry — either fellow students or the broader community — was started by UCLA students in 2009 and has grown to 12 chapters, including four at UC campuses.
While the U.S. Department of Agriculture estimates that 1 in 7 U.S. households is food-insecure — meaning their access to adequate food is limited by a lack of money or other resources — data on college student hunger have been limited.
In 2010, UC's biennial survey of undergraduates began asking students whether they skipped meals to save money: Twenty-three percent responded "somewhat often" to "very often" that year. The figure rose slightly to 26 percent in 2012 and 2014.
To get a more detailed assessment, students at all 10 UC campuses are being surveyed this spring about food insecurity, either through the National College Health Assessment survey or individual campus surveys. The survey of undergraduate and graduate students is based on questions developed by the USDA to assess food insecurity.
"We will have a much more reliable estimate of food insecurity with data that can be compared across campuses and nationally," said Lorrene Ritchie, director of UC Agriculture and Natural Resources' Nutrition Policy Institute.
Ritchie co-leads the UC Global Food Initiative's data-mining food security subcommittee with staff member Katie Maynard of UC Santa Barbara. Their subcommittee plans to get survey data by summer and report to campuses by fall, helping to inform the use of systemwide food security funding.
Making food security a priority
"Having President Napolitano raise this issue as a priority has really helped," Ritchie said. "I don't think that there has been anything done on food security like this across the country."
The California State University system also is addressing this issue, conducting a yearlong study of food insecurity and housing instability among students. Ritchie plans to reach out to CSU to share lessons learned.
Saifuddin hopes that the UC systemwide food security support will be used as seed funding to help implement more comprehensive programs.
"This is just the first step in letting the UC community and the nation know that we are committed to making sure that we are serving our students," Saifuddin said. "It's a good opportunity for us to be ahead of the curve."