March 18, 2019
Nicole Freeling
,
UC Newsroom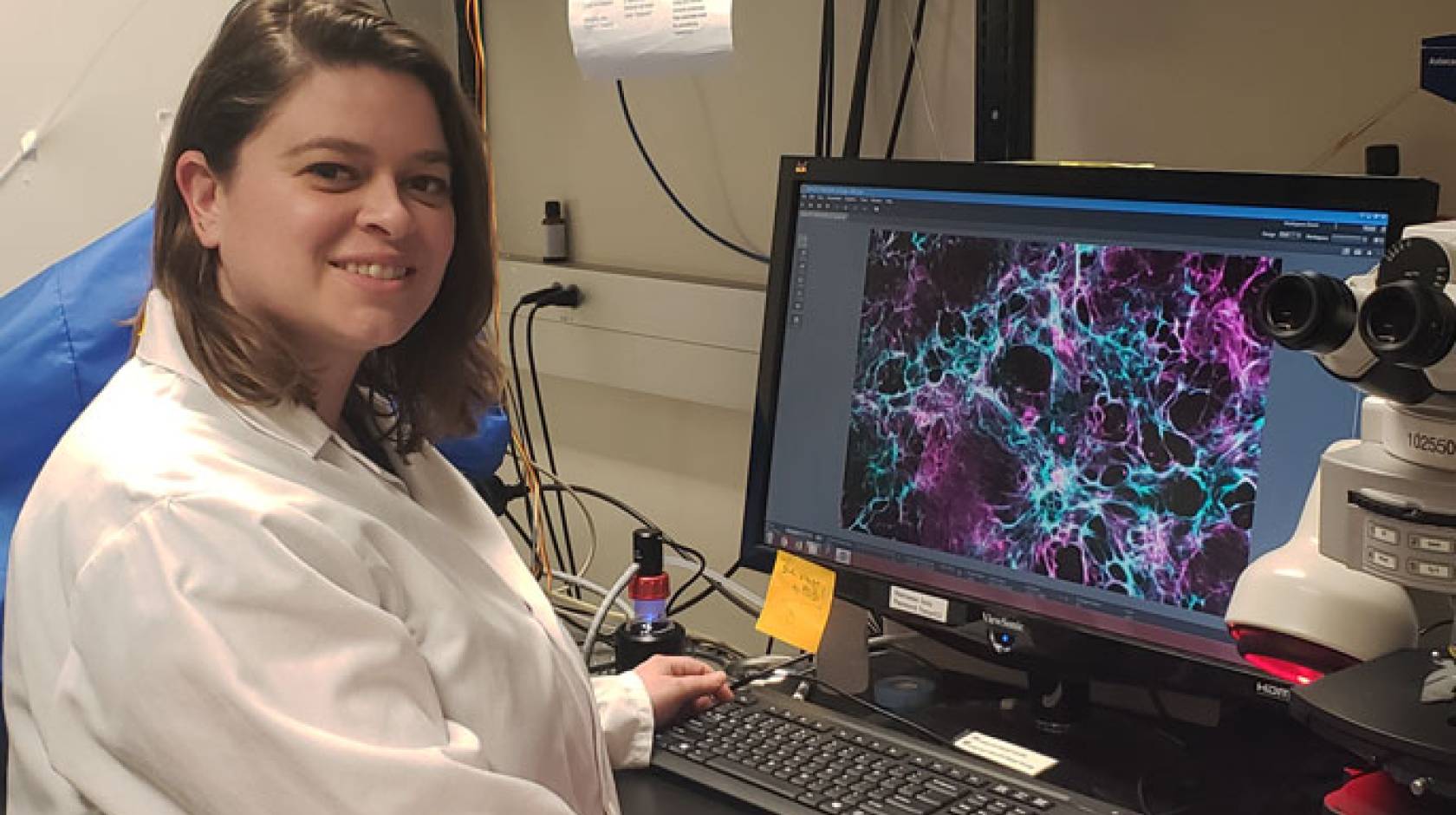 UC's 26,000 master's and Ph.D. students form an enormous brain trust — one at work finding solutions to California's and the world's most vexing problems, and expanding the boundaries of what we know.
Graduate students launch new companies and sometimes new industries. They find cures, expand our understanding of art and society, teach and mentor undergraduates, and provide data-driven research to help lawmakers craft more effective policy solutions.
On March 19, 22 of these future leaders will be in Sacramento for UC's annual Graduate Research Day in order to share their knowledge with lawmakers and shine a light on all they do.
Here are a few:
Nancy Freitas, UC Berkeley, energy and resources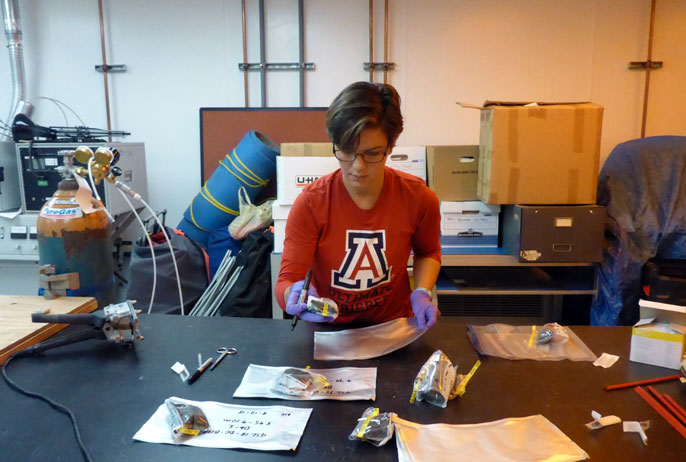 With climate change causing temperatures in the Arctic to rise twice as quickly as elsewhere on the planet, Freitas is investigating the impact on the water bodies that comprise up to 40 percent of the region's surface area. She's also looking at ways to engage people outside the science community on the issue.
"I want to ensure I'm not only producing data within research circles, but am involving the broader community in building solutions to deal with it," she said.
"Despite long hours in classes and the ups and downs of research, I want to help bridge the gap between the science that we're producing and the actions that we need to take to reduce our impact on the planet. At the end of the day, I'm here because I think that we have the technological capability and the social capacity to mitigate climate change."
Jan Ng, UC Davis, ecology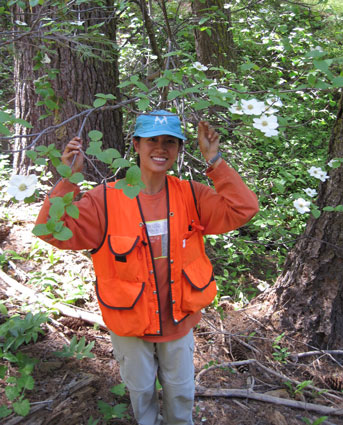 Ng identifies California forests that have characteristics that make them uniquely fire-resistant and develops that information into guides for use by forest and fire managers.
"It's satisfying to see a story come together as I go through the process of asking questions, designing and executing studies, and analyzing data. It's also endlessly fulfilling for me to spend time in the wilderness for research purposes," Ng said.
"During the periods of time when tasks feel mundane and plodding, I am motivated by the idea that my work will serve a purpose for the sustainability of natural resources and the safety of human communities — keeping that bigger picture in mind makes even little details feel worthwhile."
Kate Linker, UC Irvine, anatomy and neurobiology
What makes adolescents vulnerable to addiction? Linker has discovered that the brain's immune system plays an important, and previously unidentified, role.
"Addiction is a widespread disorder that has very few treatments and no cure. While addiction is sometimes viewed as a moral failing, science has shown it is a brain disorder. I hope my research emphasizes this and highlights new ways to prevent and treat addiction."
Linker is currently working with a California company, Plexxikon, on a new drug to do just that. The treatment, now entering clinical trials, has shown promising results in suppressing drug motivation without altering other responses and behaviors.
Josefina Flores Morales, UCLA, sociology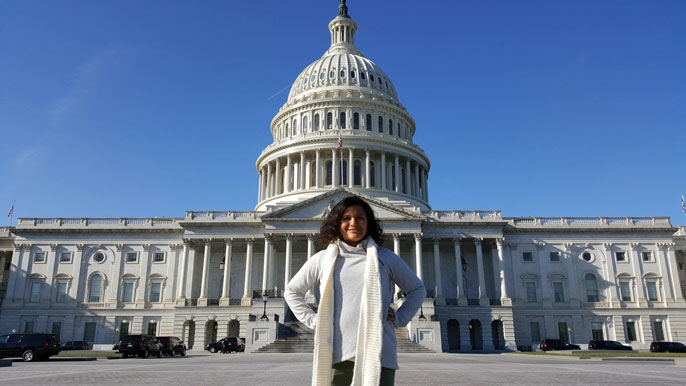 Morales's research looks at how immigrants with precarious legal status are faring in high school and college, and which state policies and programs work best to improve their success and well-being.
"My motivation is my frustration with the status quo on immigration policy and with immigration literature," she said. "For me, it is important to honor the lived experiences of migrants through critical and rigorous research."
Her advice to those interested in graduate school: "Find advisers and guides who will fiercely support you and advocate for you." And find time to blow off steam. For Morales, that includes playing intramural soccer, dancing salsa and bachata, weightlifting at the gym and playing board games with her 10-year-old brother.
Craig Ennis, UC Merced, quantitative systems biology
Communities of microbes which adhere to surfaces, known as biofilms, are widely prevalent in nature. But when they occur in humans, on the surface of implanted medical devices or human tissue, they can cause deadly infections. Ennis's research focuses on understanding what causes biofilms to attach to, or resist certain surfaces, in order to build therapeutics to prevent and fight this source of infection.
"Knowing that my work will one day have a positive impact on human health makes it all worth it," said Ennis.
Stephanie King, UC Riverside, biomedical sciences
King's research focuses on physiology and inflammation of the gut. The goal is to understand mucosal and inflammatory diseases to help identify new drug targets and treatment options for patients with intestinal diseases.
"I'm a naturally curious person, and I thrive in environments where people are asking questions and learning," King said. "Graduate school is a transformative experience that will push you further than any other academic program — and the reward is a deeper understanding of yourself and the world around you.
"In the end, it is all about making a contribution to our understanding of how our bodies work and how disease develops. That moment of clarity at the end of an experiment never gets old."
Emily Wheeler, UC San Diego, biomedical sciences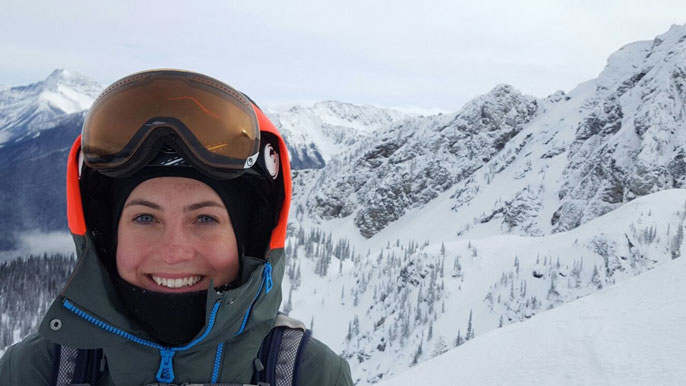 Wheeler is working to develop a greater understanding of cancer and neurodegeneration with the goal of designing new therapeutics to treat the hundreds of thousands of Californians who suffer from these diseases each year.
"In everyday life, people around us get sick. Some as simple as a common cold, and others as horrific as a deadly cancer," she said. "For me, the curiosity of why and how people get sick got me into biomedical research. And the realization that my work will help develop new medicines for illnesses that are currently incurable is what keeps me going through all the long hours.
Her advice for students considering grad school: "Be prepared to think very deeply about your topic matter and do not be satisfied until you have reached a full understanding. This process can at times be slow and frustrating so remember to always celebrate the small victories and keep yourself grounded in the bigger picture of your work."
Ariel Kauss, UCSF, biomedical sciences
Kauss seeks to literally mend broken hearts, exploring whether a cluster of proteins called the extracellular matrix could hold the clue to helping hearts heal after heart attack and stroke. She is testing these proteins in the lab to see if they can spur damaged heart cells to regenerate.
"I'm studying an aspect of cardiac biology that hasn't been well explored — to me it feels like uncharted territory, and maybe the next great frontier," Kauss said. "The idea that something I discover could open a new area of research is a huge motivator."
Adriana Sanchez, UC Santa Barbara, counseling, clinical and school psychology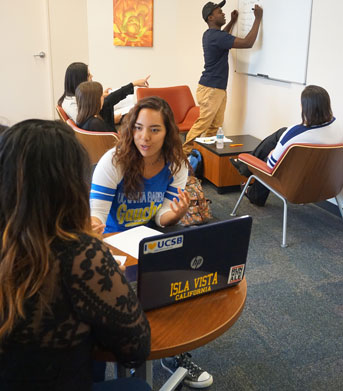 Sanchez's work looks at how cultural variables influence transfer students' ability to thrive and be resilient, particularly among Latinx populations.
"The best thing about being a graduate student is engaging in research that is applicable to students," Sanchez said. "I am passionate about mentoring undergraduate first-generation and transfer students and I get to implement what I have learned through my research to support their overall well-being.
"Knowing that my research could inform further research, practice and policies to improve the lives of traditionally underrepresented groups of people is what keeps me motivated."
Bryan Pratt, UC Santa Cruz, economics
Pratt's research looks at the factors that affect and influence residential water demand in California. Working with water managers, he puts his research to work to inform rate design and drought policy in the state.
"The best thing about being a graduate student for me is the ability to pursue research that interests me and where I think I can make a real policy impact. I have been fortunate to form relationships with water managers and other policymakers to communicate my findings," he said. "The primary thing that motivates me is the opportunity to learn important lessons about human behavior and, in doing so, to pave the way for making a difference in the environment and the lives of people."