April 25, 2016
Nicole Freeling
,
UC Newsroom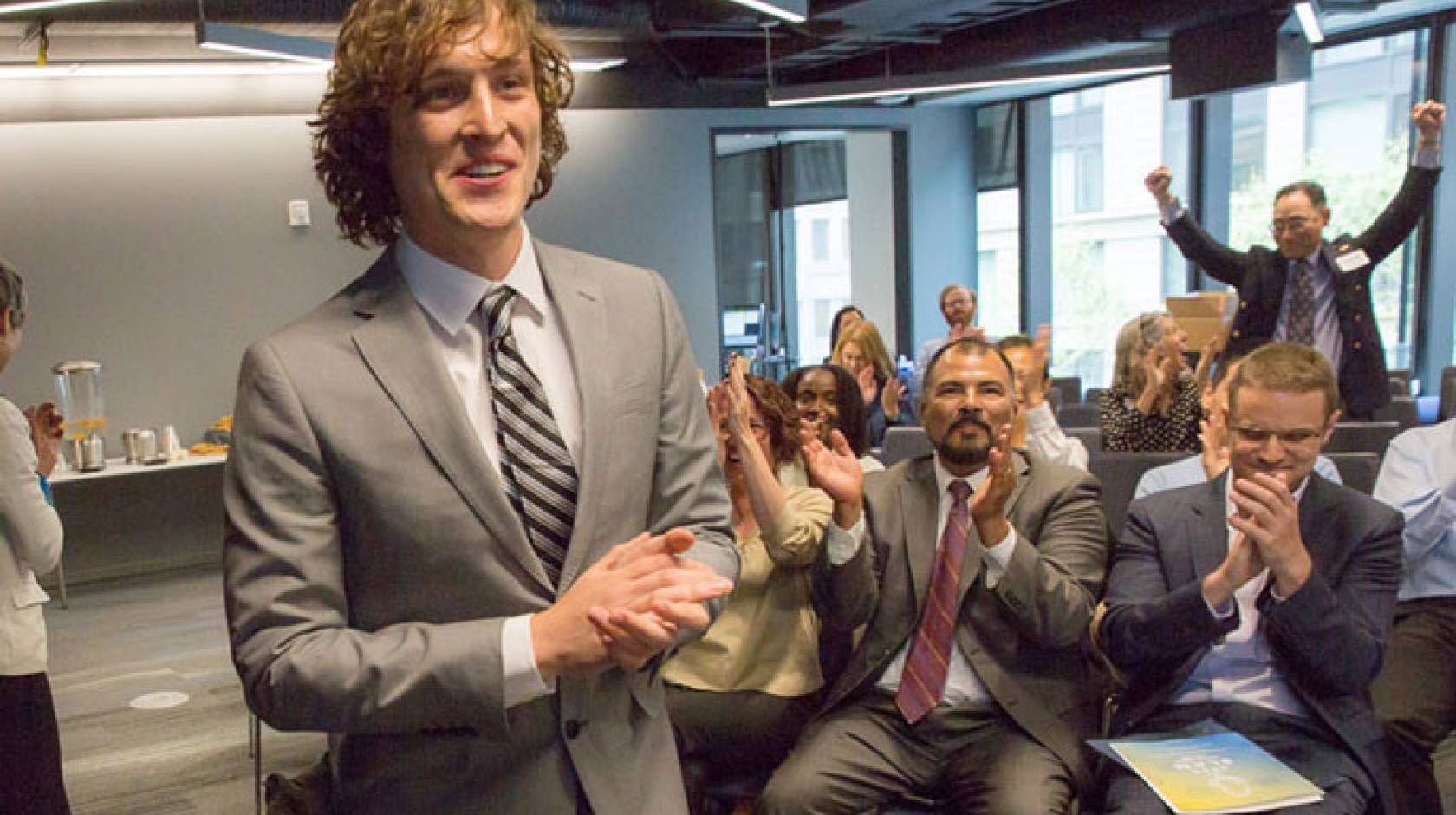 A UC Riverside doctoral student who is working to create smaller, more powerful microprocessors using graphene instead of silicon is UC's newest Grad Slam champion.
Grad student Peter Byrley took home the "Slammy" Friday, the culmination of a systemwide contest that recognizes and rewards the gift for gab – specifically, the ability to summarize complex research for a lay audience in a way that is concise, engaging and illuminating.
"Why should people give me money to do this research?" That was the provocative question Byrley asked himself in preparing a three-minute talk about his work, which could dramatically expand the power of electronics.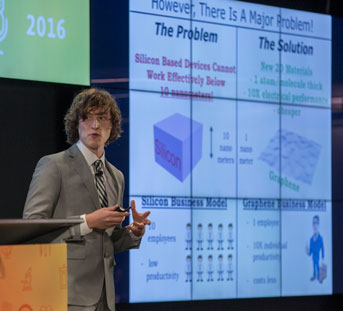 The answer: Two-dimensional graphene is versatile, flexible and just a tenth of the size of silicon. And best of all, it is one of the most abundant materials on earth. That means manufacturers can pack more power into a smaller package – reaping savings in both money and efficiency.
"Imagine you're running a company and it takes 10 people to do a job. These are generally unproductive, unhappy people. That's your silicon-based model," Byrley explained. "Instead, now you only need one employee to do the job. He's 10 times more productive and he actually wants to be paid less. That's the graphene model."
Grad Slam, now in its second year, challenges master's and Ph.D. students to break down the topic of their research and explain it in three minutes or less, in terms a general audience can understand.
The aim: give UC's emerging researchers and scholars the tools to communicate their work to a wider audience. Students from every campus participated – roughly 500 graduate students in all – enrolling in public speaking workshops and competing at individual campus contests.
Each campus winner then competed for the top prize – which included campus bragging rights and a $6,000 award. Byrley plans to put his winnings toward getting a LEED certificate and going to conferences to further his research.
To deliver the winning presentation, Byrley had to learn to strip away the technical jargon and complex details that are a graduate student's stock-in-trade.
"I realized I had to connect the work to what people actually care about," he said. Byrley, who participated in UC Riverside's inaugural Grad Slam contest last year, used that experience to prepare this time around.
"That time, I showed a picture of a molecular structure, and it's hard for an audience to get excited about that." He was eliminated after the first round.
This time, he focused on how scientists are looking to use the technology for applications that include more efficient solar panels, the next age of space exploration, and biomedical devices to monitor blood sugar, which could protect the lives of 400 million people worldwide who suffer from diabetes.
Mind-boggling research, made accessible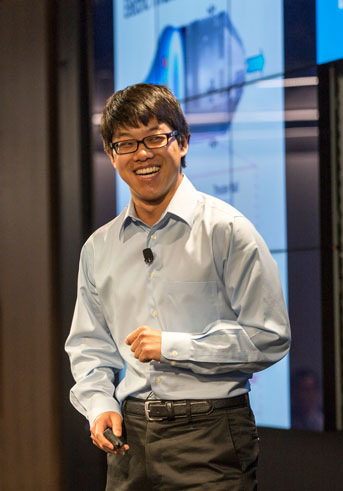 The event, held April 22 at LinkedIn's newly opened San Francisco headquarters, was the culmination not only of months of preparation for the contestants, but of two months of qualifying rounds and campus competitions.
First-place winners from each campus faced off before an audience of more than 200 representatives from industry, government and higher education.
The students wowed the audience with a window into mind-bending research that explored secrets of our psychology, our brains, and far-flung corners of the universe.
Best of all, they showed that you don't have to be an expert in astrophysics or cell biology to appreciate the impact of academic research.
"The competitors today are all engaged, in one way or another, in exploration of uncharted territory," said UC President Janet Napolitano, who served as the event emcee. "Grad Slam gives them the resources they need to share the knowledge they gain in that exploration with the rest of us."
Of galaxies and gliomas
UC Davis ecology grad student Matthew Savoca kicked off the presentations with a discussion into his research about why marine animals eat plastic they find in the ocean – often with tragic consequences. Savoca found that some types of marine animals, including the albatross and certain species of sea turtles who use sulfur compounds to find food, are six times more likely to consume plastic than others. The reason: they are drawn to its sulfurous aroma, which to them, signals a delicious meal.
UC Merced health sciences grad student Arturo Durazo discussed how his own experiences battling cancer informed his research into how to encourage survivors to lead healthier lifestyles. He shared a surprising fact: Seven out of 10 cancer survivors fail to follow the basic diet and exercise routines recommended by their doctors.
"How is it that after a life-threatening illness, they wouldn't follow their doctor's advice?" asked Durazo. After his own battle with cancer, "I was now the person reaching for the Cheetos Bag and not going to the gym." Durazo's research focuses on how to work with cancer survivors to restore their sense of autonomy over their health.
UC Santa Cruz planetary sciences student Michael Nayak held the audience spellbound with his research on Kepler 32, a far-away star system densely packed with planets – sort of a celestial equivalent of downtown Manhattan. The density leads to odd behavior – like planets muscling each other out of solar systems, and moons swapping which planets they orbit.
Like the earliest astronomers, Nayak's research is helping us understand a world far beyond the reach of our own telescopes. "It's a cramped universe up there. So maybe, just maybe, figuring these systems out could give us a clue why we are so special."
Other research focused on subjects such as how new types of treatment centers for intoxicated patients can save millions in unnecessary emergency room visits, or advances that are helping oncologists tackle gliomas, a particularly aggressive and deadly type of brain tumor.
After each talk, Napolitano bantered with the contestants about their lives outside of research, including pursuits that ranged from ballroom dancing and scuba to skydiving.
"Effective storytelling is an important part of being a leader in any field and this competition helps students develop that skill," said San Francisco venture capitalist Mike Liu. He joined KTVU news anchor Frank Somerville, UC Regent Russell Gould, LinkedIn community relations director Katie Ferrick, and UC provost Aimée Dorr in judging the competition.
The color of climate change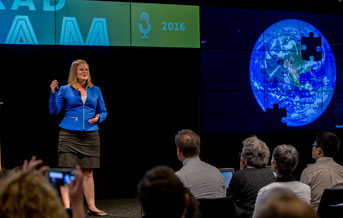 To capture second prize with her talk on the role of aerosols in climate change, UC Irvine grad student Mallory Hinks had to overcome her lifelong fear of public speaking.
"I'm interested in going into science policy, but to do that, you need to be able to present in public, and be quick and to the point," said the fourth-year chemistry doctoral student.
Participating in Grad Slam has been a huge growing experience for Hinks, who was very shy growing up and didn't like to raise her hand in class. "It's been a long process getting from there to here."
The best advice she got during the contest was from UC Irvine speech coach Bri McWhorter.
"She told me: 'It's about the audience. You have to worry about them more than about yourself.' If I'm concentrated on what I'm telling them rather than the fact that everybody's watching me, that really helps me calm the nerves."