February 4, 2016
Lori Brandt
,
UC Irvine
Credit: UC Irvine Engineering
UC Irvine's HyperXite team beat out more than 100 others to finish fifth in the international Hyperloop Pod Design competition Jan. 29-30 at Texas A&M University.
The Hyperloop is a concept first proposed by Elon Musk and SpaceX to design and build extreme high-speed, energy-efficient transportation. More than 1,000 students from 20 countries competed in the event, vying for the chance to build and test their prototype on the world's first Hyperloop test track this summer.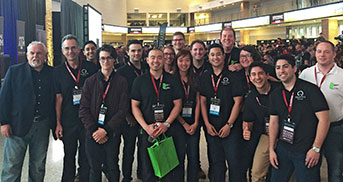 HyperXite was the highest-placing team from California. Of the nine UC teams at design weekend, three are moving forward: UCI, UC Berkeley and UC Santa Barbara.
The 23 UCI undergraduate students from varying majors – ranging from engineering to business to computer science – had been working on their pod idea since last summer, when SpaceX first announced the contest. Based on its preliminary design, the team was invited to attend Design Weekend. Thirteen team members and one professor made the trip from Orange County to College Station, Texas. They landed in Houston, rented cars and drove two hours to Texas A&M, managing a quick stop at the popular food truck super-park, Bernie's Backyard, just off the interstate highway.
On day one of competition, U.S. Secretary of Transportation Anthony Foxx delivered a keynote address about the future of transportation, and the teams set up their booths in an exhibit hall where they could view each other's designs and visit with judges and potential sponsors. "It was nice to see the open sharing of knowledge from the other teams," said Patricio Guerrero, HyerXite's chief engineer and a senior mechanical and aerospace engineering and materials science student.
Feeling confident, excited but also a little nervous, the UCI team stayed up late that night practicing their presentation in HyperXite adviser Roger Rangel's hotel room.
"Attention to detail paid off"
On day two of competition, the exhibit hall was open to the public. While most of the HyperXite team manned the booth, four members were whisked away to a conference room where they made a formal presentation to a panel of judges – two from SpaceX and two from academia.
Some teams entered full pod designs; others highlighted just subsystems for propulsion, air levitation or braking. HyperXite presented a full pod design and its levitation subsystem. For the main presentation, Guerrero was joined by the team's project manager, Jacob Gantz, an MAE senior; structures lead Juliana Andrews from civil engineering; and head of levitation James Harvey, a materials science major.
Rangel, professor of mechanical and aerospace engineering, sat in on the presentation. "I was very proud of our students and their professionalism. Their understanding of the requirements and attention to detail paid off."
HyperXite's pod is designed to accelerate from 0 to 219 mph in just five seconds. Similar to a hovercraft, the pod will float on a thin film of air using a precision levitation system that Harvey developed specifically for this application. It's primary braking system uses electromagnets that can stop the pod safely without making contact with the rail. Also, composite materials are integrated into many aspects of the design to keep the pod's weight down. And finally, to ensure safety, the pod's braking, navigation, controls and levitation systems are all fault-tolerant or redundant, meaning that if any of the systems experience a failure, there is a backup approach that would maintain functionality of the pod.
HyperXite is one of 30 teams moving forward to the build-test round of the competition and the only one in the top five that employs air-based levitation. The other teams, including first-place awardee MIT, use magnetic suspension in their pod design.
Construction of pod begins this summer
"I'm immensely proud of what we achieved as a team," said Gantz.
All teams moving on will begin construction of their scale pod for testing at a one-mile track being built by SpaceX in Hawthorne, Calif., sometime this summer.
"We have a lot of work ahead of us," said Andrews. "We had a solid design going into the competition, and now we are optimizing for performance and manufacturing."
While in Texas, HyperXite secured a sponsor, Elite Aviation Products, headquartered in Irvine, but is looking for more. It still needs roughly $40,000 in funding to complete the pod in time for the summer testing competition.
The team is also looking for more students from a variety of disciplines to join the effort. Austin Johansen, mechanical engineer and HyperXite controls lead, believes the team's diversity contributes to its success. "It really broadens our design and we can specialize and use our expertise to refine and make the best design possible."
For more information about sponsorship or joining the team, email ucihyperxite@gmail.com.