July 1, 2014
Alec Rosenberg
,
UC Newsroom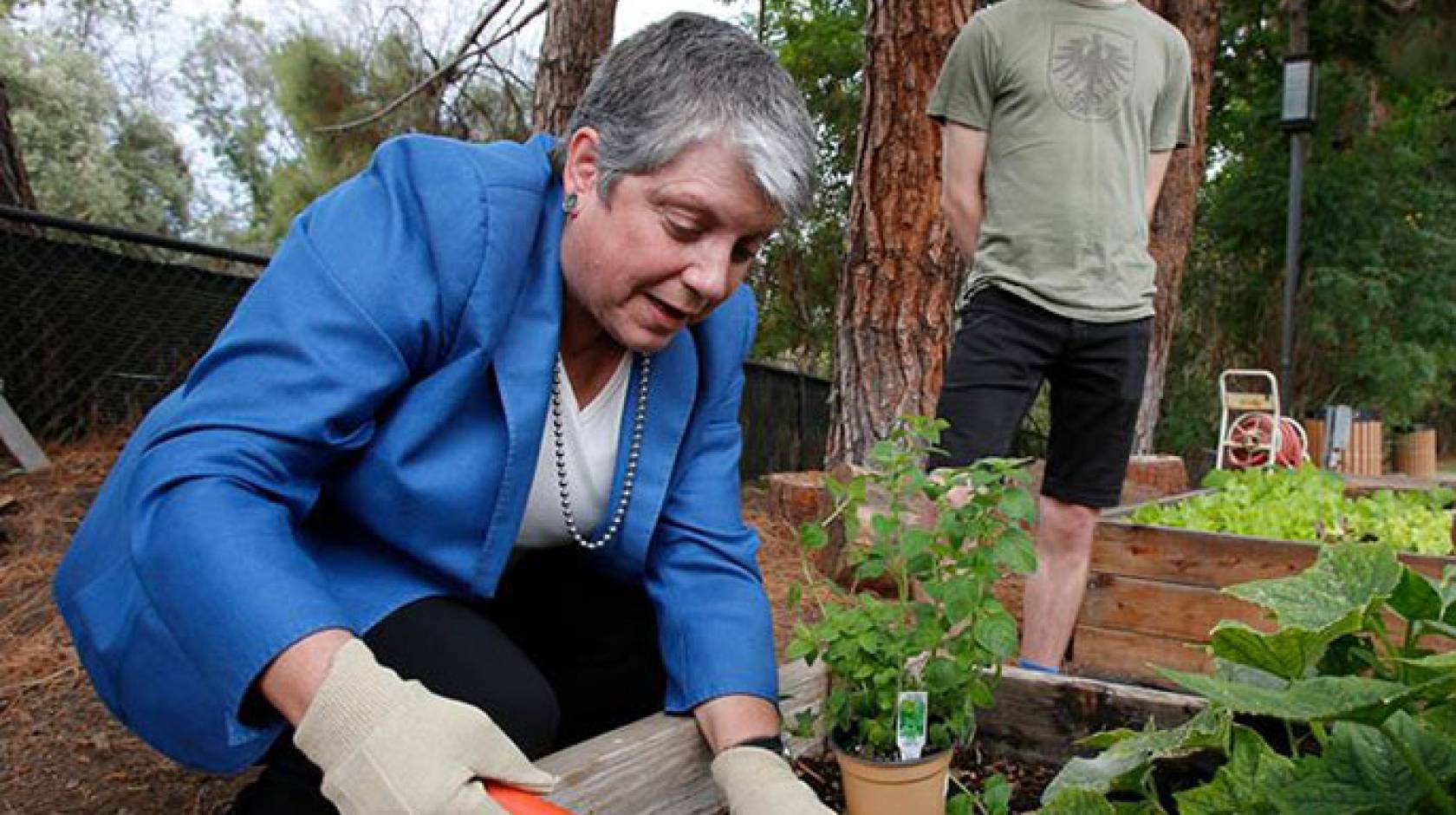 Credit: Reed Hutchinson/UCLA
University of California President Janet Napolitano and chancellors from all 10 campuses are joining forces on an audacious and far-reaching goal: harnessing the collective power of UC to help put the world on a path to sustainably and nutritiously feed itself.
President Napolitano unveiled the UC Global Food Initiative today (July 1) over the course of three events, starting at the Edible Schoolyard in Berkeley, followed by a presentation to the California State Board of Food and Agriculture in Sacramento, and finally at the UCLA community garden in the Sunset Canyon Recreation Center.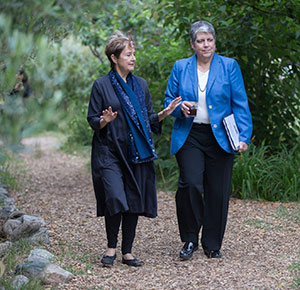 The initiative involves all 10 UC campuses, UC's Division of Agriculture and Natural Resources, and Lawrence Berkeley National Laboratory, with guidance from a systemwide working group appointed by Napolitano and the chancellors. The initiative brings together the university's research, outreach and campus operations in an effort to develop and export solutions throughout California, the United States and the world for food security, health and sustainability, Napolitano said during the morning briefing.
"It is a commitment to apply a laser focus on what UC can do as a public research university — in one of the most robust agricultural regions in the world — to take on one of the world's most pressing issues," Napolitano said.
The Edible Schoolyard is a 1-acre garden and kitchen classroom at the Martin Luther King Jr. Middle School, founded by Chez Panisse chef and owner Alice Waters. It has become a model for teaching children how to grow and eat a healthy, sustainable diet. It features vegetables, herbs, vines, berries, flowers, fruit trees and chickens.
Waters gave Napolitano a tour of the garden and then at a press conference gave her a basket of eggs from the garden's chickens, quipping that she was "putting all her eggs" in Napolitano's basket.
"I'm extremely excited and very hopeful because I know that she believes as I do that public education is the best way to solve the problems of the world," said Waters, a UC Berkeley alumna.
Vision and leadership
Napolitano received an equally warm reception from state agricultural leaders.
"There is no better time to launch this initiative than today," said board President Craig McNamara. "Count on us at the State Board of Food and Agriculture. We are your partners."
The initiative will harness UC's leadership in the fields of agriculture, medicine, nutrition, climate science, public policy, social science, biological science, humanities, arts and law, among others.
It comes at a crucial time, Napolitano said. A billion people — most of them in the developing world — suffer from chronic hunger or serious nutritional deficiencies. More than half a billion — primarily in the industrialized nations of the world — are obese. Against this backdrop, climate change and population growth fuel additional uncertainty and urgency about how to sustainably feed the world.
"This initiative shows great vision and leadership from President Napolitano and the University of California," said Karen Ross, secretary of the California Department of Food and Agriculture. "Climate change and population growth will greatly strain our ability to provide healthy food to people here and around the world.
"President Napolitano's proposal to leverage the strategic assets of the entire UC organization makes it a valuable partner in addressing the significant challenges and opportunities for our production agriculture and food system."
Napolitano said that she and campus chancellors decided to launch the Global Food Initiative after recognizing that the university system is uniquely positioned to play a leading role in addressing the related challenges of nutrition and sustainability.
Playing to strengths
Henry Brady, dean of UC Berkeley's Goldman School of Public Policy, was among a half dozen UC leaders and members of the university's Food Initiative Working Group to join Napolitano at the Edible Schoolyard. Also in attendance were UC Santa Cruz professor Daniel Press, executive director of the Center for Agroecology & Sustainable Food Systems at that campus, and Ann Thrupp, executive director of the Berkeley Food Institute at UC Berkeley.
Brady said that the initiative's strength comes from the depth of work and research across the 10-campus system. Each location brings its own area of expertise, he noted.
"We at the Berkeley Food Institute are trying to see how we can transform the food system to be more sustainable and we want to do it through good science, good policy, good thinking," Brady said.
Press echoed Napolitano's sentiment that UC's involvement comes at a crucial moment.
He said that UC Santa Cruz had long been the "mothership" of organic agriculture in California and the U.S.
"We feel a lot of what people are talking about with sustainable agriculture and justice in the food system — these are things we've been working on for 40 years," Press said. "Now the world is much more receptive."
Helene Dillard, dean of the College of Agricultural and Environmental Sciences at UC Davis, who joined Napolitano at the meeting with the state board, said that people at UC Davis are particularly excited about the initiative because it aligns so well with work already under way at the campus.
UC Davis last year launched the World Food Center to focus on transformative research at the intersection of food, agriculture, health and public policy.
"We're already the No.1 agricultural school in the nation and the world," Dillard said. "Having the UC system focusing on this really plays to our strengths."
Stronger together
At UCLA, Napolitano was joined by UCLA Executive Vice Chancellor and Provost Scott Waugh; Wendy Slusser, associate vice provost for the UCLA Healthy Campus Initiative; students who manage the garden; and Los Angeles and Riverside school district officials.
UCLA's initiative is an integrated effort aimed at making the campus the healthiest university in the country, promoting health and wellness of students, faculty and staff, and helping other communities achieve the same objectives. The Healthy Campus Initiative was envisioned and supported by philanthropists Jane and Terry Semel. Jane Semel was present for the announcement.
Napolitano toured the garden with members of the student group DigUCLA. She also planted an oregano plant and learned about gardening basics from the students.
Slusser said that she was excited to learn that the Healthy Campus Initiative served as a starting point for what has grown into a larger and stronger UC-wide effort. "On a personal note, the initiative is bringing me back to my roots since food has been the driving force in my medical and academic career, and also my father is a fourth-generation California rancher. So thank you, President Napolitano, and thank you to all our UCLA and community partners for working so hard in making us stronger together to promote health, wellness and happiness through food."
UC is California's land-grant university and has played a key part in helping California become the nation's leading agricultural state. UC's Division of Agriculture and Natural Resources has experts in every county in California, helping farmers, ranchers and others cope with tough issues like drought.
But UC's leadership goes beyond agriculture. Students, faculty and staff have turned UC's campuses into living laboratories for sustainable food practices. UC also is on the frontlines of addressing issues of food inequality and health, from developing flood- and drought-resistant crops to developing a highly efficient cookstove that addresses food security issues posed by displaced persons in Darfur.
Napolitano noted that the Berkeley Food Institute is studying the relationship between pest control, conservation and food safety on Central Coast farms; the World Food Center at UC Davis stands with 26 other centers dedicated to food and agriculture on that campus; students and faculty at UC Santa Cruz are transforming the field of agroecology; and the cutting-edge Healthy Campus initiative at UCLA taps all members of the campus community.
"We do much," Napolitano said, "but, together, we can do more."
Examples of projects that will be undertaken in the first phase of the UC Global Food Initiative include:
Expanding experiential learning, including demonstration gardens;
Creating a course catalogue of all food-related courses available on UC campuses;
Leveraging food purchasing power to encourage sustainable farming practices to serve nutritious fare in dining halls and cafeterias;
Data mining of existing information to help develop insights and action plans for agriculture and responses to climate change;
Organizing food pantries, so that food reaches hungry mouths instead of going to waste; and
Developing policies to better enable small growers to become suppliers.
Supporting student involvement
To support student engagement, Napolitano also announced the creation of the President's Global Food Initiative Student Fellowship Program. The Office of the President will provide $7,500 to each UC campus to be used for three fellowships of $2,500 each. At the campuses' discretion, these fellowships will go to undergraduates or graduate students, to fund student-generated research, related projects or internships that focus on food issues.
Keith Gilless, dean of UC Berkeley's College of Natural Resources, said he was excited to see the system collaborate on such an important goal.
"I've been working my whole career to see how does the UC system as a whole come together so the sum is greater than its parts," Gilless said. "The time is right to mobilize the university's resources both to advance science and practices and to raise public consciousness about food issues broadly."