UC leaders join President Obama at higher ed summit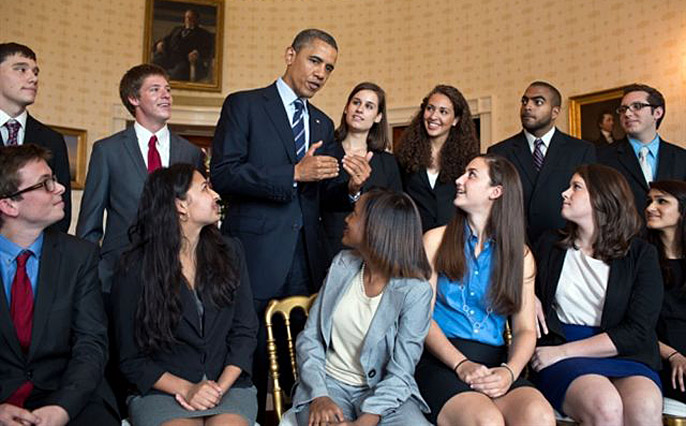 University of California President Janet Napolitano and several UC chancellors joined President Obama and education leaders from around the country at a higher education summit today (Jan. 16) aimed at making college more accessible to low-income students.
Participants included UC Berkeley Chancellor Nicholas Dirks, UC Merced Chancellor Dorothy Leland, UC San Diego Chancellor Pradeep Khosla and roughly 90 other college and university presidents. They were asked to come armed with ideas for how higher education can better serve those on the lowest rungs of the economic ladder.
The issue has gained national urgency in recent years, fueled by data that show a growing gap in college graduation rates between lower-income students and their more affluent peers. Many worry that higher education, long envisioned as the great equalizer, is becoming another factor in the widening gap between rich and poor.
"The promise that anyone, no matter how humble their beginnings, can have a shot at a high-quality college education is at the heart of what makes this country strong — and it's what the University of California is all about," Napolitano said. "I'm looking forward to sharing what UC is doing that works, discussing what else we intend to do and hearing other ideas on this important issue."
UC's track record
Indeed, UC's record on successfully serving low-income students stands apart from any other research university in the nation.
Among the thousands of bright and hard-working students that UC educates, 72,500 undergraduates — 40 percent of the student body — come from low-income households, a number that no other top-tier university comes close to matching. To put that figure in perspective: UC educates eight times as many low-income students as the entire Ivy League combined.
Among the 2013 freshman class, 46 percent of California students are first-generation college-going students.
These students don't only enroll in large numbers: They also go on to achieve academic success and graduate at high rates, approaching those of their more affluent peers who often come from higher-performing high schools and face fewer family and financial pressures.
At the summit, Napolitano was scheduled to take part in a panel discussion with College Board representative David Coleman, acting education deputy secretary James Shelton III and others on how institutions recruit low-income students.
Committed to improvement
She and other participants also have agreed to make commitments to specific actions they will take to expand opportunity and access at their own institutions.
Napolitano has pledged to increase the flow of community college students to UC and improve the online system that helps students track course requirements and manage the transfer process.
Napolitano has committed to work with the heads of the California State University and California Community College System to increase college awareness and opportunity, including providing more information about the availability of financial aid.
She also pledged to look for ways to close the gap between the number of California high school students whose standardized test scores demonstrate the ability to do college-level work and the number of students who take the courses necessary for college admission. In partnership with the College Board, UC will launch an effort that includes mailings, student outreach, and high school visits to promote college-readiness.
Four UC campuses also made commitments:
UC Berkeley is committing additional resources to expand its outreach programs for low-income, first-generation-college and underrepresented students. The Destination College Advising Corps will be expanded to place additional college counselors in under resourced high schools to provide college advising and foster college-going culture. The university will also expand early college awareness efforts and the Transfer Alliance Project, which provides intensive one-on-one advising, academic enrichment opportunities and application assistance to prospective transfer students at community colleges throughout California.
UC Davis will expand its Special Transitional Enrichment Program, which provides first-generation, low-income freshman students with transitional classes, skills development and other support to enhance academic preparation. It also will expand its Transfer Opportunity Program which helps community college students transition seamlessly into UC Davis academic programs.
UC San Diego will strengthen and expand its Chancellor's Associates Scholarship Initiative, covering the full cost of attendance for 100 very low-income students from the San Diego area. The campus also will establish a new transfer guarantee program for community college students, expand service learning opportunities, and develop programs to improve pathways to college for underrepresented students in the science, technology, engineering and math (STEM) fields.
UC Merced, which already serves large numbers of low-income students, will make a number of commitments toward supporting student success before, during and after college. These include programs to support foster youth and undocumented students, increasing internship and employment opportunities for low-income students, helping students and families reduce and manage repayment of loans, and inviting low-income high school seniors to the campus for a full-day college access event.
Napolitano has been actively engaged in expanding access and opportunity since she assumed leadership of the 10-campus UC system in October.
Among her first actions as president, Napolitano called for a freeze on undergraduate tuition levels for the 2014–15 academic year, and announced she would develop a new tuition policy aimed at reducing cost volatility.
"There is always more we can do," Napolitano said. "The University of California was created to serve the people of this state — and that means serving everyone, regardless of income."