November 4, 2022
Nicole Freeling
,
UC Newsroom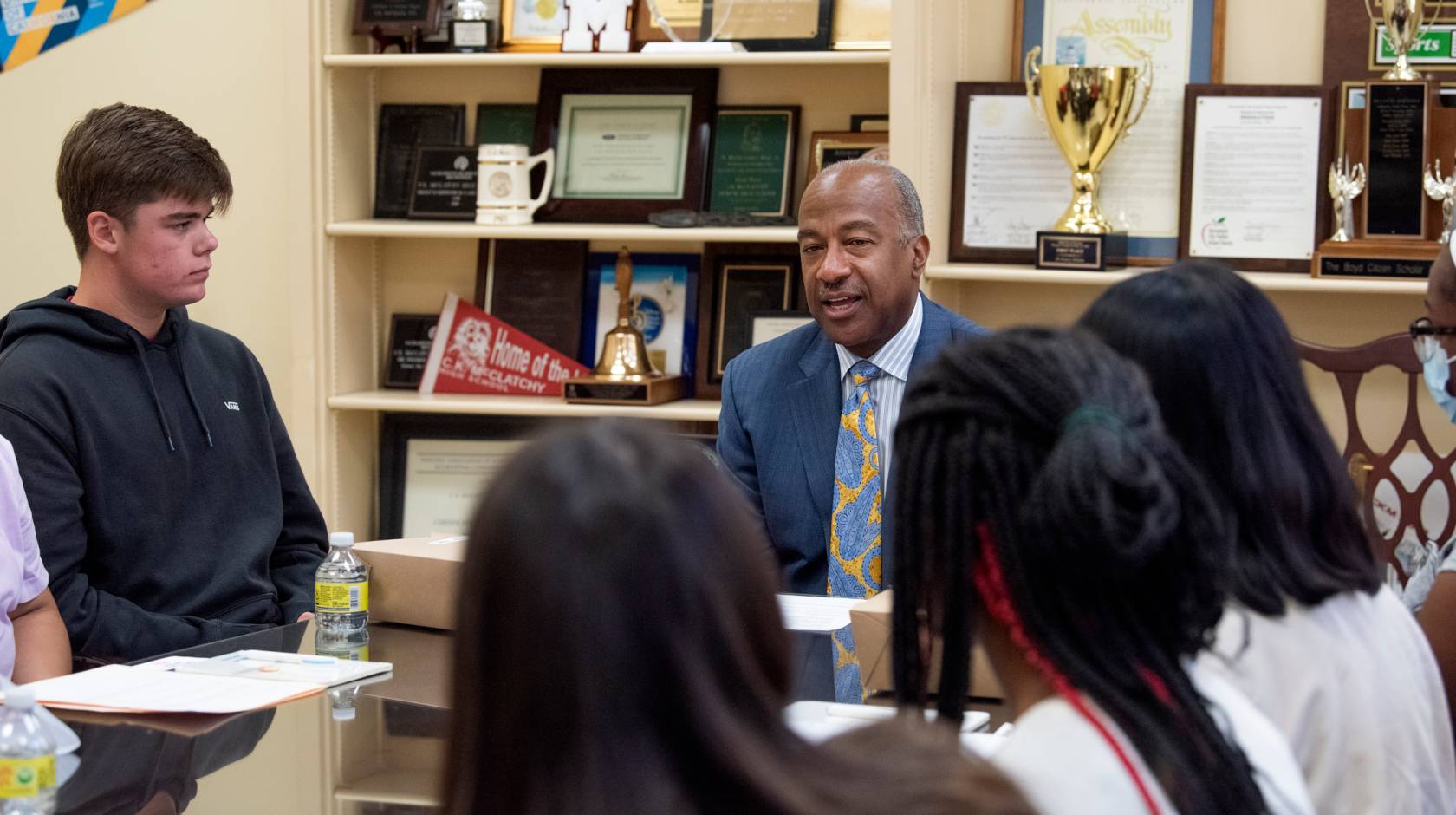 For many 10th graders, college may seem light years away — or out of reach entirely. But at McClatchy High in Sacramento on Thursday (Nov. 3), students heard from recent high school students about the experiences they had as sophomores that launched them on their journey to a University of California education.
They also heard from UC leaders, including UC Davis Chancellor Gary S. May and UC Vice Provost Yvette Gullatt about financial aid and pathways to a UC education, and the fact that three out of four California students who apply to UC get an offer of admission.
"When adults told me I could aim for a college education, I didn't believe them," said Gullatt, a UC Berkeley grad and Ph.D. who now oversees graduate, undergraduate and equity affairs for the 10-campus UC system. "I didn't have any money. I'd never been on a college campus. But the education I got opened doors, not just for me, but for my entire family," said Gullatt, whose sons also attained UC educations.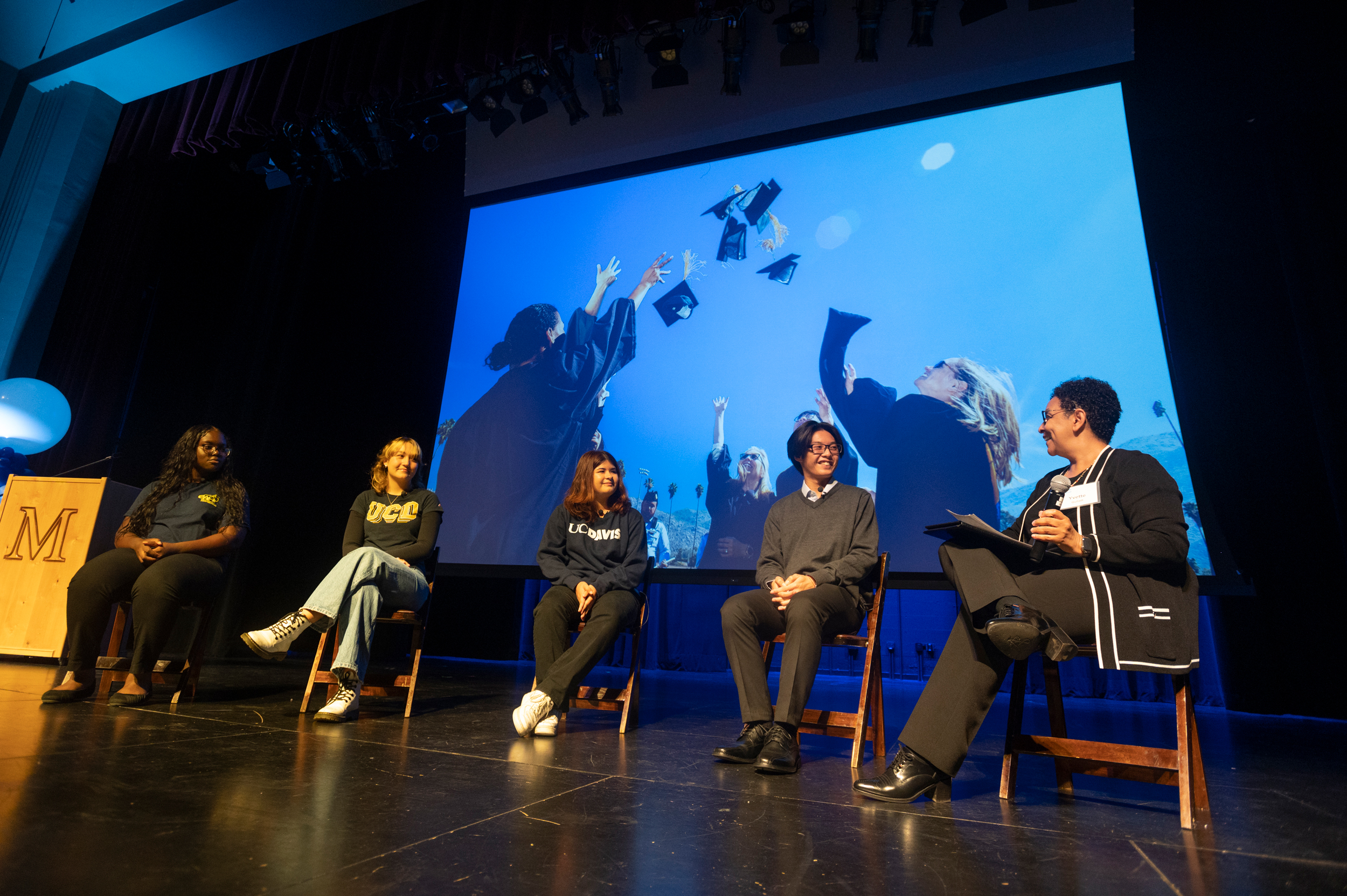 Alice Atiegar, who attended El Camino Fundamental High School in Sacramento and is now at UC Davis pursuing a career in medicine or public health, shared a similar story.
Her journey to UC started in 10th grade, when she attended a summer college prep program on the UC Davis campus. "That showed me that it's possible to go to a UC and pushed me to apply," she said. Now she loves it: "The campus is very diverse, and that's something that I love. I underestimated how welcoming it would be and the overwhelming support I receive as a minority student."
Chancellor May was equally encouraging, telling the assembled students that the campus offered more than 100 different majors to choose from, not to mention the possibility of working alongside faculty and researchers who are trying to change the world for the better.
"Nearly 41,000 students are part of our campus community, and they're studying major issues of our time, like climate change, pandemics and feeding a growing population. They're learning about how they can contribute to social justice issues, reshaping how we see and appreciate the world we live," May said. "We're also empowering our students for great success after they graduate and helping them to find their dream career. We want each of our students either to have a job offer in hand before they graduate or have plans for graduate school in place."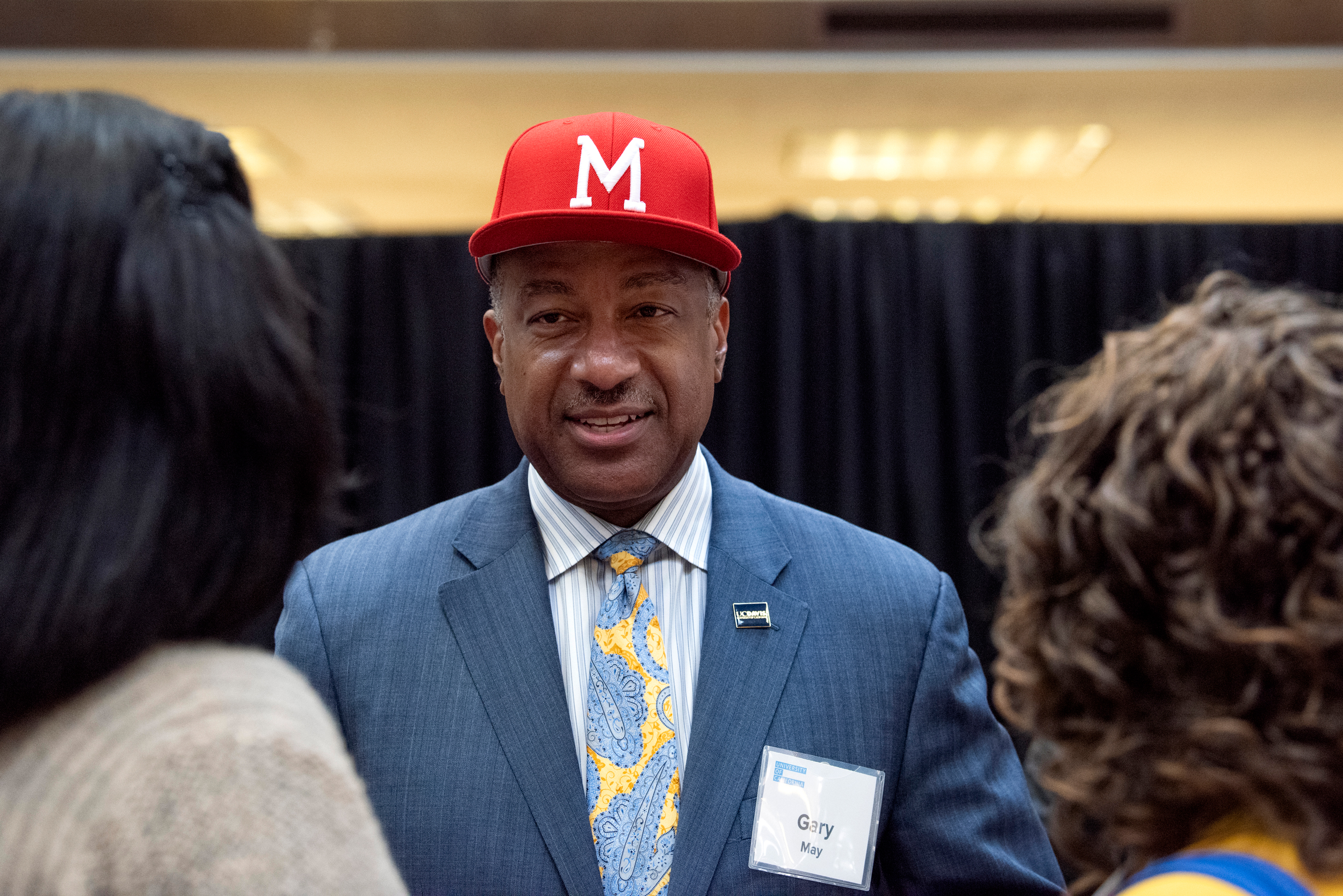 The speakers were just one part of a day filled with events and activities designed to encourage McClatchy High students to consider applying to a University of California campus ahead of the fall 2023 application deadline on Nov. 30, 2022.
Students had opportunities to talk with representatives from all nine UC undergraduate campuses and the local community college, learn about UC's strong financial aid program, and get tips on navigating the admissions and application process.
Students heard about the financial aid available to make a UC education affordable to all students — including UC's Blue and Gold program, which covers all systemwide tuition and fees for students from households with incomes of $80,000 or less. Thanks to that program, more than half of UC's California undergraduates pay no tuition.
That fact was a major eye-opener for Shaylah Payne, a sophomore who had seen college as financially out of reach and had planned on going into the military to help pay for college.
"I always worried about the money," said Payne, who had stopped by tables to talk to representatives at UC Merced, UC Riverside and UC Irvine. "But now that I've talked to some people from UC about it, I'm thinking about going straight to college." Payne, who has lived with her grandmother since her mom passed away when she was little, hopes to study psychology and criminology.
Another fact stood out to classmate Taylor Scott Hansen: the fact that two out of three McClatchy High students who applied to UC last year got in. "I know these schools are really competitive, but it opened my eyes to the fact that going to a UC campus is actually possible," said the 10th grader, who hopes to become a doctor.  
Helping California students get to college
The visit to McClatchy High is part of a UC effort in high schools across the state known as Achieve UC. The program is designed to inspire more high school students to see themselves as college material, and to pair that aspirational message with practical guidance and support for going to UC.
The program targets schools with relatively low college-going rates. Students in such schools often face a gap in what educators call "college knowledge." They may not understand financial aid, the application process, or the options available to them. Most important, students often lack confidence in their own abilities. 
The event is intended to address those gaps, while also offering up stats that frequently come as a reassuring surprise to students, including that 55 percent of California undergraduates get enough financial aid to cover all their systemwide tuition and fees and that roughly 1 in 3 UC undergraduates has transferred from a community college.
This year, students can also count on UC's new tuition plan, which sets systemwide costs at the time a student enrolls with the expectation that those charges will remain at that same level each following year for the duration of their college careers, up to six academic years.