January 28, 2015
Nicole Freeling
,
UC Newsroom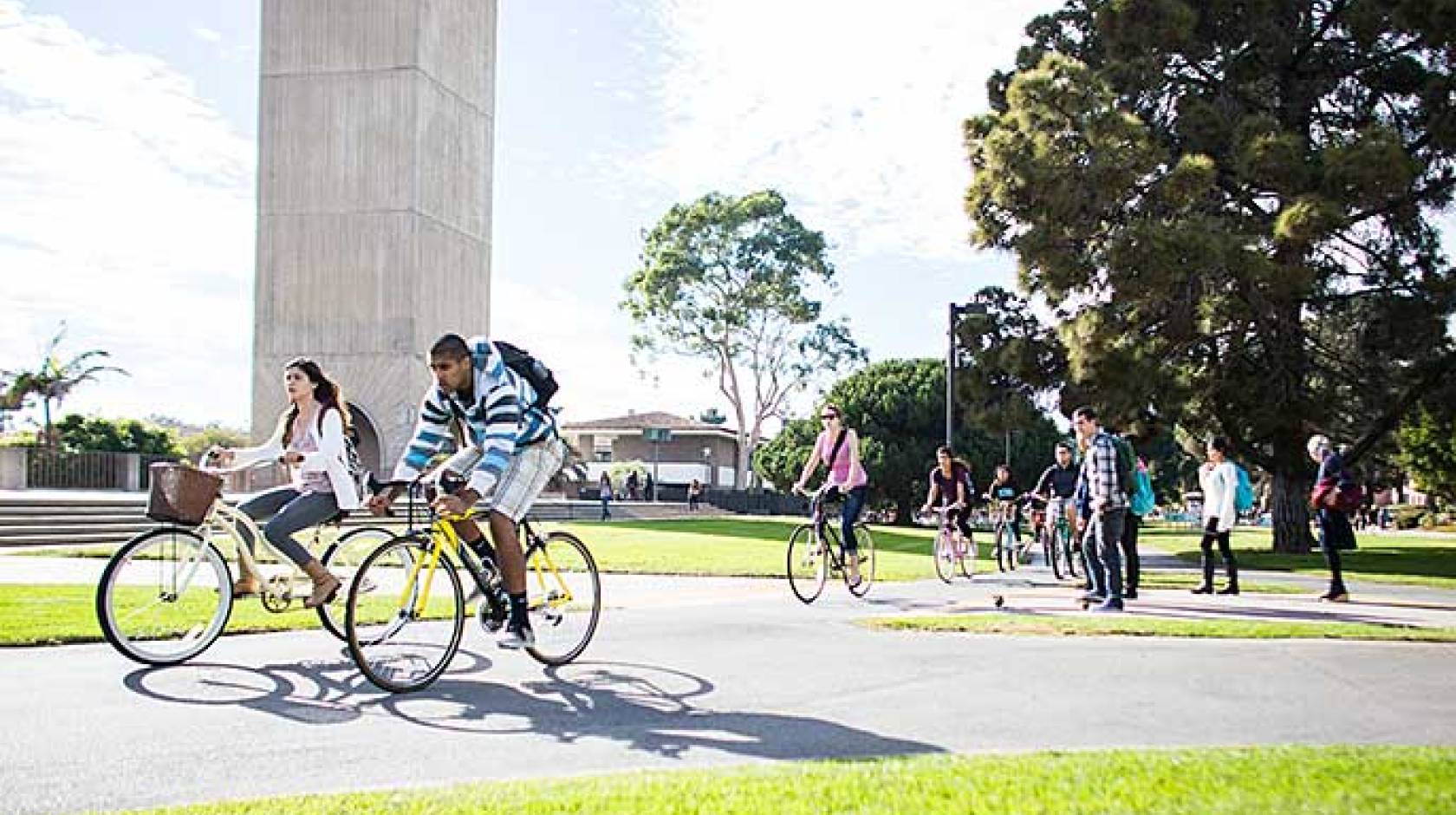 Credit: University of California
UC Santa Barbara has been named a Hispanic-Serving Institution, making it the first member of the prestigious American Association of Universities and fourth University of California campus to earn the designation.
The Hispanic Association of Colleges and Universities awards the designation to higher education institutions where at least 25 percent of students are Latino.
The recognition brings with it eligibility for federal resources aimed at providing additional financial aid and student support. It is an especially meaningful achievement for UC Santa Barbara — the first university in the country to offer a Ph.D in Chicano studies.
"This milestone achievement reflects our vision and decades of collaborative effort and commitment to enhance excellence and diversity," said UC Santa Barbara Chancellor Henry Yang. "Our faculty, staff, students, and alumni work tirelessly to make UC Santa Barbara a place that welcomes individuals of all backgrounds, and with this designation, we celebrate our shared commitment."
UC Santa Barbara is the newest UC campus to earn the HSI designation; UC Riverside was the first to do so, in 2008. UC Merced and UC Santa Cruz soon followed. Two more, Irvine and Davis, are on track to be designated as Hispanic-serving by 2016.
"We're proud that UC Santa Barbara has joined our Riverside, Santa Cruz and Merced campuses as Hispanic-Serving Institutions, and we look forward to other University of California campuses achieving that distinction," said UC President Janet Napolitano. "It's vitally important to the university and state that we provide the same level of access and quality to current and future generations of California high school graduates that past generations have enjoyed."
Meeting the needs of a changing demographic
In fact, the entire University of California system plays a leading role among top research universities in serving large numbers of Latino students. Taken together, the nine undergraduate campuses are close to meeting the enrollment threshold to qualify as Hispanic-serving.
UC enrolls roughly 44,700 Latino students — 23 percent of its undergraduate population. More than 72 percent of these students are the first in their families to go to college.
In just a decade, the undergraduate Latino enrollment at UC has grown by about two-thirds, reflecting ever-increasing numbers of Latino high school graduates who are UC-eligible.
In 2014, the state's 14 million Latinos surpassed non-Hispanic whites as the largest ethnic group in California. It is a demographic shift that is concentrated among youth: Half of the state's K-12 students are Latino.
Such statistics, UC leaders say, point to a clear imperative: If UC is to serve the citizens of the state and meet California's growing need for a college-educated workforce, it must be focused on furthering the success of a demographic group that is quickly becoming a majority in the state.
"The University of California plays a key role in educating Californians and, as Latinos become an increasing majority of that population, UC's role in assuring their full contribution to the California economy will be vital," said Antonio Flores, director of the Hispanic Association of Colleges and Universities (HACU), the organization of HSI-deemed institutions.
"The growth in the number of UC campuses that are federally designated as Hispanic-serving institutions or close to becoming so is indicative of both the success of the system's outreach efforts and the increased achievement of many Latino students," he said.
Setting a new standard for excellence
UC is prohibited by state law from considering racial or ethnic factors in admissions, but it engages in aggressive outreach across California's diverse communities to make sure that high-achieving students know that UC is an attainable and affordable college option.
Once students are on campus, UC offers a range of support services to ensure that students are able to build the personal and academic connections critical to their success.
The outreach and retention efforts are paying off. Latino students are applying to UC in record numbers, and accounted for more than a third of applicants for fall 2015 freshman admission.
These students come to UC campuses well prepared, with an average grade-point average of almost 3.9, and strong records of leadership and public service. Hispanic students at UC also graduate at a rate that outpaces that of Hispanic students at other highly selective public universities.
And they find a welcoming environment on campus: In UC undergraduate experience surveys, 83 percent of Latino students report feeling that they belong on campus.
National accolades
Such strides have brought national recognition that UC campuses are among the nation's top colleges for Hispanic students. UC Santa Cruz's high Latino graduation rates and its Chicano Latino Resource Center, known as El Centro, led the comparison website BestColleges to name the campus as the top college for Hispanics in the country. The same site ranked Riverside third in the country and Merced 11th among institutions that serve Latinos.
UC officials say they are hopeful this latest milestone will build on that reputation, sending a clear message to Latino students that a world-class UC education is attainable and open to them.
While several other higher education systems have multiple campuses that are HSIs, UC is one of the few to include numerous Ph.D.-granting institutions.
That's important not just to students today, but to those who will form the next generation of college educators.
Research has shown that a sense of belonging is an important factor in academic success. For students, part of that is being able to look to the front of the classroom and see someone who looks like them.
"More Latino students graduating from world-class institutions with the credentials to become faculty means a more diverse academy," Napolitano said. "That it in turn will make for a more welcoming system of higher education for Latino youth who will be entering college in years to come."
"There is much work still to be done," said HACU president Flores. "But the expansion of diversification of educational opportunity is surely a good thing for the state as a whole."
UC Riverside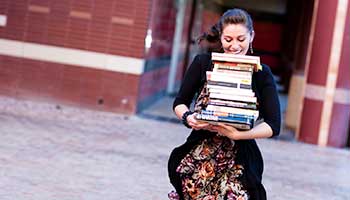 "We are proud of [UC's] commitment to diversity and student success. As the first UC campus to receive the HSI designation, UC Riverside has been at the forefront in seeing the diversity of California reflected in our population."
— Chancellor Kim Wilcox
35 percent of undergraduates are Latino
HSI designation: 2008
UC Merced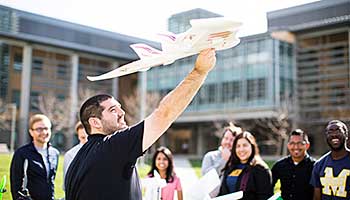 "With nearly half of our students identifying themselves as Hispanic, we're very proud of UC Merced's HSI designation. It's been enormously helpful in obtaining grants and other funding for a variety of purposes."
— Chancellor Dorothy Leland
44 percent of undergraduates are Latino
HSI designation: 2010
UC Santa Cruz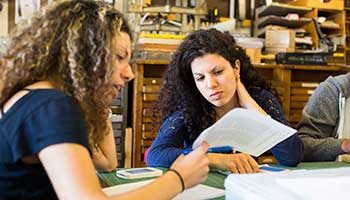 "I'm delighted that another UC campus is joining the ranks of Hispanic-serving institutions. This designation speaks to the progress UC has made as a system [and] the university's commitment to serving all populations in California."
— Chancellor George Blumenthal
30 percent of undergraduates are Latino
HSI designation: 2012
UC Santa Barbara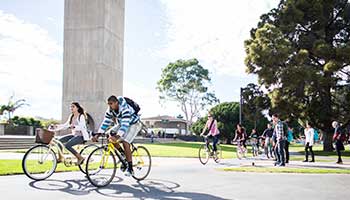 "Our faculty, staff, students and alumni work tirelessly to make UC Santa Barbara a place that welcomes individuals of all backgrounds and, with this designation, we celebrate our shared commitment."
— Chancellor Henry Yang
25 percent of undergraduates are Latino
HSI designation: 2015
UC Irvine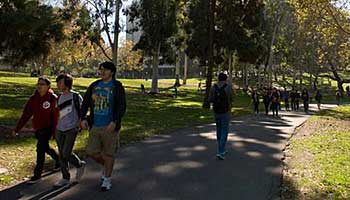 "When we serve students of all life experiences and backgrounds, we make fundamental contributions to our democracy and play a central role in the creation of a true opportunity society. Designation as a Hispanic-Serving Institution would mark UCI as a national leader among AAU research universities in ensuring that pathways to success are open to all."
— Chancellor Howard Gillman
21 percent of undergraduates are Latino
Emerging HSI
UC Davis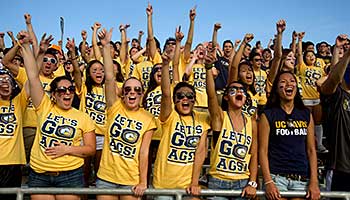 "UC Davis is committed to becoming a Hispanic-Serving Institution first and foremost because it is right for our current and prospective students of all backgrounds, but also because helping more Latino students attend and succeed in college is crucial to building the workforce that California and the nation need."
— Chancellor Linda Katehi
19 percent of undergraduates are Latino
Emerging HSI