January 31, 2011
Alec Rosenberg
,
UC Newsroom
Crystal Denmon was raised by a single parent in South Los Angeles, where gangs were common and graduating from high school was not.
Starting in second grade, she woke up at 5:30 a.m. to catch the bus that took her an hour across town to school, where she was often the only African-American student in her class. Denmon overcame the odds and made it to UCLA, where she participated in community health projects and earned a degree in psychobiology.
But when Denmon applied to medical schools, she didn't get in. Determined to become a doctor, she is getting a second chance as a postbaccalaureate student at UC Davis. The yearlong program helps promising students from disadvantaged backgrounds get into and succeed in medical school.
"I'll be a more competitive applicant," said Denmon, who hopes to attend a University of California medical school and practice primary care in Los Angeles. "Being around like-minded individuals who share similar interests and professional goals keeps me motivated to pursue my dreams of becoming a pediatrician."
UC has increased student diversity at its medical schools aided by its postbaccalaureate programs and a spectrum of other efforts targeting everyone from middle and high school pupils to undergraduate, graduate and professional students. Among first-year students at UC medical schools, underrepresented minorities have increased to 23 percent of students this year, up from 14 percent in 2001 and outpacing California's private medical schools and the national average.
"What we've been able to do is exemplary," said Dr. John Stobo, UC senior vice president for health sciences and services. "Diversity is critically important. We can't educate, deliver health care and do research that advances the health of a diverse population if we don't have a diverse work force."
UC issued a special report in 2000 on medical student diversity after a seven-year downward trend in underrepresented minority enrollment at its medical schools. The report prompted action that continues today, though gains are threatened by a lack of funding.
UC can't consider race or gender in admissions because of Proposition 209, which California voters passed in 1996, but UC does have programs aimed at students from disadvantaged backgrounds, and those tend to include Latinos, African Americans and other underrepresented minorities. Since 2000, UC has expanded its postbaccalaureate and undergraduate science scholars programs. In 2004, UC launched the systemwide Programs in Medical Education (PRIME), training physician leaders to meet the needs of California's underserved populations in rural and urban communities. PRIME enrollment has grown to about 250 students, a majority of whom are underrepresented minorities. A sixth PRIME program — UC Merced San Joaquin Valley — opens this year.
UC Postbaccalaureate Consortium
Postbaccalaureate premedical programs are for dedicated students who didn't get accepted to a medical school or didn't apply because they didn't have quite high enough GPAs or MCAT scores and faced disadvantages such as coming from low-performing K-12 schools, lacking mentors or working long hours in college. Each program provides intensive summer MCAT preparation, workshops on learning skills, enrollment in upper division science courses and guidance through the medical school application process. By strengthening their MCAT scores and grades in premed courses, students become more competitive applicants to medical school.
More than 80 percent of UC postbaccalaureate students get into a medical school — so far that's more than 800 students, 73 percent of whom are underrepresented minorities. "These programs are very effective," said James Forkin, director of the UC Postbaccalaureate Consortium.
UC formed the consortium — the nation's only one — in 2006, with funding from The California Endowment, a private health foundation. The consortium created a central office, which manages a joint online application, making it easier to apply; and a central database, making it easier to track data on program participants. These efforts have helped to raise the programs' profile, said Forkin, who is based at UC Davis.
The consortium not only has boosted postbaccalaureate applications, it has helped bring students to the attention of UC admission officers. Since the consortium formed, the rate of UC postbaccalaureate students accepted to UC medical schools has risen from 40 percent to 65 percent. Students also move on to California private medical schools and out-of-state medical schools.
UC also initiated a national collaborative of about 20 postbaccalaureate premedical programs to share information and engage in joint advocacy. The postbaccalaureate programs' future is precarious. UC has received a California Wellness Foundation grant to keep the consortium's central office open for now, but is seeking more funding because The California Endowment grant is ending. "It's very likely that some of these programs will close down or reduce their numbers if additional support is not found," Forkin said.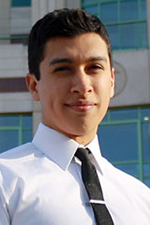 That would be bad news for people such as Fabian Alberto, who grew up in Soledad in Monterey County. Alberto's parents worked as migrant farmworkers, and Alberto joined his dad working summers in the fields. Many peers lacked access to health care.
As an undergrad, Alberto majored in history at UCLA. But he dreamed of providing medicine to underserved populations. He served as a surgical tech at UCLA, participated in medical missions to Peru and was a community organizer in Soledad, helping migrants with health issues. Now a UC Davis postbaccalaureate student, Alberto hopes to attend a UC medical school and practice primary care in a rural community.
"Even a history major can really excel in medicine," Alberto said.
Conditional acceptance programs
UC San Diego and UC Irvine also offer a special type of postbaccalaureate, a conditional acceptance program. Students who complete the program successfully are admitted to medical school. UC San Diego's program, supported by a National Institutes of Health endowment, includes rigorous courses, advising and participation in the Student-Run Free Clinic Project. Students must maintain a 3.5 GPA.
"We set high standards and the students have met them," said Dr. Carolyn Kelly, associate dean for admissions and student affairs at the UC San Diego School of Medicine. "The students do very well in medical school with the additional academic preparation. They graduate from medical school. They go on to residency training programs."
The conditional acceptance program, which accepts four or five students a year, complements other efforts such as PRIME, the regular postbaccalaureate, UniversityLink for community college students and the Health Careers Opportunity Program for disadvantaged teens, Kelly said.
Diversity is a priority, Kelly said. "We still have a long way to go," she said, noting that 45 percent of Californians are underrepresented minorities. "We're trying. I think we're making progress."
UC Irvine's conditional acceptance program accepts four students a year — disadvantaged students who are "gems," said Ellena Peterson, associate dean for admissions and outreach at Irvine's medical school. One of the former conditional students, now a third-year medical student, described the yearlong program as "medical school with training wheels," she said.
"It builds self-confidence," Peterson said.
Irvine, which had UC's first PRIME and postbaccalaureate programs, may extend the postbaccalaureate program into a second summer, with MCAT preparation at the end instead of the beginning. By then, students have gained a full year of coursework leading to a solid academic foundation and have built a learning community with their peers.
"Some of these students have tried and tried in isolation," Peterson said. "In the postbac year they find that there is strength in their peer support system."
Working together
"It's not one effort," said Dr. Neil Parker, senior associate dean for student affairs and graduate medical education at UCLA's David Geffen School of Medicine. "It really is the whole consortium of things."
For example, UCLA medical students run health fairs in disadvantaged communities, such as the mostly Latino Lennox School District. "The young kids start seeing people who look like them and start thinking, 'Gee, I can go to medical school.' The pipeline needs to go way back to K-12," Parker said.
UCLA also has nurtured diversity through partnerships with UC Riverside and Charles Drew University, a South Los Angeles institution that serves underserved communities. UC, which educates 3 of 5 medical students in California, seeks diversity in its broadest sense — students from different economic backgrounds, geographic locations and life experiences.
"Medical schools are not just looking at GPA and MCAT scores," Parker said. "We want a physician or dentist who looks like the face of the California we serve."
Another outgrowth of the 2000 diversity report is a committee of all California medical school — public and private — admission deans that meets twice a year. The deans have made increasing diversity a statewide priority. "We should be all working together to bring more students to California," Parker said.
Blue-collar scholars
UC Berkeley's Valley Life Sciences Building is known for its 40-foot T-Rex skeleton, but tucked away in tiny 2018 VLSB, hundreds of underrepresented undergrads have found a second home.
This is headquarters for the Biology Scholars Program, where students receive comprehensive, tailored support, preparing them for medical school or other science careers. "BSP allowed me to hold onto a dream," said alum Kessy Gbenedio, a BSP coordinator applying to medical school. Alum Griselda Velasquez, now a BSP adviser, plans to apply to medical school next year. "Students that come from low-income backgrounds ... can succeed in science," Velasquez said.
Among underrepresented minority BSP students, more than 90 percent who apply to medical schools get accepted. Since 2004, 95 underrepresented minority BSP students have enrolled in medical school — 70 of them at UC.
"We're kind of like the Oakland A's," Program Director John Matsui said. "You take undervalued players that nobody wants and they wind up being the players the New York Yankees want. We're the blue-collar program. Our students go off to Harvard, UCLA and Stanford."
Matsui co-founded BSP in 1992 to address institutional gaps - leveling the playing field for disadvantaged students, who receive advising, mentoring and tutoring to help graduate on par with other biology majors.
"Our approach is very individualized and personalized ... we're almost like personal trainers," Matsui said. "We don't lower the bar. We ramp students up to become competitively eligible."
BSP enrollment has fallen to 570 this year from 884 two years ago because of funding issues. While new NIH grants will help, larger grants from the Howard Hughes Medical Institute and Gordon and Betty Moore Foundation are ending. Still, BSP's impact is spreading. As part of the Moore grant, Matsui has helped start about 20 similar programs, including ones at UC Riverside and UC San Diego.
Neal Schiller, director of UC Riverside's Medical Scholars Program, credits Matsui's mentorship, a personalized student advising approach and student leadership with MSP's success. The program, headquartered in a triple-wide trailer, provides academic, personal and professional development support for disadvantaged students in the sciences. It has grown from 15 students in 2004 to 250 in 2010. Students serve as peer mentors, academic coaches and have launched a newsletter.
"They are so motivated," Schiller said. "They are so committed. Their willingness to give back is so inspirational."
Riverside, scheduled to open its own medical school in 2012, is one of the nation's most diverse universities. MSP reflects that diversity. Among MSP alumni, more than 85 percent graduated with science degrees, with more than 54 percent of them being underrepresented minority students.
However, MSP may limit the number of summer research internships as key funding is ending from The California Endowment and Howard Hughes Medical Institute. "Funding is always an issue," Schiller said.
'The right approach'
At UCSF, diversity starts with leadership and continues with faculty and students, Dr. Alma Martinez said. She directs the UCSF School of Medicine's Office of Outreach, created four years ago to target students interested in health careers. "We're looking for a big variety of students," Martinez said.
It begins early. Doctors Academy, started by UCSF Fresno Dr. Katherine Flores, prepares disadvantaged Fresno County high school students for college and for health science careers. In San Francisco, UCSF students run MedLink, which promotes diversity in health professions to underserved high school students.
For undergraduates, UCSF arranges visits to UC Berkeley, San Francisco State University and California State University, East Bay, meeting with postbaccalaureate students and promoting PRIME.
Martinez noted that 94 percent of UCSF postbaccalaureate students are accepted to medical schools. While some go out of state, most return to California for residencies and many practice in underserved communities. The UC Postbaccalaureate Consortium "is the right approach," Martinez said. "It's relatively inexpensive. It's a great way to increase diversity. We have evidence that it really works. Yet a program like this might die out if we can't find funding."
UC Davis postbaccalaureate student Susana Torres said the most valuable part is the support provided by the program and its participants. "Someone once said if one of us doesn't make it to medical school, we all have failed," Torres said. "We're all here to see each other succeed."