June 22, 2016
Lorena Anderson
,
UC Merced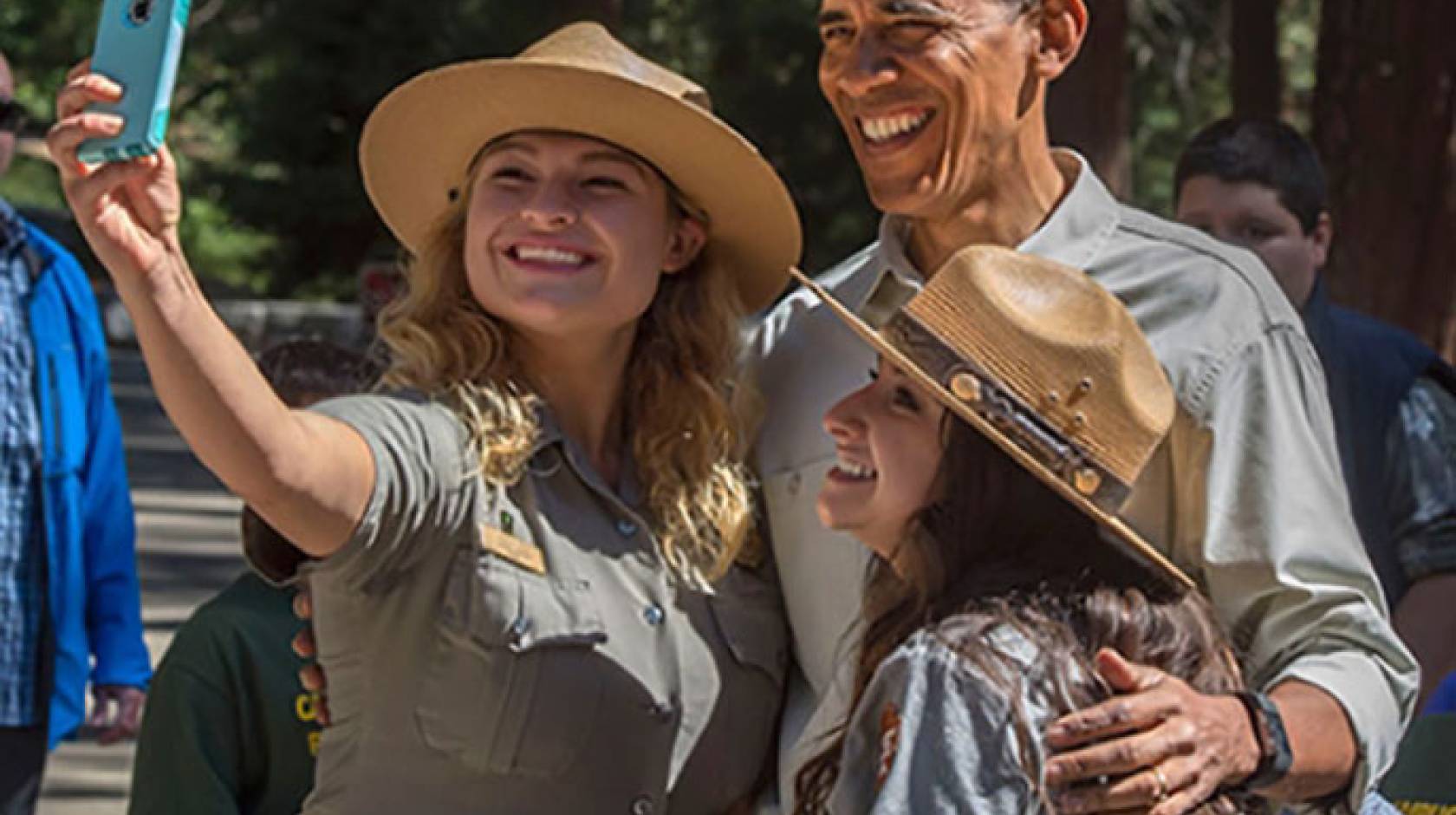 For many UC Merced students, visiting Yosemite is a relaxing way to spend a weekend. But for several UC Merced students, the past weekend was extremely hectic and a little nerve-wracking — but full of pride — as they helped Yosemite National Park host President Barack Obama and the first family.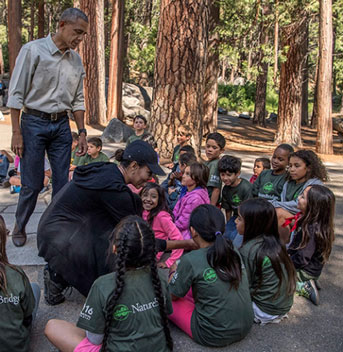 "They didn't tell us we were going to meet the president until just a few hours before," senior cognitive science student and Ranger Jessica Rivas said. "It was an amazing honor."
Rivas is one of the rangers who works for the park through the Wilderness Education Center (WEC) on campus. Former and current WEC and Yosemite Leadership Program (YLP) members — including rangers Moses Chun and Maya Nielsen — played pivotal roles in the weekend's many events, from greeting and organizing invited guests and giving talks about the park to offering educational programs for area schoolchildren that President Obama participated in.
"The students have simply been integrated into the staff and the park," Yosemite Public Affairs Officer Scott Gediman said. "They are very important to us, and we are very proud of them."
By necessity, only those who needed to know ahead of time knew any details of the president's visit.
"I did not know the president was going to see me working, so I wasn't nervous because giving programs is part of my everyday job," alumna and Ranger Alejandra Guzman said. "It wasn't until Friday that I learned he was going to attend part of the program Jessica and I were giving, and give each fourth-grader a park pass. Then I was so nervous, excited — and awestruck!"
Obama and his family — first lady Michelle and daughters Malia and Sasha — spent part of their vacation in Yosemite. Obama is the first sitting president since John F. Kennedy to visit the park.
"Honestly, I think one of the best things about this visit was not that the president came to Yosemite, but that he brought his family," WEC Ranger Aricia Martinez said. "Of course, it is amazing to have the sitting president visit our park, and to have him be such a strong advocate for national parks. But both Malia and Sasha are brilliant young women who are going to be great leaders someday, and our parks will need the next generation of leaders to be our voices."
Meeting the first family
Welcoming the First Family is a distinction that many of the park's 1,000 employees helped with. But when it came time to choose rangers from about 100 who work for Yosemite to represent the park for this historic event, park leaders — including Superintendent Don Neubacher — put their faith in students and alumni from UC Merced.
The students all agreed it was an honor to meet the Obama family. They got to watch the president's helicopter land in the valley and shook hands with all the Obamas as they took their first steps into Yosemite.
"It's one thing to go to an event to meet the president, to seek him out. But it's very different when you get to welcome him to your park, in uniform, to show him what you've helped build. That's really special," said Chun, who started as a WEC ranger while at UC Merced and now works for the National Park Service. "I also got to meet the First Lady (who was the commencement speaker in 2009), and tell her 'welcome back.' It gave her the chance to see there are connections between Yosemite and our university."
Rivas, who was the focus of a popular UC Merced video highlighting students, had a déjà vu moment with the president. He had seen the video, and told her she looked familiar to him.
"I said 'Yes, you look familiar to me, too,'" she said, laughing. "They were just very nice, and very down-to-Earth."
Greetings done, though, it was time to get to work preparing for Obama's speech, making sure the family got recreational time in the park and showing the family the rangers' work.
Rivas and Guzman were selected to teach an hour-long class to at-risk fourth-graders from Livingston and the Bay Area. Rivas based her portion on curriculum Martinez wrote for Merced's branch of the White House's Every Kid in a Park (EKiP) program, while Guzman presented a program on Yosemite's history as a national park. EKiP brought 1,300 fourth-graders from the Merced City School District to Yosemite throughout the school year.
Because Obama put forth the EKiP initiative, Yosemite wanted the First Family to see the program in action.
"In the same way that EKiP is so powerful because it is creating the next generation of advocates and stewards … this visit has set the tone for the future protection of our parks," Martinez said. "Hopefully, our program was just the beginning of a lifelong relationship between these schoolchildren and our national parks. That way no matter where they go in the world, they will always be advocates and stewards of our parks."
Near the end of the program, the Obamas arrived to watch and take part as the children demonstrated what they had learned, including how to scare away a bear.
The fourth-graders had no idea they were going to get a presidential visit.
"One little girl just burst into tears," Gediman said. "The president sat down with the kids, and he and the First Lady had their picture taken with a little girl whose birthday it was."
The face of the park
The presidential visit was a prime opportunity show off some of the partnerships UC Merced and Yosemite have formed, including the Wilderness Education Center and YLP. The two-year program helps students become leaders and environmental stewards, and gives them invaluable experience as they live and work in the park and work on campus. YLP is a partnership between the National Park Service, the university and the Yosemite Conservancy, which provides significant financial support for both the Wilderness Education Center and the Yosemite Leadership Program.
The National Park Service employs the student rangers and runs the student-staffed Wilderness Education Center, which teaches awareness about and experiences with natural and cultural resources in Yosemite to students, faculty, staff and community members in and around UC Merced.
Graduating from UC Merced and the rigorous Yosemite Leadership Program Summer Internship program makes students eligible for direct hire by any Department of the Interior land-management agency. Guzman is one of those hires.
"We can't say enough about the education center rangers. They are the future of the National Park Service," Gediman said.
But for one weekend, they were something else, too.
"They became the faces of Yosemite for the president of the United States," he said.
See the video President Obama watched to learn about one of the students he met last weekend: