UC president announces public service law fellowships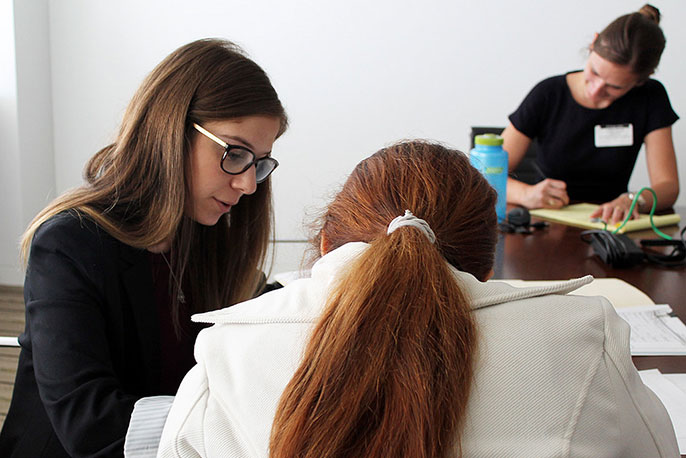 Pursuing public service just got a lot easier for University of California law school students.
UC President Janet Napolitano today (April 13) announced a first-of-its-kind fellowship program to help UC law school students pursue careers in public interest law.
The President's Public Service Law Fellowship program will award $4.5 million annually to promising law students at UC Berkeley, UC Davis, UC Irvine and UCLA. The funding will make postgraduate work and summer positions more accessible for students who want to pursue public interest legal careers but might otherwise – out of financial need – seek private sector jobs.
"Lawyers who serve the public interest can use the power of the law to effect positive change and strengthen our democracy," Napolitano said. "For the benefit of California and the nation, we want to foster the public service careers of more UC-educated legal scholars."
The postgraduate fellowships will provide $45,000 for graduates entering public service, plus an additional $2,500 to help defray bar-related costs. The summer fellowships provide each fellow between $4,000 to $4,500 to subsidize summer public interest law jobs.
In all, the program is expected to provide 424 summer fellowships and 58 postgraduate fellowships for students at the four top-tier law schools.
As part of the fellowship, UC will host an annual conference that brings together legal experts from around the country and across UC to network and share expertise on selected public service law topics. The event, which will be held each year at a different UC law school, will give current and past fellows an opportunity to build a supportive network of public interest lawyers across California and the nation, Napolitano said.
The fellowship program will also help make UC a destination for top law school students who are committed to practicing public interest law, said Erwin Chemerinsky, dean of UC Irvine School of Law.
"Since its founding, UC Irvine School of Law has been deeply committed to helping our students pursue careers in public service," Chemerinsky said. "The President's new program will help enormously to facilitate public service work by our students during law school and after they graduate. This program should make the UC law schools highly desirable for top students who wish to pursue a public service career."
UC law schools already have a long-standing commitment to public interest law; most students participate in legal clinics that give them hands-on experience serving a variety of clients and causes that have historically lacked access to legal representation.
At UC Irvine, for example, law students have worked with Hermosa Beach residents to fight offshore oil drilling. At UCLA, law students help homeless military veterans with a variety of legal issues. And the immigration clinic at UC Davis provides high-quality legal assistance to undocumented students at UC, among its other casework.
Napolitano, who earned a law degree from the University of Virginia, announced the new program during a lunchtime event at UCLA Law. She told the assembled crowd that her own career in the public sphere had been extraordinarily rewarding.
"This work is not only fulfilling and challenging, but it is in line with a core tenet of UC's mission, and that is public service," Napolitano said. "This program is exactly what public law schools should be doing – encouraging and supporting students who want to give back to their local communities, the state of California, and the country as a whole."
President's Public Service Law Fellowship
Each law school will manage its own application process and select fellowship recipients. Application details are expected to be finalized within the next few weeks. Program highlights:
Postgraduate Public Service Law Fellowships: The program will provide $45,000 for law school graduates entering public service, plus an additional $2,500 to help defray bar-related costs.
Summer Public Service Law Fellowships: The program will provide $4,500 for second-year students and $4,000 for first-year students pursuing summer public service law positions.
UC Washington Program: The program will provide funding to enable UC law students to participate in the UC Washington Program — a vital UC program that gives students real-world public service experience in the nation's capital.
UC National Public Service Law Conference: The program will culminate each year in a national conference on public service law that rotates among the UC law schools. The conference will showcase important legal scholarship and practice and contribute to the national conversation on public interest law.
UC Law Public Service Network: Through the program, fellows will have the opportunity to build relationships with other fellows at their school and across the system, creating a new network of UC public service lawyers who will support each other and future generations of UC law graduates.