UC President Janet Napolitano meets with Riverside leaders, alumni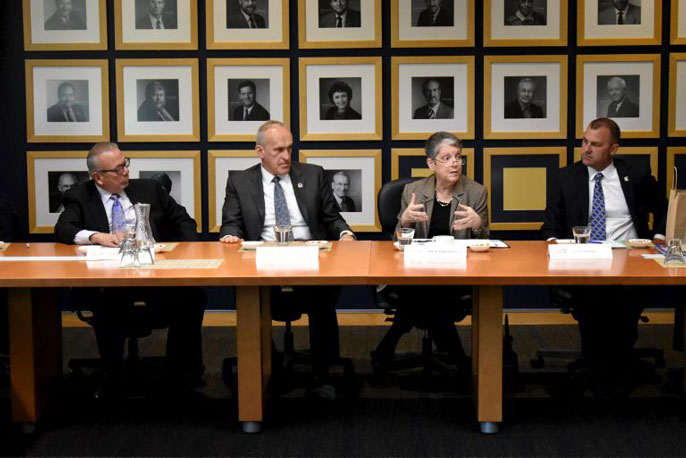 University of California President Janet Napolitano met Monday, May 15, with Inland Empire community, education, political, and business leaders about working collaboratively to advance the region's economic, social and cultural welfare.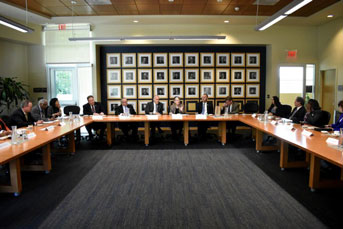 In roundtable discussions, she applauded UC Riverside's impact in the community, the country, and the world. The partnerships UC Riverside has built are unique and serve as a reminder of the growing strength of the university, she said. She cited as an example the California Air Resources Board's decision last year to relocate its motor vehicle and engine emissions testing and research facility to Riverside, on land provided by the UC Riverside campus.
The quality of UC Riverside research and its community partnerships were key factors in that decision, Napolitano told a room of representatives that included Riverside Mayor William "Rusty" Bailey; Riverside Community College District Chancellor Michael L. Burke; Riverside County Board of Supervisors Chairman John Tavaglione; and other business and educational leaders from Riverside and San Bernardino counties.
UC Riverside a model for other campuses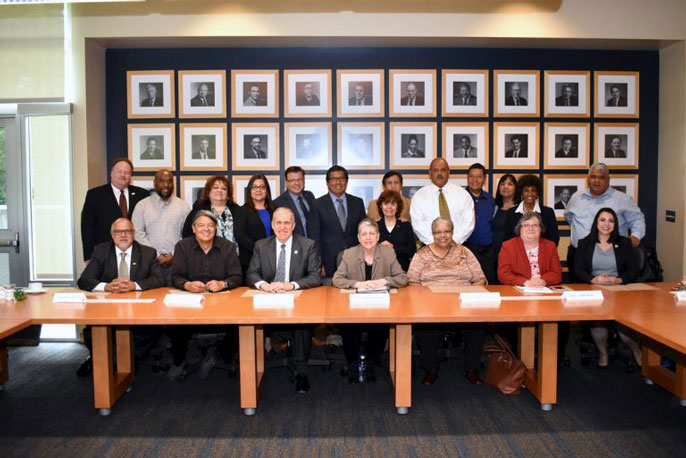 UC Riverside's impact on regional, national, and global economies is based upon the campus's accessibility, attendees told Napolitano. For example, each year, Chancellor Kim A. Wilcox goes to a different regional high school to boost UC applications. Wilcox has also met extensively with local Native American tribal leaders — and has been widely accessible to many other groups in the region. Simply having a direct phone number to reach his administration has made an impact, attendees said.
"I want to congratulate Chancellor Wilcox for leading a campus that is expanding access and helping students achieve their potential," Napolitano told the crowd.
A subsequent conversation with the UC Riverside Chancellor's Ethnic Advisory Committees brought recognition of the campus's status as one of the most diverse research universities in the nation. The group also highlighted UC Riverside's leadership in providing support to underrepresented students, as well as ways in which UC Riverside is a model for other UC campuses.
In March, UC Riverside was recognized as a national leader for its black student graduation success, and in November 2016, the campus was named recipient of the 2016 Project Degree Completion Award by the Association of Public and Land-grant Universities (APLU). The award recognizes innovative approaches to improving student retention and degree completion.
Representatives of the committees included Native American, Chicano/Latino and African American community liaisons who champion issues such as education access, health, and housing affordability.
Serving the community
During her visit, Napolitano frequently took notes about the many collaborations UC Riverside has with neighboring cities, school districts, community colleges and California State University institutions.
Later in the day, she gave a lunch address to UC alumni affairs officers and alumni from all 10 campuses who were on campus for an annual conference. Napolitano said she will keep pushing to grow the University of California system's research, and will keep supporting programs that allow for improved student advancement and outcomes. Among those is UC's support for students in the federal Deferred Action for Childhood Arrivals, or DACA. The program allows undocumented students who were brought into the country as children to attend college in the United States.
In the lunch address, Napolitano said recent media coverage of a state audit has created an inaccurate impression of how UC Office of the President funds are managed. But she said she is taking the audit results very seriously and will implement all of the auditor's recommendations.
In the meantime, she promises to "travel across the state to tell the UC story … and reinvigorate Californians about the importance of the UC system."