April 15, 2016
Sarah Nightingale
,
UC Riverside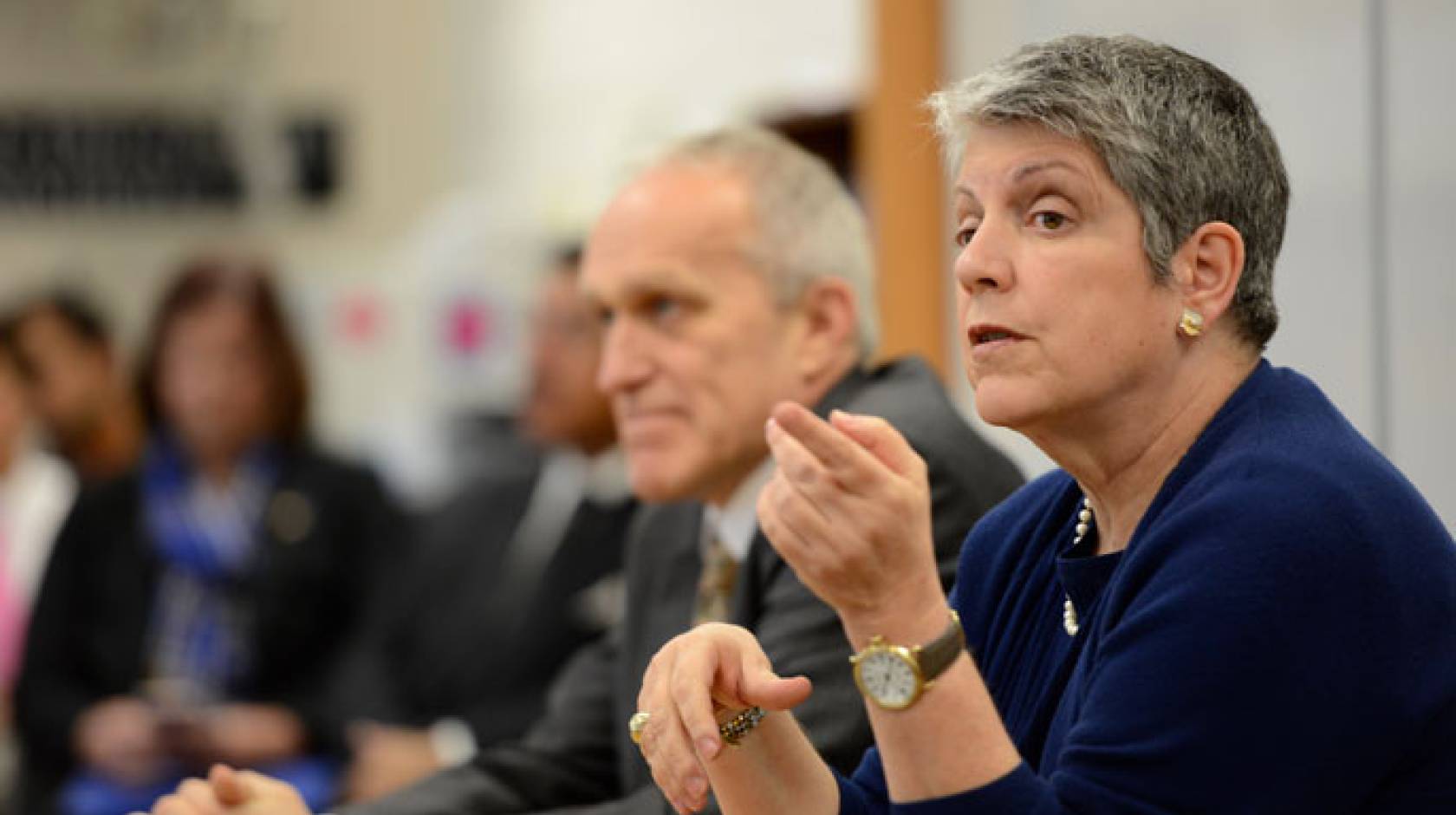 University of California President Janet Napolitano and UC Riverside Chancellor Kim A. Wilcox made two appearances in the Inland Empire Thursday (April 14), discussing the value of a college education and highlighting the affordability and accessibility of UC for California students and their families. The visits to Eleanor Roosevelt High School in Eastvale and Chaffey College in Rancho Cucamonga are part of a statewide effort by UC to boost the enrollment of Californians by 5,000 in fall 2016 and another 5,000 by 2018.
At Roosevelt High School, the largest school in the Corona-Norco Unified School District, the president and chancellor took questions from 45 UC-admitted seniors before addressing more than 400 students who plan to apply in the future. Eastvale Mayor Ike Bootsma; Kenneth Young, Riverside County Superintendent of Schools; and other school and community leaders attended.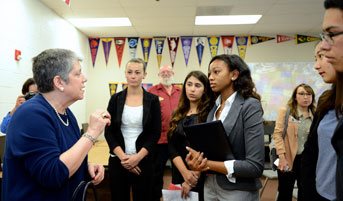 In her speech, President Napolitano encouraged students to get ahead in their college preparation and outlined the affordability of UC. She highlighted the achievements of several alumni who were first-generation college students, including Marigold Linton, who in 1954 became the first Native American student from a California reservation to attend a university. Linton graduated with a B.A. in psychology from UC Riverside and completed her doctorate at UCLA.
"These are living examples of the transformative—game changing—power of the University of California. It's a place where smart, hard-working students can challenge themselves and their peers, and graduate ready to succeed in any endeavor they choose," President Napolitano said.
Chancellor Wilcox, who was in the first generation of his family to graduate from a university, shared a personal story about how the help he received as a young student shaped his academic future.
"As much as we think of our problems as our own, it is very likely that someone has had the same problem as you, and it's even more likely that there is someone there to help you," he told the students.
New agreement forged with Umoja program
Jericha Viduya, a Roosevelt High School and UC Riverside graduate who will join UC Riverside's School of Medicine this fall, also encouraged the group, emphasizing that the hurdles awaiting students are part of their growth. "Even though it might seem overwhelming, college is in your reach if you have the right work ethic and mindset," she said.
At a lunchtime event following the President and Chancellor's visit, UC Riverside admissions staff met with and congratulated 127 seniors who have been admitted to the Riverside campus this fall.
At Chaffey College, a community college in Rancho Cucamonga, President Napolitano and Chancellor Wilcox participated in a roundtable discussion hosted by the campus's Umoja program, a statewide African American community college student success program. With a focus on simplifying the transfer process, participants discussed barriers Umoja and Riverside-area students face before enrolling at a four-year college or university, and UC's efforts to attract a student body whose demographics reflect the diversity of the state.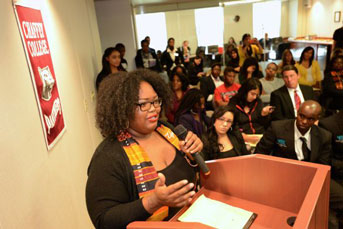 Other participants in the discussion included Chaffey College President Henry Shannon; Yolanda Friday, Chaffey College director of transfer and career; Karlos Carter, Umoja transfer director; and two Chaffey College students who participate in the Umoja program. Students from community colleges around the area attended to join in the discussion.
Following the discussion, President Napolitano signed a Memorandum of Understanding with the Umoja program, beginning a partnership to ensure that students interested in attending UC have the resources and information they need to make informed decisions on topics ranging from course selection to the application process.
Commitment to expanding opportunity for underrepresented students
"This is a historic day as we sign this agreement and forge an ongoing partnership so the students here are ready to transfer to the University of California when the time comes – and prepared to succeed once they're enrolled," President Napolitano said.
Napolitano's visits on Thursday were part of several across the state this spring that support UC's commitment to prioritizing California students in admissions policy, financial aid and outreach. Eighty-five percent of UC undergraduates come from California; 40 percent are from low-income households; and 30 percent are community college transfers. The UC is committed to building on this, increasing the enrollment of Californians by 10,000 over the next three years.
Through the system-wide Achieve UC initiative, UC campuses are preparing thousands of K-12 students to become competitive college applicants through college advising and test preparation for low-income and minority students; funding of campus visits for low-income and minority students after they have been admitted to a UC campus; and events that boost support for students within their communities. UC's Blue and Gold Opportunity Plan covers the full tuition for students whose families earn less than $80,000 a year.
Increasing the number of community college transfer students is another focus. The recently announced $2.6 million partnership with California Community Colleges focuses on students from low-income backgrounds, foster homes and underrepresented racial and ethnic groups.