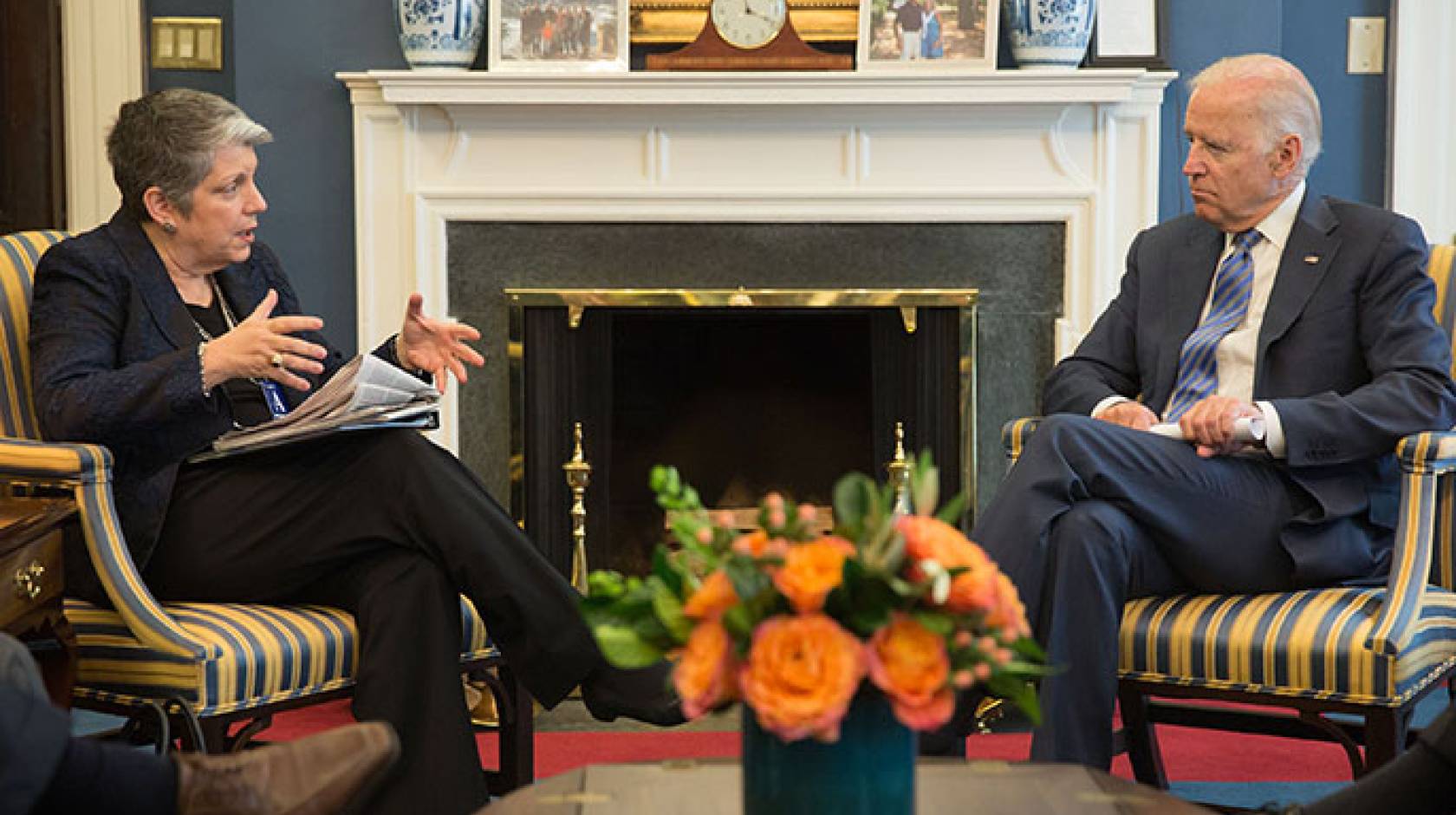 Credit: Official White House Photo by David Lienemann
University of California President Janet Napolitano met with President Barack Obama, Vice President Joe Biden and the cabinet secretaries for energy, education and agriculture this week to highlight how UC is helping to drive solutions to some of world's most pressing challenges.
UC is an active partner with the federal government in pursuing groundbreaking research to address some of the most important scientific and technological questions facing our nation and the world. The university receives approximately $8.5 billion in federal support each year, including about $3 billion for research.
Napolitano said the meetings were intended to keep leaders apprised of UC's priorities and initiatives and to demonstrate the value that comes from federal investment.
"Funding and support from the federal government helps UC to advance scientific and technological innovation in health, clean energy and other national priorities," Napolitano said. "And it provides educational opportunities for tens of thousands of California students. The federal government is a key partner in UC meeting its education, research, health care and public service-related missions."
During her meetings, Napolitano urged support for UC's federal budget priorities and provided updates on how the university is furthering some of the Obama administration's key initiatives.
Accelerating cancer breakthroughs
In her meeting with Vice President Biden, for example, Napolitano discussed UC's role in the National Cancer Moonshot Initiative, which Biden leads. The $1 billion federal initiative aims to accelerate the prevention, detection and treatment of cancer.
UC Health, with its five top-ranked medical centers, is uniquely positioned for large-scale innovation and collaboration among researchers, doctors, patients and the biotechnology sector, Napolitano said.
In fact, UC plays a lead role in a national effort to develop cancer therapies that harness the body's own immune system. The effort is being directed by the same UCSF immunologist who is an advisor to the Cancer Moonshot project. There are also two additional University of California faculty members who have been named to the Blue Ribbon Panel of scientific experts, cancer leaders and patient advocates that will help guide the initiative.
Spurring a clean energy revolution
In meeting with Secretary of Energy Ernest Moniz, Napolitano said UC supports the Department of Energy's Mission Innovation efforts, aimed at combating global climate change and spurring innovations in clean energy.
As part of UC's Carbon Neutrality Initiative, for example, researchers from all 10 campuses have come together to develop scalable solutions.
The university is also the sole institutional member of the Breakthrough Energy Coalition, a consortium that aims to expand the pipeline of clean energy solutions through targeted investments in research and technology. As part of its participation, UC has committed $1 billion of its investment capital to early-stage and scale-up investments in clean energy innovation over the next five years.
Expanding college opportunity
On the educational access front, Napolitano discussed Free Application for Federal Student Aid (FAFSA) simplification, year-round Pell Grants and ways to further combat sexual violence and sexual assault on college campuses with Secretary of Education John King.
UC has an excellent record in terms of access and affordability and recently pledged support for the White House's Student Debt Commitment to promote the use of income-based repayment plans and public service loan forgiveness. Napolitano also told Secretary King that UC would work with him on other ways to reduce student debt and increase institutional accountability.
UC is supportive of the department's goals to help more low-income students succeed in college, with efforts like UC's summer bridge programs and community college transfer pathways.
Taking on global challenges
During Napolitano's meeting with Secretary of Agriculture Tom Vilsack, she focused on UC's Global Food Initiative and Carbon Neutrality Initiative, through which the university is focusing its collective research and operational prowess on issues of food security, health, clean energy and sustainability.
The university can really make its mark on far-reaching initiatives like clean energy, sustainability and global food security, she said.
"We have the ability – and the responsibility – to think big, to challenge others to think big and, together, to combat threats like poverty, climate change and hunger."