UC President Napolitano talks public service with UCLA Law students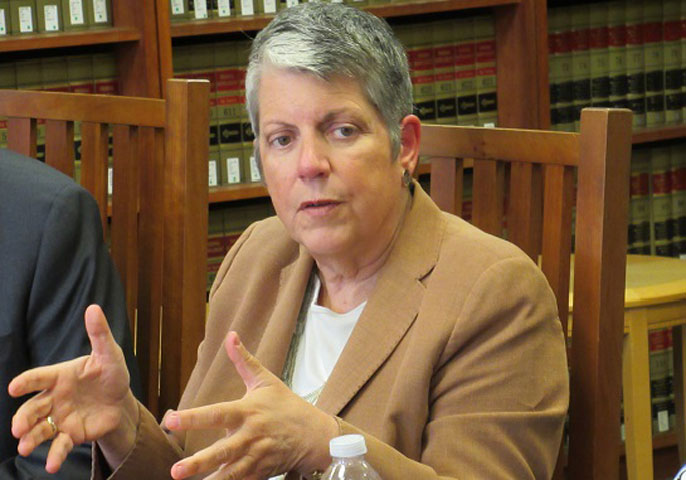 Fifteen upper-division UCLA School of Law students drew inspiration and advice for pursuing careers in public service from University of California President Janet Napolitano during a private luncheon at UCLA Law on Oct. 9.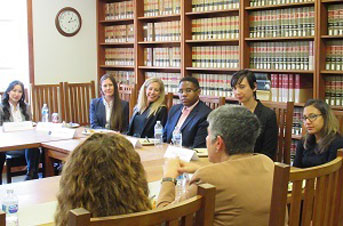 Napolitano, who served as secretary of the Department of Homeland Security under President Obama, governor of Arizona and attorney general of Arizona before taking the helm of the UC system in 2013, offered career tips and stressed the importance of maintaining a personal investment in professional pursuits, especially during fraught political times. "If not you, then who?" she asked. "Are they going to have your values? Are they going to fight for you?"
The J.D. and LL.M. students present were invited to join Napolitano because of their interest in serving the public through government legal work or elected office. They sought leadership advice and asked Napolitano a range of questions based on her experience, from moments in which she has overcome obstacles to her keys to transitioning from private practice to public service. She reminded students that they are well-suited to make a difference. "I can't think of a degree that's more valuable than a law degree," she said.
Napolitano, the 20th president of the UC system and first woman to hold the position, recalled the challenges she has faced as a woman in public office and leadership positions, as well as her early experience representing Anita Hill during Justice Clarence Thomas' senate confirmation. "I still have some PTSD from that hearing," she said, "and if it was that difficult for me, imagine how difficult it must have been for her."
Students seized the opportunity to address issues that motivate them to want to work in public interest law, from helping to shape immigration policy to fostering a more diverse student body. For Montana Cardinal LL.M. '18, the meeting was a chance to acknowledge Indigenous Peoples Day in California and discuss the status of that underrepresented group in the UC system.
Taylor Mangan '19 addressed the rights of disabled UC students and accepted Napolitano's offer to contact her directly to continue their dialogue and develop system-wide initiatives on the issue. Mangan is co-chair of the Disability Law Society at UCLA Law and said she was strongly motivated by the meeting.
"It's rare to run across somebody who has delved into pretty much every sector of public interest," she said. "To hear from somebody who has reached the highest level of every kind of work that benefits from a J.D. — from being a partner at a law firm all the way to something nontraditional like president of the UC system — is an incredible and unique opportunity that most people don't have access to."