UC president rallies teens to aim for a UC education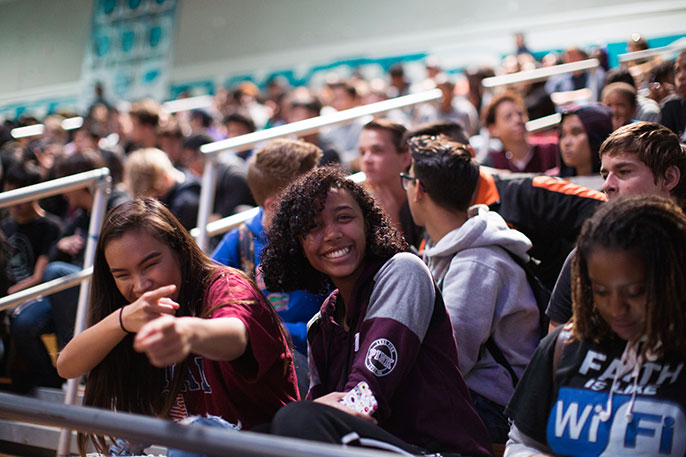 Students at one of the East Bay's biggest high schools learned a lot about college on Tuesday (Nov. 1), including the fact that a University of California education is in reach, regardless of income, for those who work hard in school.
UC President Janet Napolitano visited Deer Valley High School in Antioch to deliver that message on the same day the UC application opened for fall 2017. She was joined by UC Regent Eloy Oakley, Congressman Jerry McNerney and Hammed Suleman, a Deer Valley alum who recently graduated from UC Berkeley.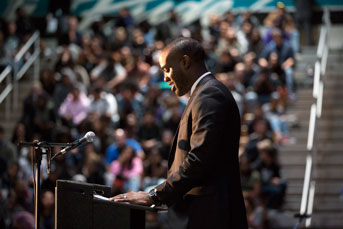 Suleman, a long jumper who helped Cal win championships in track and field, told the 2,200 assembled students that he was similar to many of them.
"I never thought of myself as college material or smart enough to go to a top school," Suleman said. As a 9th grader struggling with learning disabilities, he was pushed to focus on schoolwork by his track coach. Once he applied the same focus to schoolwork that he gave to athletics — hard work and a willingness to push past difficulty — he was amazed at what he was able to accomplish.
Suleman graduated Deer Valley as both a track star and top student, with offers from multiple colleges. He chose UC Berkeley because it offered him the most opportunity to grow academically and socially.
"A UC education is attainable," Suleman said, to cheers from the audience. "It begins with believing in yourself and making the commitment to persevere."
'Each of you represents an opportunity'
That sentiment was echoed throughout the day, as Napolitano and others made the case that a UC education is more affordable and attainable than most students realize.
More than half of California undergraduates have all their tuition covered by financial aid and three-quarters get aid that covers a significant portion of their costs, Napolitano told students. She urged them not to let cost concerns keep them from applying.
"UC has one of the most generous financial aid programs in the nation," she said. "If your question is, 'can I afford UC,' the answer is yes," Napolitano said.
Students from families with household incomes of up to $150,000 are eligible for aid, for example, and those with incomes of less than $80,000 are eligible to have their tuition and fees fully covered under UC's Blue and Gold Opportunity plan.
"Each of you represents an opportunity — for yourselves, for your families, for California and for the world," Napolitano told students of all grade levels who packed the high school gym for the event. "I'm here to tell you if you do the work, you'll get in, and you'll get a wonderful education."
Push to reach schools with low UC enrollment numbers
More than 100 similar events are being held by UC officials across the state this year to encourage a more diverse group of students to pursue a UC education. UC leaders are making a particularly concerted push in schools that have significant numbers of UC eligible students but relatively low application numbers.
The goal is to combat misperceptions that can cause eligible students — especially those from low-income families or underrepresented minority groups — to rule out a UC education.
In addition to addressing concerns about cost, UC officials are also combating a perception among some students that California students are at a disadvantage. Napolitano pointed out that more than half of Deer Valley High students who applied last year to UC got in.
"This is a really good time to be a high school student in California," Napolitano told students. Roughly 87 percent of UC undergraduates come from California, and the university plans to expand California enrollment by 2,500 more in-state students for each of the next two years.
Reaching students who have overcome challenges
Beyond grades and test scores, officials stressed, UC is looking for people who have addressed challenges, taken advantage of educational opportunities and shown leadership and service in their communities.
That came as welcome news to senior Alan Woods, one of roughly 25 UC-eligible seniors Napolitano met with before the rally. "I didn't realize that so many students came from California," he said.
"The thing that surprised me most was the money. I didn't know they gave out so much aid," said Deer Valley senior Bahar Ahmadzai, who is weighing her options as she completes applications before the November 30 filing deadline.
She was pleased to learn that 90 percent of students who enroll at UC complete their degrees.
"I know the work is really demanding, so I thought a lot more students would struggle to make it." Learning how well students do at UC "made me feel a lot more confident that it's something I can do."
Many paths to UC
For students who aren't ready to an enroll at four-year university, the California Community College system offers another great path to the UC system, said UC Regent Oakley, who is the incoming chancellor of the California Community College system.
A UC Irvine alumnus and first-generation college student, Oakley — like roughly one in three UC graduates — started his own education at community college.
"If the University of California can take someone like me, I can assure you the UC is for you," Oakley said.
Having top education officials come to visit their Antioch school sends a strong message to students, said Deer Valley Principal Kenneth Gardner.
Many students are close to completing the courses that would make them eligible for UC or for a California State University. They just need that extra push to improve their grades or take those one or two classes they are missing, he said.
Suleman is a prime example.
"As a sophomore at Deer Valley, I would've never imagined I'd be completing my masters from the world's top-ranked university," Suleman said. Once he made the commitment to challenge himself, he ended up being capable of far more than he had ever imagined.
"In sports, they call it training. In school, they call it studying. What I call it is hard work."