UC president makes historic visit to Arcata High School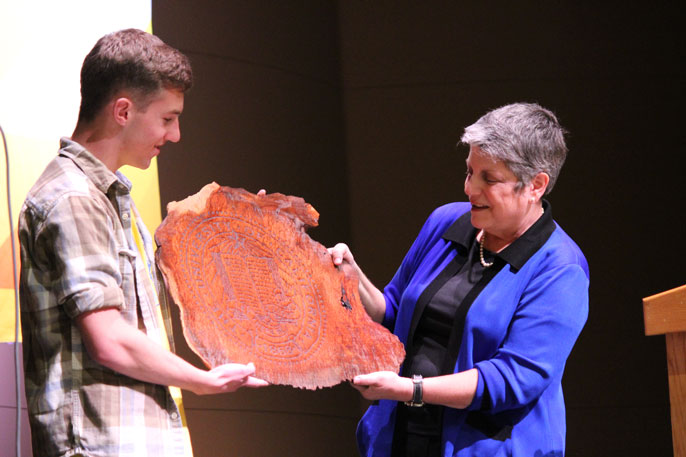 At Arcata High School last week, 50 college-bound seniors from across Humboldt County packed into the library.
They had all been accepted to UC, and were full of questions about what to expect – questions answered by the premier expert on the subject: UC President Janet Napolitano.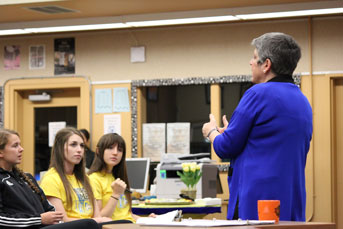 "I'm really excited to meet the UC president, and to hear what her goals are for the UC system while I'm going to be there," said Fortuna High senior Gillian Borges, who will attend UCLA in the fall, where she plans to major in psychology. "How many of the tens of thousands of kids who go to UC ever get to meet the UC president?"
Napolitano's April 28 visit to Arcata High School was one of a half dozen similar trips this spring in which the president made the case directly to students around California that a UC education is an excellent – and affordable – college option.
"I came to UC because I believed so strongly in the university's mission. The education there is truly a game-changer," Napolitano told students.
Insider tips for incoming freshmen
Napolitano gave few formal remarks, and instead invited students – who were making their final decisions about where to attend college – to ask her whatever they wanted.
The queries ranged from how the university spends its tuition dollars (A: on research and academic operations) to whether students should spend a semester studying abroad.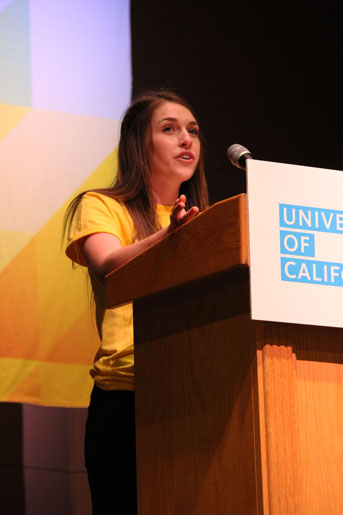 Arcata student body president Cait Parker wanted to learn more about what makes UC campuses stand apart.
"We've worked really hard for the prestige of the UC system, but I'd like to hear her opinion of what the university has to offer," Parker said.
Napolitano pointed to UC's excellence and scale, which enables it to provide an unmatched array of opportunities for undergraduate research, public service, arts and humanities scholarship, entrepreneurship and other areas. "No other school in the country provides the breadth and depth of opportunity that UC does," she said.
She encouraged students to be proactive in seeking out what each campus has to offer, an answer that resonated for Arcata senior Kaelyn Tuermer-Lee.
"I came to realize that the college experience will be what one makes of it," she said. "There are many opportunities but one must seek them out rather than waiting for things to happen."
Tuermer-Lee was trying to decide between three UC campuses. Following the visit, she decided to commit to UC Davis. "It has a high standard of education that I look forward to, and feel I could thrive in."
An effort to reach underserved communities
Over the last several months, Napolitano has visited schools, churches and community organizations as part of Achieve UC, an effort to reach out to students in communities that are typically underrepresented at UC with a college-going message.
The university is also looking to draw more heavily from students in underrepresented parts of the state, like the far north. Students at Arcata High School and other area schools grow up with Humboldt State and College of the Redwoods in their backyard, but are less familiar with the UC campuses.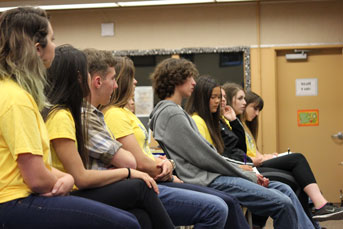 "For the students who do the very hard work to be accepted to UC, and then to have the president of the system here to celebrate, that is an awesome thing for these kids," said Jim Ritter, career exploration and community outreach coordinator for the Northern Humboldt Union High School District, which represents seven schools along the state's northern coast.
"It sends a strong signal for the head of the UC system to come here and be willing to have the students ask her questions directly. It's going to be a springboard to a whole college-going conversation over the next few weeks."
As part of the school's peer college mentoring program, some seniors sported yellow T-shirts saying "Ask me about UC."
In the school's courtyard, students gathered around a bulletin board indicating where their classmates are going to college.
"The excitement is palpable," said Arcata principal Dave Navarre. "Here behind the Redwood Curtain, we don't get a lot of dignitaries."
Following her meeting with UC-bound students, Napolitano spoke at a rally of sophomores and juniors from seven area schools to urge them to start planning now for UC eligibility.
Napolitano told students that the region is home to many accomplished UC alumni and is also the first place that UC opened a county extension office, in 1913.
She also detailed the robust financial aid program that enables more than half of UC students to pay no tuition, and which provides support to roughly two-thirds of all UC students.
Half of UC students graduate with no debt, she told students.
Of those who do take out loans, most borrow about $20,000 over the course of their college career, less than the national average and about the price of a low- to mid-priced car.
"A car goes down in value the minute you back it off the lot," she said, "while a college degree only increases in value over the course of a lifetime."
At the end of the day, UC Berkeley-bound Arcata senior O.B. Kwon, who plans to study engineering and physics, and play clarinet in the marching band, said he felt more confident than ever about what lies ahead.
"She answered a lot of my questions, and I think those that other people had too," he said.