UC professor, alum win Pulitzers for work grounded in black perspectives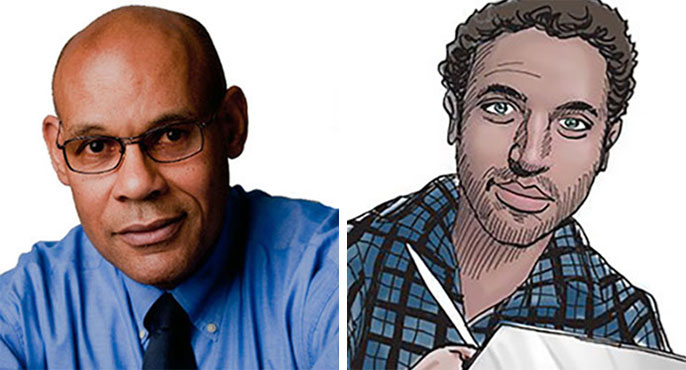 UC Santa Barbara professor Jeffrey Stewart and UC Berkeley alum Darrin Bell took home Pulitzer Prizes this week — one of the nation's top honors for achievements in journalism, literature and music — with both men being recognized for work that foregrounds black perspectives.
Twenty-one prize winners were selected by jury from a pool of roughly 2,500 nominations. Stewart was recognized for his "definitive biography" of Alain Locke, which the Pulitzer committee described as a "a panoramic view of the personal trials and artistic triumphs of the father of the Harlem Renaissance and the movement he inspired."
Editorial cartoonist Darrin Bell, syndicated by The Washington Post, won for "beautiful and daring editorial cartoons that took on issues affecting disenfranchised communities, calling out lies, hypocrisy and fraud in the political turmoil surrounding the Trump administration."
With his award, Bell becomes the first African American to win a Pulitzer in the editorial cartooning category since the prize was created in 1922.
Bell got an early start in the cartooning field, making his first drawings when he was 3 years old. As an undergraduate at UC Berkeley he was the editorial cartoonist for the student newspaper, The Daily Californian, which runs his work to this day.
The Daily Californian was also home to his first syndicated comic strip, "Lemont Brown," a series about the lives of people of color, which ran from 1993 to 2003, before morphing into "Candorville," which now appears in many of the nation's largest newspapers.
Bell was also the creator, illustrator and later sole writer of "Rudy Park," another syndicated comic strip which ended in 2018. Bell is the first African American cartoonist to have two nationally syndicated strips.
His return to political cartoons was fueled by the death of Trayvon Martin, a tragedy that found its way into "Candorville," as his characters, and their author, grappled with Martin's loss. His editor at The Washington Post suggested that he return to voicing his thoughts through the editorial cartooning format, much as he did at The Daily Cal.
Bell often shares his cartoon commentary on his Twitter feed, including the images below:
Trump Doesn't Believe Own Administration's Climate Change Study https://t.co/vvEZEzN9hq pic.twitter.com/63mkiiEg1v

— Darrin Bell (@DarrinBellArt) November 29, 2018
I must've missed the part where the memos stated "there was no collusion and no obstruction." What page was that on? pic.twitter.com/wRyq09x0NS

— Darrin Bell (@DarrinBellArt) April 20, 2018
UC Santa Barbara black studies professor Jeffrey Stewart's Pulitzer-winning work on the forgotten "dean" of the Harlem Renaissance, Alain Locke, is a labor of love that emerged from two decades of scholarship at UC.
Stewart studied philosophy as an undergraduate at UC Santa Cruz, going on to receive a master's, then Ph.D. from Yale University. While pursuing his graduate studies, Stewart learned about the philosopher Locke, a towering figure during the Harlem Renaissance who is little remembered today.
Stewart studied Locke for his dissertation in 1979, and produced two subsequent books about his life and beliefs: "The Critical Temper of Alain Locke," a collection of Locke's essays on art and culture, and "Race Contacts and Interracial Relations," a volume of Locke's lectures at Howard University. In retracting Locke's intellectual journey, Stewart found himself following the footsteps of Locke's actual life. The nearly 1,000-page "The New Negro: The Life of Alain Locke" is the result.
Stewart provides a fresh look at an accomplished man — the first African American Rhodes scholar — who responded to his intensely discriminatory milieu with a unique vision of how the black community could advance itself through art and self-invention. His active support of writers like Zora Neal Hurston and Langston Hughes midwifed the Harlem Renaissance, even as his life as a closeted gay man meant that his achievements came with a "tremendous, crushing, aloneness."
"Locke made us see something that is still under-acknowledged today, that the Americans who most lacked the benefits of Americanism have created the most distinctive forms of culture that define American culture. How he did that with little or no support from institutional civil rights organizations of his time is an amazing story I wanted to do justice to," Stewart told the Gotham Center in a 2018 interview.
"That's my gift, for whatever it's worth — the gift of a complete portrait of the life of the mind in America shot through the lens of a Black queer man."
Stewart's book also won the 2018 National Book Award in nonfiction.
Update: Two additional UC Berkeley alumni, Stephen Hobbs and Alexandra Berzon, also won Pulitzer Prizes. Learn more about their achievements here.