October 23, 2015
Nicole Freeling
,
UC Newsroom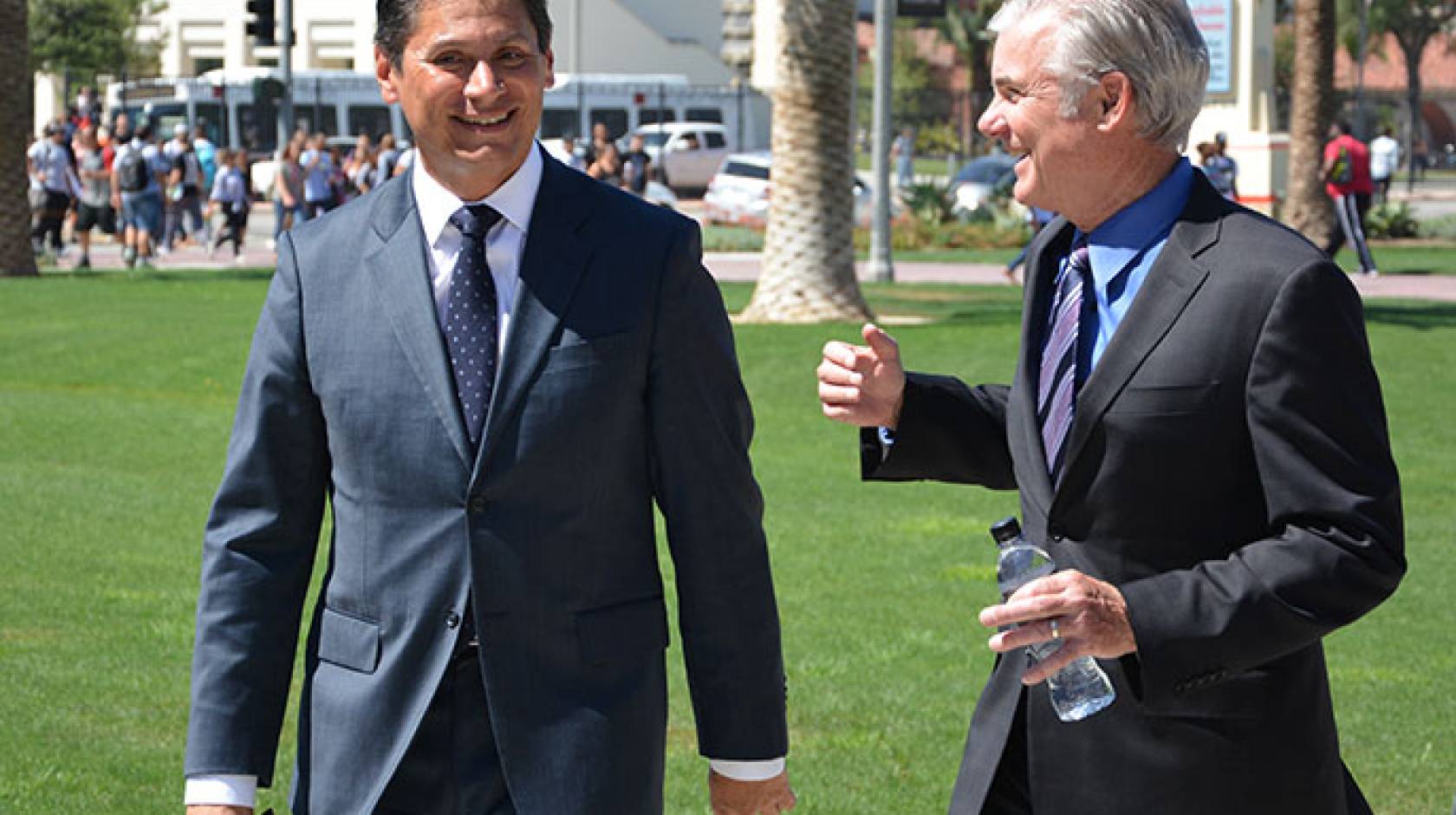 Credit: Courtesy of Long Beach City College
Appointed to the UC Board of Regents in November 2014 by Gov. Jerry Brown, Long Beach City College superintendent-president Eloy Ortiz Oakley brings a first-hand perspective on the transfer process.
The only regent to head a community college, Oakley himself is a product of the transfer pipeline. A first-generation college student, he began his education at a California community college and went on to earn a bachelor's degree and master of business administration from UC Irvine.
UC Newsroom sat down with Regent Oakley at the Association of Community College Trustees annual congress last week to ask how UC can work with the state's community colleges to better serve transfer students.
Q: Tell us your story. How did starting at community college make a four-year degree, and a UC education, more accessible?
I was the oldest in my family and, like most of the kids growing up in my L.A. neighborhood, no one else had gone to college. I got myself through high school and realized I didn't have any clear options for what came next. So I joined the military and spent four years in the army.
When I came back out I realized I needed to go to school. I enrolled in community college not far from me — Golden West College in Huntington Beach. And because of the strong transfer pathway between Golden West and UC Irvine, it soon became clear that going to UC was something that was doable. I did exactly was I was told to do and kept the grades I was told to keep and lo and behold, UC Irvine accepted me. So, I wouldn't be here but for the opportunity to transfer from a community college to a UC.
Q: Nationally, top-tier universities take very few transfer students. That has been attributed, in part, to a concern that community colleges may not prepare students for the rigors of a top university. At UC, our community college students do very well. How did you find the transition and how prepared did you feel to take on the courses?
I actually found that when I got to the university, in some ways it was easier. I had already gotten the sense for how to navigate class schedules, how to manage my time, and what I needed to do to meet the expectations of my faculty members.
All that experience I had in going to community college, I now had under my belt, and I felt very confident I could succeed.
Because of the small class sizes, community colleges are able to take students who don't otherwise have the skills they need to navigate college, and help them build those skills in a one-on-one environment.
Q: Tell us about the students who attend Long Beach City College. What are the biggest challenges they face?
The challenges we face are similar to any major urban metro area in the U.S.: You have major pockets of poverty, you have large populations of first-generation students, and you have issues of unemployment or underemployment.
Our students are coming from communities and neighborhoods that are challenged in so many ways, education is not something that on a day-to-day basis is reinforced.
The challenge is in creating a customized experience for these students who are in different places in their life or college preparedness, and getting them ready to move forward and be successful.
We need to meet them where they are, and get them where they need to be — and to do that in a system that was not designed for that kind of differentiation.
Q: What role are you playing or do you plan to play in UC's Transfer Initiative, which is working to streamline the transfer process for community college students? What are the critical ways you think the community college pipeline can be strengthened?
I was a member of the initial task force that designed the transfer pipeline between CSU and community colleges. And I bring my own experience as a community college transfer student and as a community college president whose job it is to get students prepared and into the UC and CSU systems. So, I've seen the challenges of setting up transfer reform from a number of angles. First and foremost I'm going to bring that experience to the University of California.
Second, my role is to educate the regents and other members of the board and do my best to help them understand the importance of transfer — not only in how it relates to our mission as a university, but the importance it holds for the future of California.
Q: Why is it important? How has the relationship between UC and California's community colleges benefitted the state?
I certainly wouldn't be here if it wasn't for that partnership, so I like to think the state has benefitted from allowing people like me the opportunity to reach their full potential.
This unique partnership has allowed us as a state to give people the opportunity to realize their potential, and our economy has benefitted.
Ultimately, our state is great because of the human potential it nurtures and develops. The more we can nurture and develop that, the better state we're going to have, the more creativity and innovation we're going foster.
Q: The Public Policy Institute of California recently reported that the state will have a labor shortage of more than a million college graduates by 2030. How critical is the state's ability to meet workforce demand for college graduates to California's future and how should it be addressed?
It has to be addressed by our public higher education system.
We cannot realize the potential of California unless we have a strong public higher education system that is able to take the great potential in our neighborhoods and communities and help develop it.
The PPIC report clearly outlined that we are not going to be able to bridge that gap by importing adults from other states that have college credentials.
We cannot realize the potential of California unless we have a strong public higher education system that is able to take the great potential in our neighborhoods and communities and help develop it.
The University of California plays a critical role. We really have to partner with CSU and community college systems to increase our capacity to educate more students, particularly those who are least represented in the workforce, with a higher education credential.
Q: What are the critical ways you think the community college transfer pipeline can be strengthened?
We should look at the transfer process from beginning to end from the student's point of view and reduce as many of the barriers as possible.
One of the greatest challenges we face is that we have students and families who don't have knowledge of how to navigate higher education. The more that we can clearly align courses so that there are common course-taking patterns across community colleges that clearly transfer into the nine undergraduate campuses, that will help.
The more that we can communicate these pathways in a very simple format, that will also make a difference. Finally, I would like the UC to explore possibilities for guaranteeing transfer for students that do just what we ask them to do.
Q: What have you seen from your experience working to streamline transfer from community college to CSU that works?
One of the rewarding things to come out of the CSU-community college partnership is that the faculty, the two Academic Senates, get together and really talk about how to improve the process.
Many of the barriers we have in place exist because our faculty and institutions don't trust what's happening at the other institutions. The more we can build trust, the less of those entrance barriers we create, and the more we can reduce and break them down.
I think fostering strong dialogue between community college faculty and administration and UC faculty and administration will go a long way to creating a more streamlined transfer process.
Q: With an increasing national focus on community colleges, and their role in increasing the numbers of people with college degrees, what can other states learn from California?
We have one of the most integrated public higher education systems in the nation, between community colleges, CSU and UC. We have greater access than any other state in the nation.
And we still have some of the lowest costs tuition in the country. It's been challenged over the last few years, but we are still by far one of the highest value higher education systems in the nation.
Specifically, I think other states are looking to California for how to deal with the burgeoning diversity in their demographics.
We have one of the most integrated public higher education systems in the nation, between community colleges, CSU and UC. We have greater access than any other state in the nation.
In many states, that's created friction and challenges. In California, although we're not perfect, we've found a way to try to meet that challenge. We have not shied away from trying to improve our ability to serve the diversity in our state that makes us who we are.
The partnership between the community colleges and UC is something that gives us a leg up in terms of how we increase the capacity to serve those students.
Q: UC President Janet Napolitano, along with California Community Colleges President Brice Harris and California State University Chancellor Tim White, have committed to strengthening collaboration among their institutions. How important is a strong partnership and close working relationship between California's three segments?
It sends a clear signal that California's prized contribution to public education — the Master Plan for Higher Education — is still working, and we are going to continue to do what we need to do to provide access to all Californians.
The leadership at the top is also important because it allows those in the trenches to work to solve problems. It provides the impetus and the cover they need to work together and do what needs to be done to promote access and better serve students.
Q: What else should people know about UC's transfer initiative?
It is off to a great start. I think President Napolitano's leadership has been very well received. I do think there's still a lot of difficult work to be done to iron out the details of how this transfer initiative actually gets implemented, and the more we continue to talk about it and work on it, the better it will be for our students.
I'm confident that the president and the regents will continue to encourage the campuses to reach out to community colleges and high schools to improve those pathways.