UC researchers join largest autism study ever in U.S.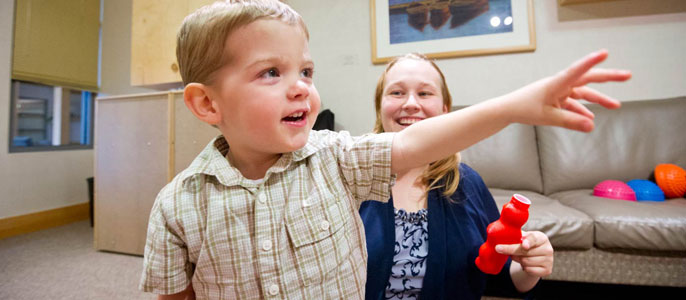 Autism experts at UC Davis, UCLA and UC San Diego will be part of the largest autism study ever undertaken in the United States – an effort to collect information and DNA from 50,000 individuals, ages 3 to 100, with the neurodevelopmental disorder.
Sponsored by the Simons Foundation Autism Research Initiative (SFARI), the study is called SPARK (Simons Foundation Powering Autism Research for Knowledge) and involves 21 leading research institutions across the country, each recruiting participants and collecting data.
"Autism has a strong genetic component, but there's a lot of heterogeneity in the genes involved. More than 50 genes have been identified that almost certainly play a role in autism, but there may be 300 or more," said Karen Pierce, Ph.D., associate professor of neurosciences, co-director of the UC San Diego Autism Center of Excellence at the School of Medicine and a SPARK researcher.
"One of the major challenges in autism genetics research is sample size. Individual projects may fail to find genetic abnormalities, not because they aren't there, but because the sample size is just too small. SPARK addresses that by pulling together information and data from not just 50,000 persons with autism, but also family members, such as both parents. With such an abundance of material to study and share, researchers will be able to look more effectively for relevant biological mechanisms and how genetic and environmental factors interact to result in autism spectrum disorder (ASD)."
The SPARK effort at UC Davis is being led by Leonard Abbeduto, director of the UC Davis MIND Institute, and David Amaral, MIND Institute director of research.
"The SPARK project is especially exciting because of the unprecedented collaboration involving 21 clinical sites all working together with a common vision," said Abbeduto. "It says a great deal about the scientific community's commitment to helping families affected by autism."
Amaral added that the project will undoubtedly change the course of future autism research and hopefully bring practical benefits to affected individuals and families.
"This is the kind of study that the MIND Institute was designed to carry out," he said.
SPARK data is expected to fuel numerous subsequent studies targeting key questions about the genetics and biology of autism, according to organizers. Participants will have input in determining the research agenda and can join studies offered through SPARK. The effort is fully funded by SFARI, established in 2005 to promote and sustain autism research. With a budget of $60 million, SFARI currently supports 175 investigators and projects.
Anyone interested in learning more about SPARK or in participating can visit www.SPARKforAutism.org.