UC's 2019 MacArthur grant 'geniuses'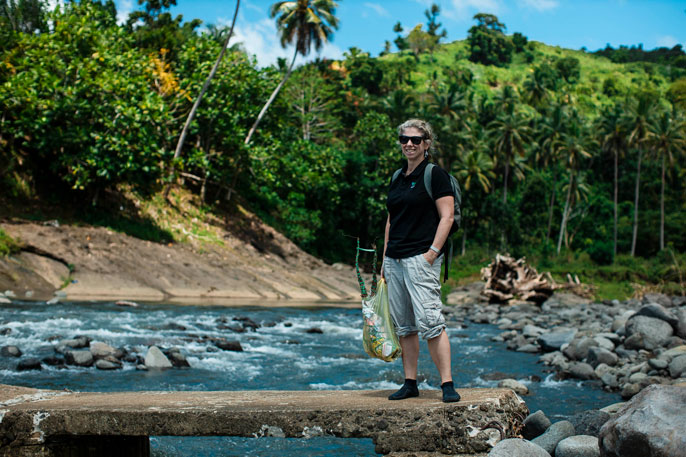 A marine scientist, a scholar on race, immigration and mass incarceration, and a landscape architect are among the 26 people selected for a 2019 MacArthur Fellowship, the prestigious award commonly known as a "genius grant."
UC Santa Cruz alumnus Stacy Jupiter, UCLA professor Kelly Lytle Hernández and UC Berkeley professor Walter Hood now join the lofty ranks of UC's 89 prior MacArthur Fellows — an honor that comes with a no-strings-attached $625,000 grant from the John D. and Catherine T. MacArthur Foundation.
The awards recognize outstanding talent, creativity and the potential for future greatness, and are one of the few grant programs in which recipients are free to use the award money however they wish. The MacArthur Foundation's stated goal is to give these extraordinary people the independence to pursue their passions.
This year's winners have already made significant and lasting contributions in their fields:
UC Santa Cruz alumnus Stacy Jupiter
Jupiter earned her Ph.D. in ecology and evolutionary biology at UC Santa Cruz in 2006. She now lives in Fiji and works on conservation programs in Melanesia, a vast expanse that encompasses the countries of Fiji, Papua New Guinea, the Solomon Islands and Vanuatu, and is comprised of roughly 2,000 Pacific islands.
Jupiter's work involves integrating local cultural practices with field research to develop conservation solutions that protect both the biodiversity of coastal ecosystems and the well-being of communities dependent on them. Working in concert with local communities, Jupiter is establishing and applying new approaches to natural resource management based on traditional ecological knowledge and practices that consider the livelihoods and food security of inhabitants.
"Jupiter has successfully demonstrated that effective ecosystem management and conservation is enhanced by integrating science with the social drivers of resource use and community well-being, and she is poised to play a critical role in ensuring that global conservation efforts result in equitable outcomes for all communities," the MacArthur Foundation said in making its award.
UCLA professor Kelly Lytle Hernández
Lytle Hernández, a UC San Diego alum, is a professor of history and African American studies and one of the nation's leading scholars on race, mass incarceration and immigration. She also directs UCLA's Ralph J. Bunche Center for African American Studies. Under her leadership the center has focused on two critical themes in the modern black world — work and justice.
The Bunche Center is home to Million Dollar Hoods, which maps the fiscal and human cost of mass incarceration in Los Angeles. Lytle Hernández is the director and principal investigator on the project.
"Lytle Hernández's investigation of the intersecting histories of race, mass incarceration, immigration and cross-border politics is deepening our understanding of how imprisonment has been used as a mechanism for social control in the United States," the MacArthur Foundation said.
UC Berkeley architecture professor Walter Hood
Hood, a professor of landscape architecture and environmental planning and urban design was recognized by the MacArthur Foundation for melding "architectural and fine arts expertise with a commitment to designing ecologically sustainable public spaces that empower marginalized communities," the MacArthur Foundation said in its announcement. "Over his career, he has transformed traffic islands, vacant lots and freeway underpasses into spaces that challenge the legacy of neglect of urban neighborhoods."
Hood, who has taught at UC Berkeley over the past 27 years and is the founder of Hood Design Studios in Oakland, has earned numerous awards and prizes for his singular creative vision as a landscape architect. He created the iconic public gardens at both San Francisco's de Young Museum and the Broad in Los Angeles and is currently designing "ancestral gardens" for the International African American Museum in Charleston, S.C.
He says he hasn't decided yet how he'll use the MacArthur stipend but calls it "the pinnacle. It gives you the opportunity to really be free to pursue whatever you want, without having to beg anyone for money … Now, I'll have a bit more space to hear myself think and be more introspective."