March 14, 2016
Jeannine Cuevas
,
UC San Francisco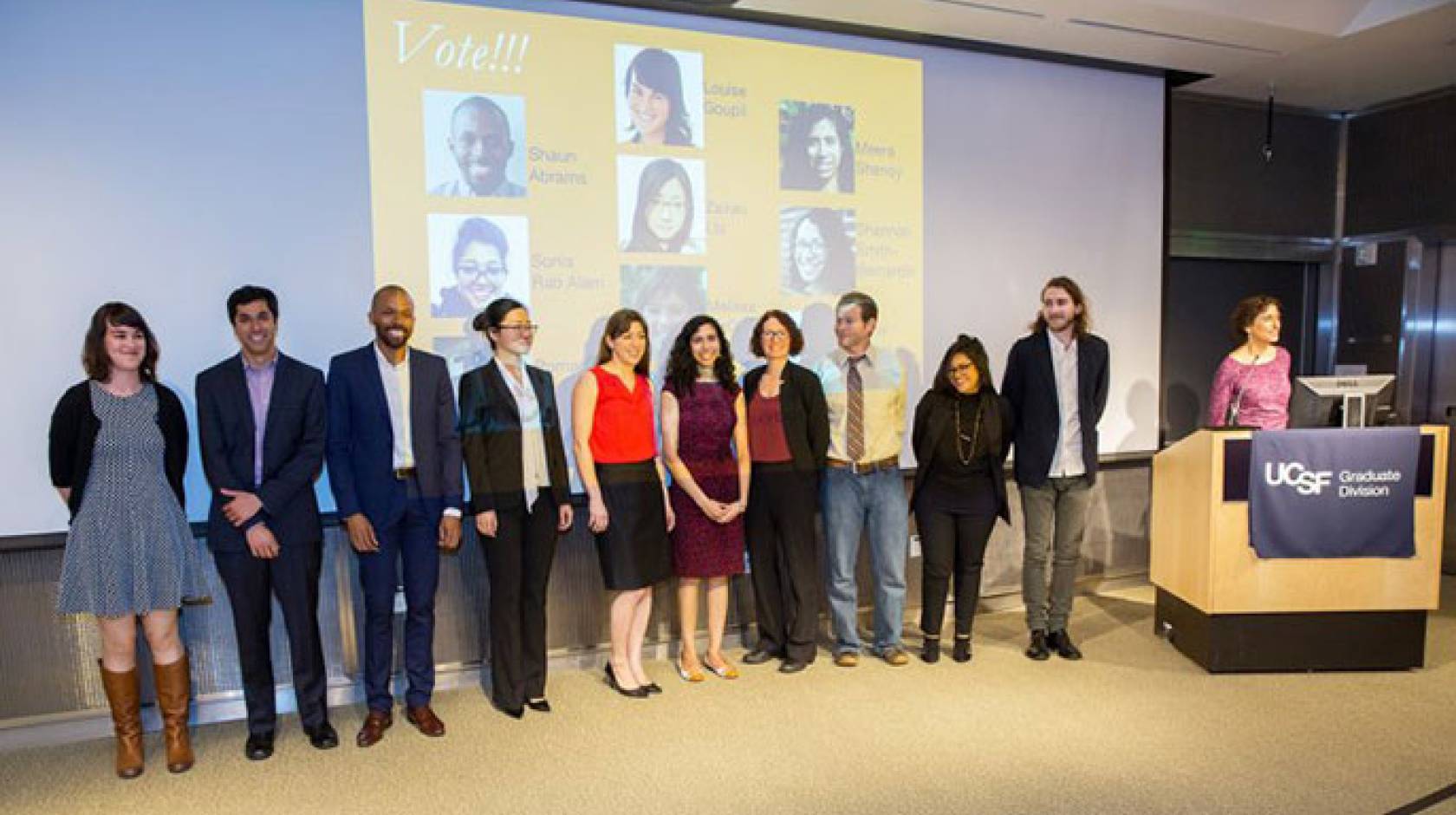 Credit: Susan Merrell/UCSF
Shannon Smith-Bernardin, a student in the Nursing Health Policy Ph.D. Program, has won this year's UCSF Grad Slam contest. Ten finalists competed for the top prize of $3,000 at an exciting live event on March 10 at UC San Francisco's Mission Bay campus.
Grad Slam, organized by the UCSF Graduate Division, challenges Ph.D. students to present their dissertation research in just three minutes using language that non-specialists can understand.
The March 10 event represented the culminating stage of the Grad Slam competition, which began in January. The finalists were selected from a larger pool of Ph.D. students, who initially entered the contest by submitting a three-minute talk about their research as a video. A panel of screening judges, made up of faculty and staff, chose the finalists based on these video entries.
Smith-Bernardin will go on to represent UCSF at the UC system-wide Grad Slam event this spring.
Raising awareness of sobering centers
Smith-Bernardin said that she entered the competition in hopes of conveying her passion for her work to a wider audience.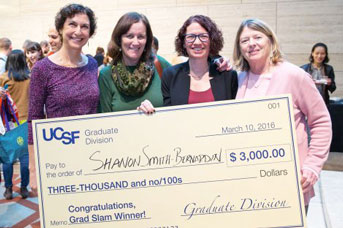 "My biggest motivation was that I have worked in San Francisco in public health for 10 years now as a registered nurse, and I am very familiar with sobering centers, but not a lot of people are," she said. In her Grad Slam presentation, Smith-Bernardin made the case for sobering centers as an alternative to the hospital emergency room, and as a more effective and more economical way to help people suffering from alcohol intoxication to recover and get sustainable help with addiction issues.
The runner-up in the contest was Shaun Abrams, a student in the Oral and Craniofacial Sciences Ph.D. Program, for his presentation titled "The New Face of Cilia," about how errors in cell-signaling cause common facial birth defects. He received $1,500.
"I love the challenge of being able to connect with a non-scientist about what I do," he said. "I think that is more valuable to me than having people in your field give you awards or tell you that what you are doing is great."
The importance of advocating for one's work
California Assembly Speaker Pro Tempore Kevin Mullin, who delivered the open remarks for the contest, said it is important for researchers to be able to articulate what they do without using a lot of jargon.
"I can tell you that there is a real need for young researchers to talk about and advocate for their work," Mullin said. "For your own sake, you will need to be able to explain what you do with possible employers. Beyond that, if you can clearly articulate the reason your research is important, you will be doing a service for UCSF, for the Bay Area, and for our state as a whole."
The winner of the People's Choice Award, chosen by the audience present at the live event, was Mihir Vohra, a student in the Neuroscience Ph.D. Program. He was awarded $750 for his talk titled "Eat Less, Learn More," in which he drew the connection between reduced caloric intake and enhanced learning.
The other finalists in the competition were:
Sonia Rab Alam (Sociology Program), "Health in the Digital Age, Is All Information Health Information?"
Roman Camarda (Biomedical Sciences Program), "Everybody's Gotta Eat: Cancer and Metabolism"
Louise Goupil (Chemistry and Chemical Biology Program), "Using Planaria 'Vomit' to Fight Parasites"
Zairan Liu (Biophysics Program), "The Journey Home: How Cells Sort Out"
Melissa McCreery (Biomedical Sciences Program), "The Deadly Split: A Tumor's Tale"
Thomas Roseberry (Neuroscience Program), "Why We Run"
Meera Shenoy (Biomedical Sciences Program), "Fetchez la Vache! Novel Tactics for Combating Bacterial Pneumonia"
A panel of judges led by Chancellor Sam Hawgood, MBBS, judged the competition, which was held in Byers Auditorium in Genentech Hall.
"I was thrilled with the quality of the students' talks this year. It's such a pleasure for us to get a glimpse of their research in this way, and the participants all walk away with a really important skill," said Elizabeth Watkins, Ph.D., dean of the Graduate Division and vice chancellor for Student Academic Affairs.
Watch the winning videos below: