February 16, 2022
Sandra Messick
,
UC Santa Cruz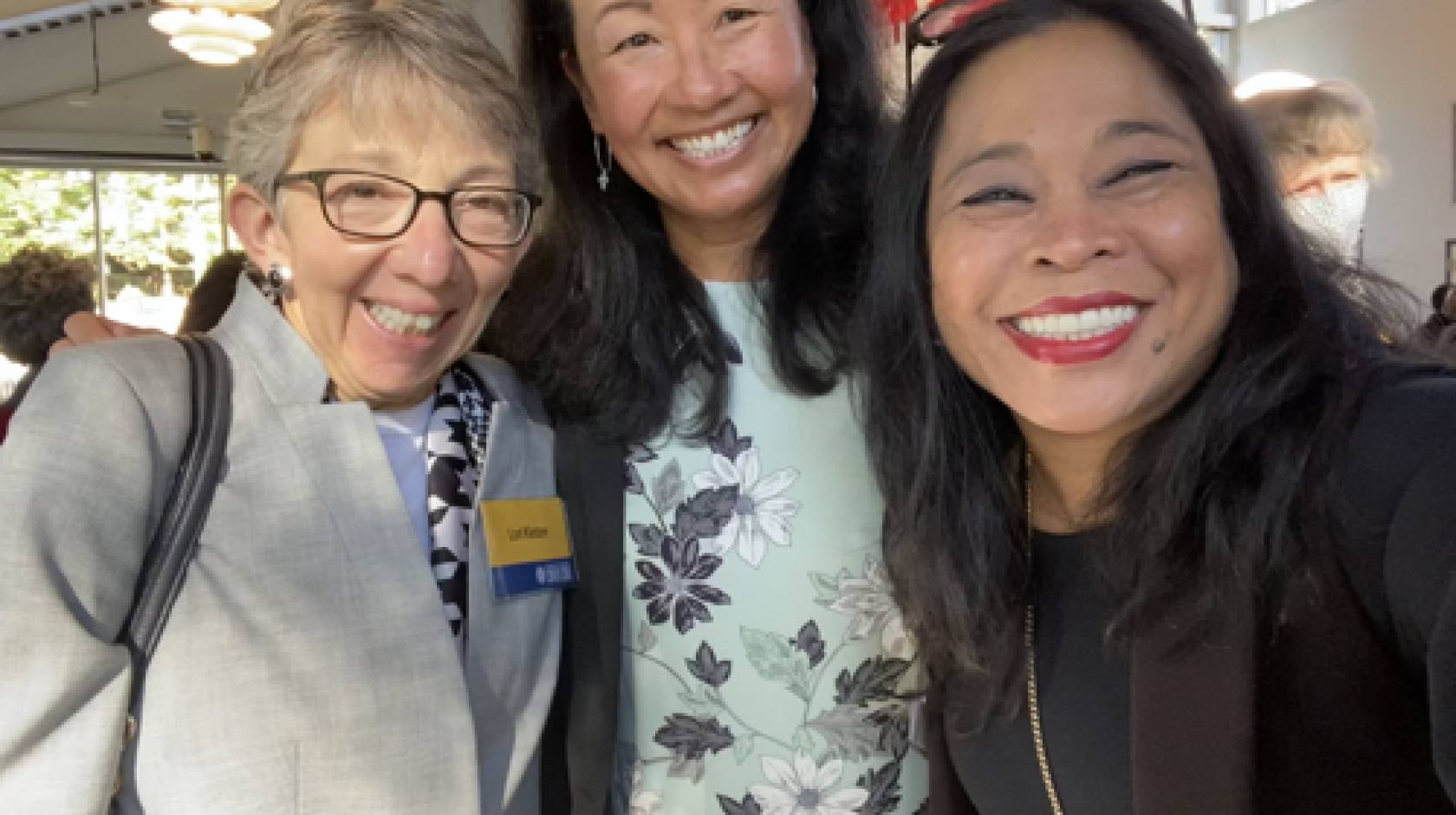 When it comes to women leading universities, UC Santa Cruz is first in the nation for racial and gender diversity in leadership.
Santa Cruz is one of just six Research 1 (R1) universities that have had at least three women at the helm, according to a new report conducted by the Women's Power Gap Initiative (WPG) at the Eos Foundation, in partnership with the American Association of University Women (AAUW). The study looks at private and public universities with R1 designation, the highest research ranking awarded to universities with doctoral programs by the Carnegie Classification of Institutions in Higher Education.
In addition to Chancellor Cynthia Larive and Campus Provost and Executive Vice Chancellor Lori Kletzer, the top administrative and academic leadership teams are composed of administrators from diverse backgrounds, life experiences, and identities. Sixty percent of the Chancellor's Cabinet, 38 percent of the academic deans and 36 percent of tenured professors are women.
"I am extremely proud that UC Santa Cruz has been recognized for diversifying university leadership at all levels," said Chancellor Cynthia Larive. "We've used inclusive recruitment best practices, we've developed leadership programs, and we focus effort on creating diverse applicant pools. It makes a tremendous difference."

It's important that students see themselves in campus leadership, she added. Diversity of all types is key to inclusion and creating a welcoming campus where everyone has a sense of belonging.
Breaking barriers to leadership
At UC Santa Cruz, increasing diversity in the broadest sense is a campus priority. This includes and is not limited to, race and ethnicity, socioeconomic status, geographical origin, disability, intellectual interest, gender, sexual orientation, and religious and ideological beliefs.
The university continues to implement its diverse leadership priorities as it searches for the best candidates to fill leadership positions. Recent appointments include Vice Chancellor for Student Affairs and Success Akirah J. Bradley-Armstrong, a dedicated student affairs professional with 17 years of experience in the field, and Dean of the Arts Division Celine Parreñas Shimizu, a leading scholar of race, sexuality, and representations in transnational popular culture.
Faculty and staff leadership
"Part of meeting the academic needs of our students is ensuring they see themselves in the leadership and faculty of our university," said Campus Provost and Executive Vice Chancellor Lori Kletzer. "Our priority to continue to transform who is a leader and embrace the life experiences they bring will strengthen our community and prepare our students for their careers and their own leadership experiences."
Through campus programs, faculty members develop their leadership skills and abilities. Each year, the Leadership for Equity Faculty Fellows, led by the Center for Innovations in Teaching and Learning, provides 15 fellows the opportunity to build their knowledge and skills in educational and institutional equity through research, reflection, exploration, and practice.
Additionally, the Leadership Academy brings together a diverse group of academic and staff employees each year to broaden their understanding of how the university operates, and develop their skills and knowledge to be successful leaders at UCSC. As a cohort they also start to build a network of campus partners.
Increasing faculty diversity
The university is also disrupting the status quo of who is a professor. Over the past ten years, the Senate faculty has gone from 12.6% to 17% under-represented minority (Latinx, Indigenous, or Black). This increase is the result of inclusive hiring practices.
The university has been awarded a number of grants to initiate projects is participating in a number of projects to increase faculty diversity including the Faculty Community Networking program, which provides support groups for Black faculty, AAPI faculty, Indigenous scholars, Latinx faculty, women faculty in STEM, and faculty with disabilities and chronic illness, and the Faculty of Color and Leadership project, describing what leadership looks like to faculty of color and what barriers exist for getting more faculty of color into campus leadership
"UCSC is famous for the mentorship provided by its world-class faculty to generations of students," said Dean of the Division of Arts Celine Parreñas Shimizu. "Faculty diversity ensures a more inclusive curriculum that is key to student success. It is dazzling to see the abundance of new research areas opening up, as students and faculty collaborate to employ new methods and together explore a more global curriculum that decenters the west."
Of the 130 R1 universities nationally, only 22 percent have women leaders. At R1 public universities the number is slightly higher at 24 percent. The number of women serving as provosts and academic deans continues to rise, hitting a high of nearly 40 percent.
There has also been an increase in the number of Black male university leaders, doubling since 2020. That isn't the case for women of color (WOC), however. According to the report, women of color are only five percent of university presidents.
"While many institutions of higher education continue to overlook women and people of color for leadership positions, at UC Santa Cruz diversity is a core campus value at the heart of everything we do as leaders of change," Kletzer said.