CalWave rides Wave Energy Prize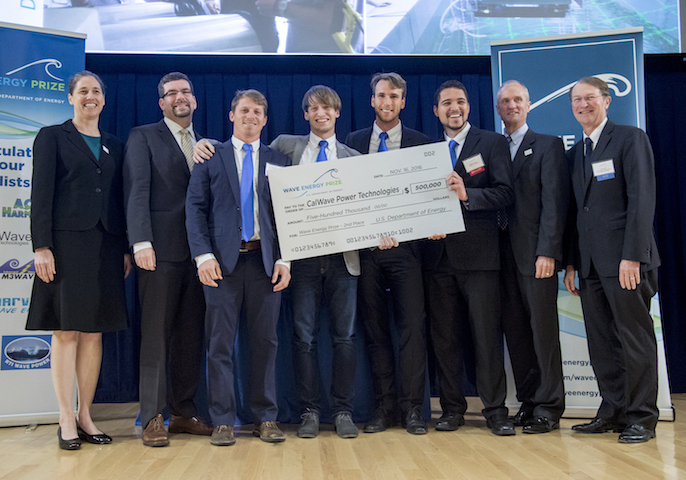 UC startup CalWave Power Technologies earned second place out of an initial 92 teams vying for the Wave Energy Prize, the U.S. Department of Energy announced this week.
The two-year competition to accelerate the reliability and affordability of renewable wave energy will yield CalWave $500,000 in prize money, in addition to the $125,000 in seed funding it earned as a finalist. First place went to AquaHarmonics of Portland, OR.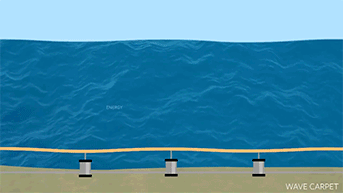 After final testing of 1/20-scale models this summer at the nation's most advanced wave-making facility, the football field-sized Naval Surface Warfare Center's Maneuvering and Seakeeping Basin in Maryland, CalWave was one of four teams that surpassed a goal of doubling the energy captured from ocean waves, said Lynn Orr, DOE's undersecretary for science and energy. CalWave especially stood out in the category of economic viability, which focused on the costs of mass production.
Marcus Lehmann, a visiting student-researcher at Lawrence Berkeley National Laboratory, launched the startup to advance "wave carpet" technology pioneered by Reza Alam, a UC Berkeley engineering professor. Lehmann and his team were among the first cohort of the competitive Cyclotron Road incubator at Berkeley Lab. He said the prize money will allow CalWave to continue operations as it graduates from Cyclotron Road.
Unlike many of its peers, CalWave's technology extracts energy not at the choppy surface of the ocean but from muddy sea beds that absorb more energy below. It features an elastic composite stretched across a grid of corrosion-resistant cylinders and double-action piston pumps.
"We have not yet reached the limits of our performance," Lehmann said. "The Wave Energy Prize was a great way of learning that will lead to another round of iteration."
Renewable energy experts peg wave energy at the place wind energy was decades ago: Many technologies are being tested, but none has emerged as an optimal solution that could sweep the globe. Yet with more than 50 percent of the population living within 50 miles of coastlines in the United States alone, the potential remains huge.
Lehmann said CalWave is now focused on securing grant money to further optimize the technology in its deep-water application, which he hopes will ultimately lead to full-scale ocean demonstration.
CalWave has been featured in National Geographic, Fast Company, Reuters and other media outlets.