UC wins green building Super Hero Award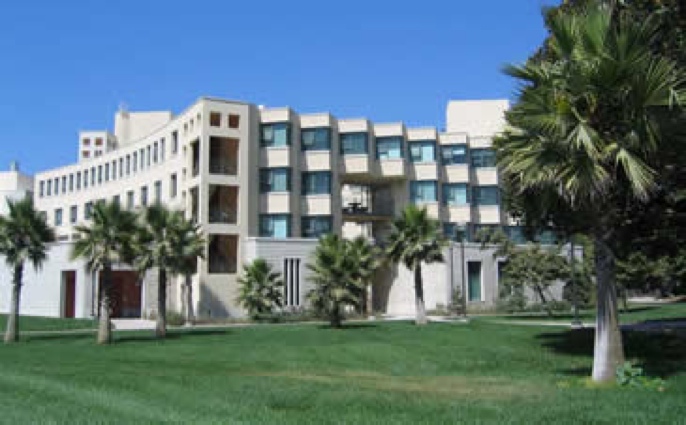 The University of California has a hidden super power: It makes buildings turn green.
Just how green? Well, UC has more LEED certified buildings than any other university in the country. So green, in fact, that the U.S. Green Building Council's Northern California chapter just named UC a green building super hero.
Nathan Brostrom, UC's executive vice president for business operations, accepted the Sustainable Neighborhood/Campus Super Hero Award on the university's behalf at a San Francisco gala Tuesday night (Oct. 29). The award recognizes UC as a pioneer and leader in sustainable design and construction.
"Our campuses are living laboratories for sustainable practices," Brostrom said. "We're tapping into our own leading-edge research in energy efficiency, renewable energy, biofuels and green construction to meet our ambitious sustainability targets."
More than 140 buildings on UC campuses and locations are LEED certified. The Leadership in Energy and Environmental Design certification was developed by the U.S. Green Building Council to evaluate a building's environmental and sustainable attributes in a holistic way.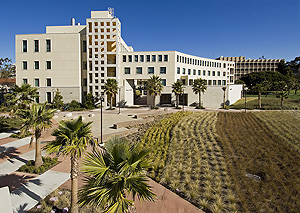 UC's green power comes from its Policy for Sustainable Practices, which mandates that any new construction or renovation meet LEED certification standards.
At the gala, UC Berkeley, Lawrence Berkeley National Laboratory, UC Davis, UC Merced and UC Santa Barbara were recognized for exemplifying the best in truth, justice and the green way.
"We're proud to honor these outstanding individuals, projects, and organizations," said Dan Geiger, executive director U.S. Green Building Council-Northern California in a statement. "Northern California leads the country in green building, and these award winners exemplify the region's spirit of innovation."
UC Santa Barbara's Bren Hall holds the honor of having the nation's first LEED Platinum laboratory and the first Double Platinum building.
UC Merced, which opened after UC's sustainable building policy was enacted, has been built green from the ground up: every single building is LEED certified.
West Village at UC Davis is the country's largest planned net-zero energy community and eventually will produce all the energy it uses from clean fuel sources such as solar. Davis is also home to first LEED Platinum winery in the world, and the Robert Mondavi Institute for Wine and Food Science, the highest scoring LEED building at any university.
At UC Berkeley, all major building projects in the planning, design and construction phases are pursuing LEED certification, including the Li Ka Shing Center for Biomedical and Health Sciences, one of the most sustainable buildings on campus. New building and major renovation projects are also required to beat state energy codes for efficiency by at least 20 percent.
Berkeley Lab was cited for the renovation of its Building 74, a research facility and office building that is its first LEED Platinum certification. The facility is expected to surpass national energy efficiency standards by 42 percent.
About the policy
UC's sustainability policy, enacted in 2003, also includes directives for clean energy, sustainable transportation, climate protection, sustainable operations, waste reduction and recycling, environmentally preferable purchasing, sustainable foodservice and sustainable water systems.
It also sets a goal of reducing greenhouse gas emissions to 1990 levels by 2020. By that date, UC is also aiming to divert all solid waste from landfills, procure 20 percent of its food from sustainable sources and reduce use of potable water by 20 percent. UC has also committed to becoming carbon neutral as soon as possible.
UC's real heroes are its students, staff and faculty who are making campuses and the world more sustainable by using their green power to cut carbon emissions, conserve resources, reduce waste and save money — more than $128 million in energy costs since 2004.