UCLA law clinic takes two cases to US Supreme Court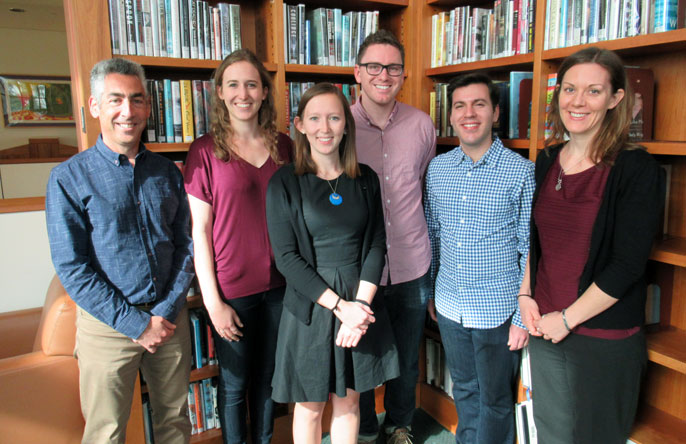 The work of UCLA School of Law's Supreme Court Clinic will be on full display when the highest court in the nation convenes for oral arguments early next year.
UCLA law students and faculty are handling two cases in the 2016-17 Supreme Court term after a remarkable year when the clinic authored briefs on the merits in four cases before the high court.
In September, the justices decided to hear Nelson v. Colorado, a case involving the right of two exonerated criminal defendants to reclaim court costs and penalties, and Lee v. Tam, a closely watched trademark dispute. UCLA Supreme Court Clinic students and faculty are preparing briefs in both cases, and clinic director Stuart Banner, UCLA's Norman Abrams Professor of Law, will argue the Nelson case before the court.
Thomas Cochrane, one of six students in the clinic this year, says working on these cases is "an opportunity that most lawyers don't get at any point in their career, and I get to do it as a 3L (third-year law student)."
Banner founded the Supreme Court Clinic in 2011 to engage students in important cases and to help attorneys and litigants who would not otherwise have the resources to bring cases before the court. The clinic has written petitions for or against certiorari — preliminary documents that the court uses to determine whether to accept cases — for several years. But only in the last two years has the clinic had the chance to write briefs that the justices relied on to decide cases.
Banner says student contributions prove vital when he puts together briefs on the merits and tests out theories, arguments and counter-arguments. "I'm getting research input from the students, and they're commenting on drafts," he says. "It really is helpful. They find all sorts of really valuable stuff."
Collaborating to make the best case
After the court accepted the case in September, Cochrane and fellow student Whitney Brown dove into the merits brief for Nelson. The case tests the constitutionality of a Colorado law that required petitioners Shannon Nelson and Louis Alonzo Madden, whose criminal convictions were reversed on appeal, to prove their innocence in order to get back money they had paid for fines, court fees and related charges. Banner believes Colorado's scheme, which is unlike any other in the country, violates defendants' rights to due process. "You're convicted of a crime, you pay a fine. Your conviction is reversed, but the state keeps your money. That doesn't sound right," says Banner. "So we say they should just give you the money back."
Ned Jaeckle, an attorney with the Colorado State Public Defender's office who brought the case to UCLA's Supreme Court Clinic, describes himself as a "nuts-and-bolts public defender" and says that preparing for a Supreme Court argument while simultaneously juggling his normal caseload would be "a monumental undertaking."
He adds, "If you want what's best for your client, it made a whole lot of sense" to reach out to the clinic and to Banner, an accomplished legal historian and a former clerk to Ninth Circuit U.S. Court of Appeals Judge Alex Kozinski and then-Supreme Court Justice Sandra Day O'Connor.
An experienced appellate attorney, Jaeckle says that "the quality of the students who work in the clinic is really high. I think I'm a fair judge of quality of writing and legal advocacy, and I've been just incredibly impressed."
So has John Connell, an attorney at the Archer law firm in New Jersey who came to UCLA Law for help on the Lee case. "We really felt it was important to have a high level of erudition reflected in the people who were going to participate in the writing and the analysis contained in the brief," Connell says. "Our review [of law school clinics] was national in scope, and UCLA just shone very favorably."
Work with real consequences
Connell's client in Lee is Asian American musician Simon Tam, whose trademark application for his band, the Slants, was rejected by the U.S. Patent and Trademark Office. Tam contends that federal trademark law's refusal to register trademarks that may be disparaging violates the First Amendment. The case has drawn national attention. "'Slants' is a derogatory term about Asian Americans, but he (Tam) wants to reclaim it," Banner says.
As he has in the past, Banner enlisted First Amendment scholar Eugene Volokh, UCLA's Gary T. Schwartz Distinguished Professor of Law, to help with the First Amendment issues in Lee. "Often, when we have a case that involves expertise that one of my colleagues has, I'll rope them in," Banner says.
Law student Libby Jelinek, who is working on Lee with fellow student Ryan Azad, says that the assignment "definitely mirrors actual practice a lot more" than a typical third-year course does. "You're collaborating on the work and trying to put something together that's useful — something that has real consequences and actually affects national law."