August 14, 2019
Stuart Wolpert
,
UCLA
Credit: Sean Brenner/UCLA
UCLA scientists are leading a $10 million project to help California officials make ecologically wise decisions as the state continues to confront the effects of climate change.
The California Conservation Genomics Project, which is funded by the state, will involve conservation biologists, geneticists, ecologists and climate scientists from all 10 University of California campuses, the Lawrence Berkeley National Laboratory and Los Alamos National Laboratory, the UC Natural Reserve System and California State University campuses, as well as officials from state and federal regulatory agencies and nongovernment agencies, such as The Nature Conservancy. It is intended to run through 2022 or 2023.
"This project has the potential to revolutionize how we manage our land," said Bradley Shaffer, who leads the project and is a UCLA distinguished professor of ecology and evolutionary biology and director of UCLA's La Kretz Center for California Conservation Science. "We will apply state-of-the-art techniques to California's most pressing conservation problems and provide government agencies with the best scientific data to make informed decisions as California's climate continues to undergo rapid change."
Shaffer said the initiative is intended to provide state officials with current scientific data and analyses they can use to make decisions about conserving the state's species and their habitats, better protect natural resources and create strategic plans to ensure that California's people, places and wildlife are more resilient to climate change.
The project will be based in the La Kretz Center and the UCLA Institute of the Environment and Sustainability. Among the UCLA faculty who will play key roles are Victoria Sork, a distinguished professor of ecology and evolutionary biology, and dean of life sciences in the UCLA College; and Robert Wayne, a distinguished professor of ecology and evolutionary biology and a Howard Hughes Medical Institute professor.
'Climate change is happening right now'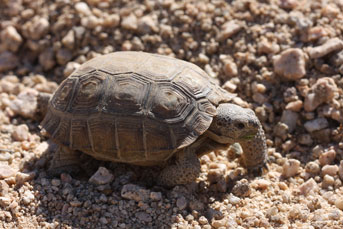 "Climate change is happening right now and is altering our ecosystems at an unprecedented rate, threatening plants, animals and their habitats," Shaffer said. "We're already seeing dramatic changes in terms of drought, fire and temperature extremes, and they have enormous impacts."
Genomics, the science at the heart of the project, involves analyzing the genetic material of animals and plants. The researchers will study the DNA of endangered and threatened animals and plants to help preserve species — for example, to better understand the genes that help species adapt to temperature change and to learn which animals and plants, based on their genetics, are more vulnerable to climate change.
"The California Conservation Genomics Project will bring together many of the state's leading experts in genomics and conservation science to work in a coordinated manner to provide decision makers with sound science in their efforts to address the rapidly accelerating species declines resulting from habitat destruction and climate change," said Harris Lewin, a distinguished professor of evolution and ecology at UC Davis. "This effort fits seamlessly into the goals of other large scale initiatives, including the Earth BioGenome Project at UC Davis, and we are pleased to see California leading the way with the nation's first statewide conservation genomics project."
The scientists plan to gather data on soil and vegetation, temperatures and rainfall to learn how genetic variation patterns are associated with specific habitats, and they hope to produce more accurate climate models.
Information from both of those endeavors could help officials react more effectively after catastrophic weather events — determining, for example, which animals and plants should be brought back to an area after a wildfire.
Among its other goals:
Using genetics to identify invasive plants or animals when they first arrive in California, and to determine how to eradicate or control them.
Identifying the regions that are most vulnerable to wildfires, so state and federal officials can develop fire prevention and recovery plans and state leaders can decide where resources should be allocated.
Producing information that can help officials decide where to build renewable energy infrastructure, such as large-scale solar and wind facilities, while minimizing the effects on endangered species.
Shaffer said the project also will produce annual reports and host workshops to inform policy decisions, and the researchers plan to develop a website that will include links to large genomic databases that reveal the locations of the state's most vulnerable species and habitats.
Among the early supporters of the project was California Assemblymember Richard Bloom, whose assembly district includes the majority of the Santa Monica Mountains and has marine protected areas offshore.
"With an isolated population of mountain lions and threatened resident steelhead trout, what can be achieved by this project hit home," Bloom said.
The project is a collaboration with the UCLA Sustainable LA Grand Challenge, through which UCLA is developing technologies, policies and strategies to transition Los Angeles County to 100 percent renewable energy, 100 percent local water and enhanced ecosystem health by 2050. Shaffer said the initiative wouldn't have come together without the support of the grand challenge and the leadership of Mark Gold, UCLA's former associate vice chancellor for environment and sustainability.
"The fact that the state is willing to endorse the best possible science in making wildlife and environmental decisions is something we Californians can all be very proud of," Shaffer said.