October 1, 2021
Robyn Schelenz
,
UC Newsroom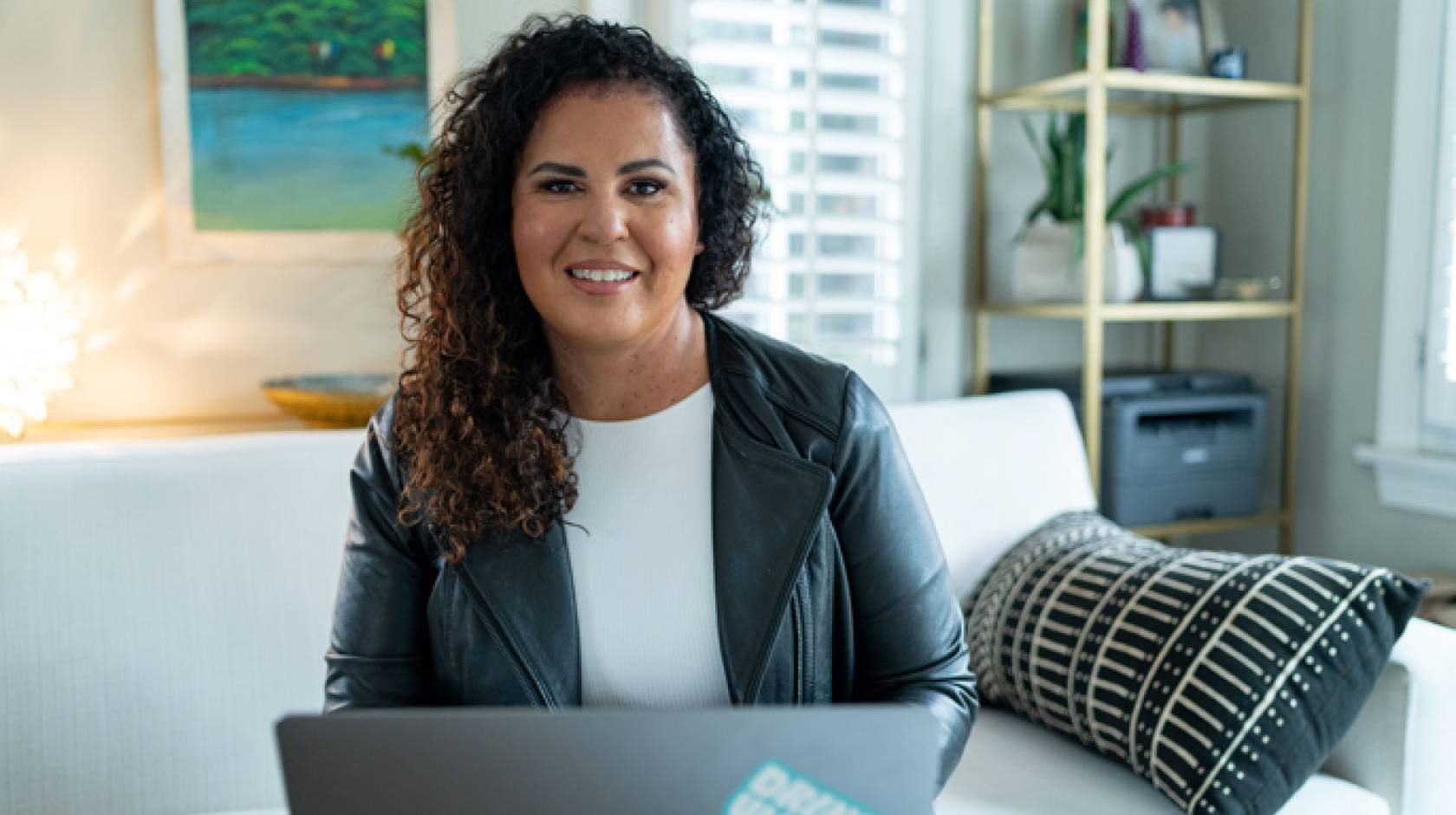 Credit: John D. & Catherine T. MacArthur Foundation
Four researchers and scholars with UC connections have been awarded MacArthur fellowships, or "genius grants," the John D. and Catherine T. MacArthur Foundation announced this week (Sept. 28).
UCLA professor Safiya Noble directs an interdisciplinary research center focused on the intersection of human rights, social justice, democracy and technology. She joins two UC Berkeley alums, Taylor Perron and Joshua Miele, and Daniel Alarcón, a former visiting scholar and fellow at UC Berkeley, in receiving the prestigious fellowships.
MacArthur fellowships are granted annually by the John D. and Catherine T. MacArthur Foundation to recognize "extraordinarily talented and creative individuals." They select fellows based on three criteria: exceptional creativity; promise for important future advances based on a track record of accomplishments; and potential for the fellowship to facilitate subsequent creative work. Fellows receive a $625,000, no-strings-attached award to help them achieve the independence to pursue their passions. Twenty-five fellows were chosen this year.
Safiya Noble, associate professor of gender studies and African American studies
Noble, an internet studies and digital media scholar as well as co-founder of the UCLA Center for Critical Internet Inquiry, was granted a fellowship for her research on the ways digital technologies and internet architectures magnify racism, sexism and harmful stereotypes. She is the author of the bestselling book "Algorithms of Oppression: How Search Engines Reinforce Racism," which examines racist and sexist bias in the algorithms used by commercial search engines.
"As social scientists, it is increasingly important for us to interrogate the power that technology holds over our social structures, cultures, behavior and potential for progress," said Darnell Hunt, dean of the division of social sciences in the UCLA College. "Safiya's work has done just that. We are deeply gratified and proud that the MacArthur Foundation has recognized Safiya for her ongoing commitment to engaging community, inspiring action and her efforts to build a more equitable world for all."
In addition to her research, Noble works with engineers, executives, artists and policymakers to think through the broader ramifications of how technology is built, deployed and used in unfair ways. She challenges them to examine the harms algorithms can cause and shows the necessity of addressing the civil and human rights that are violated through their technologies.
Noble, who is also affiliated faculty in UCLA's School of Education and Information Studies, plans to use the grant not only for research, but to help launch her nonprofit EquityEngine.org, a leadership and empowerment initiative for women of color.
"The MacArthur Fellowship will have a transformative impact on the work I do to abolish the harmful and discriminatory effects of digital technologies," Noble said. "It's a great and unexpected honor, and I'm grateful to the selection committee and all my colleagues who made this possible. I plan to use this award to accelerate and amplify the work of other Black women and women of color."
Noble joins 13 other UCLA faculty as MacArthur fellows in total, a list that also includes mathematician Terence Tao, director Peter Sellars, astrophysicist and 2020 Nobelist Andrea Ghez and historian of religion Gregory Schopen.
Joshua Miele, adaptive technology designer at Amazon Lab126
Miele, who received his bachelor's in physics and doctorate in psychoacoustics from UC Berkeley, was awarded with a "genius grant" for developing devices to enable blind and visually impaired people to access everyday technologies and digital information. Miele, blinded as the result of a terrible attack as a young child, has applied his considerable scientific savvy to helping his community.
"Blind people are very often locked out of opportunities for education, for jobs. A lot of the time, accessibility for blind people really means access to information," Miele stated in his MacArthur video. "So, it's super important to make sure the technologies are easy to access, inexpensive, open-source and readily achievable. That's why what I do is research, invention and activism."
"I'm proud to be blind, I'm proud of the community that I'm part of, and I love building and imagining cool technologies for blind people."
Among Miele's projects are Tactile Maps Automated Production (TMAP), a web-based software that generates tactile street maps of any location that can be printed with at-home Braille embossers. He designed a set of tactile maps for every station of the Bay Area Rapid Transit (BART) system that is compatible with an audio smart pen, making it possible for blind travelers to virtually explore and plan their route through the BART system.
Other projects Miele has been involved in include WearaBraille, a technology that attaches sensors to users' fingers to allow them to type Braille text without a special keyboard. He also created the YouDescribe platform, which combines crowd-sourced audio descriptions of YouTube videos with an interface to synchronize the descriptive audio with the video source. At Amazon, he has helped drive Braille compatibility with Fire tablets and a "Show and Tell" feature on camera-enabled Echo devices that can identify pantry and food items.
Taylor Perron, geomorphologist
Perron, a professor of geology at MIT who earned his doctorate at UC Berkeley, received a MacArthur fellowship for his work in deducing the environmental history of current landscapes to predict how landscapes will respond to future environmental changes. Using mathematical modeling and simulations, Perron explores how complex tensions on the Earth interact. For example, one of Perron's models demonstrates how two competing erosion processes generate the familiar branching patterns we see in river valleys. His models of river dynamics also help explain biodiversity and fish population trends. Mostly recently, he has begun to apply his work to understanding the geology of planets like Mars and Titan — including trying to understand if, and how, they had water.
"Geology is kind of like a whodunit about the Earth," Perron says in his MacArthur video.
"If we can figure out how to read natural landscapes, and understand how they evolved in the past, it gives us an idea of what to expect as we continue to change Earth's climate in the future."
Daniel Alarcón, writer and radio producer
Alarcón, formerly a visiting scholar at the Center for Latin American Studies at UC Berkeley and an investigative reporting fellow at the University of California at Berkeley Graduate School of Journalism (2012–2013), was granted a MacArthur fellowship for his innovative, cross-disciplinary storytelling about the social and cultural ties that connect Spanish-speaking communities across the Americas.
Alarcón explores individual lives and underreported topics in fiction, written in English, and in a Spanish-language podcast distributed by NPR called "Radio Ambulante". He shares reports, conducted by himself, as well as the Spanish-language journalists he mentors, on topics as varied as migrant communities in the United States and the refugee crisis in Venezuela, to youth culture in Honduras and "killer bees" in Brazil.
"One of the core ideas of Radio Ambulante from the beginning has been that geographical boundaries or political borders may be real, but cultural and linguistic boundaries are completely fluid," Alarcón says in his MacArthur video.
"It makes me super proud to be able to see those stories living next to each other and being commented upon by people who've never been to those places but who suddenly feel like they have a connection there."
"Stories are how we create community. Stories are how we define who we are."