February 8, 2018
Tom Vasich
,
UC Irvine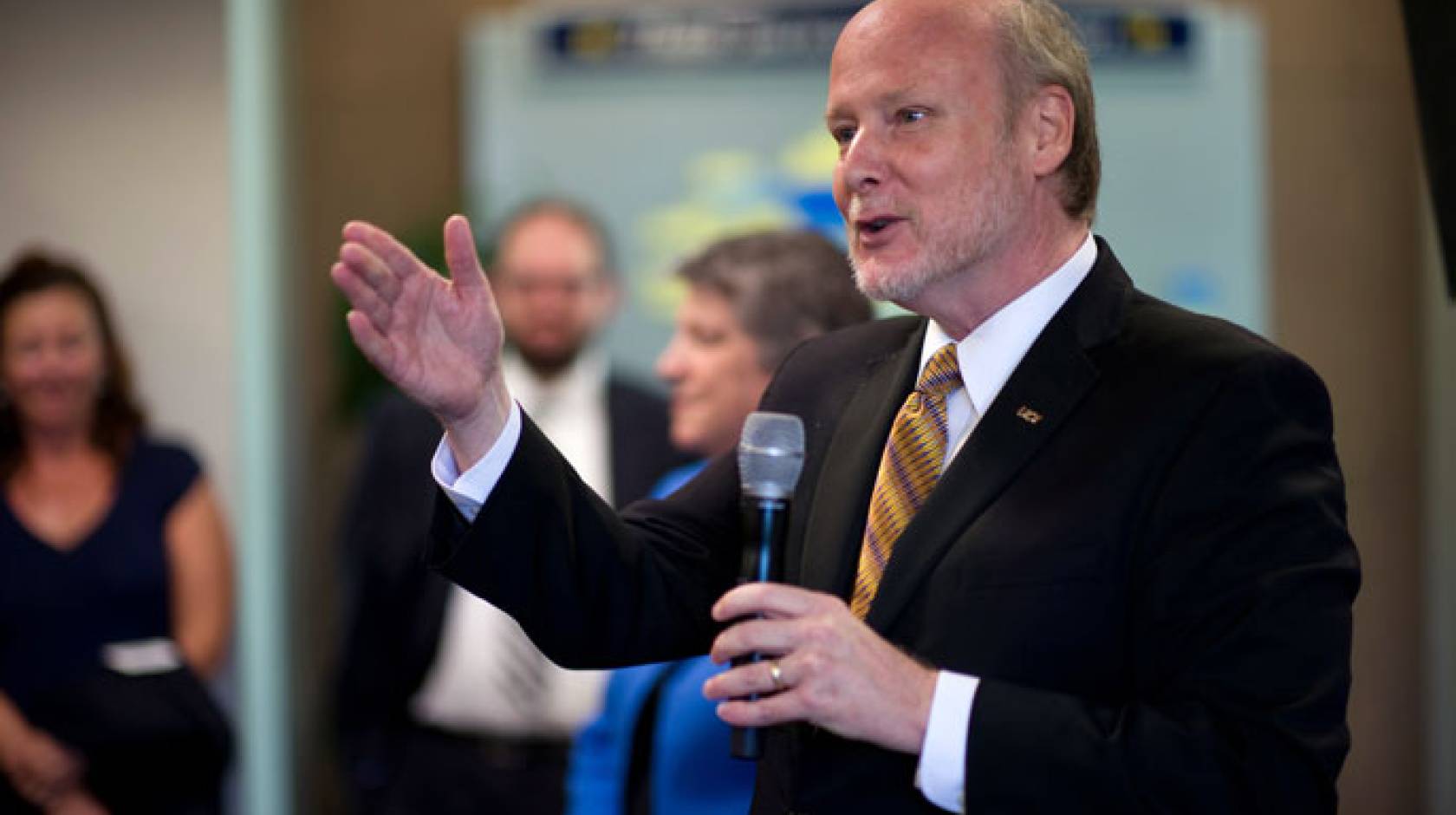 Credit: Steve Zylius/UC Irvine Communications
The University of California's National Center for Free Speech and Civic Engagement today announced its inaugural class of 10 fellows, charged with helping educational institutions and communities better understand, guarantee and facilitate free speech.
The fellows, who include scholars, students and analysts from across the country, will spend a year researching timely, vital First Amendment issues. Their work will include developing tools, analyzing data and presenting lessons from history to be highlighted at a national conference later this year. Each will reside for a week at one of the 10 UC campuses to engage with students, faculty, administrators and community members.
"The first class of fellows exemplifies our goal of bringing together the country's great minds to study the complicated issues of free speech, activism and civic engagement," said UC Irvine Chancellor Howard Gillman, co-chair of the center's advisory board, whose role has been expanded to include administrative oversight of the center. "They are a diverse group of experts representing multiple perspectives. We're proud to welcome them to the center and to support their work."
The selection of fellows is a critical step in the development of the center, which was launched by UC President Janet Napolitano last October. She appointed Gillman, a leading constitutional scholar, and Erwin Chemerinsky, dean of the UC Berkeley School of Law, as co-chairs of an advisory board of elected officials, journalists, academics and corporate leaders.
Three new board members — National Public Radio White House correspondent Tamara Keith, Twitter general counsel Vijaya Gadde and UC Regent Emeritus Harvey Brody — have now been named, joining former U.S. Sen. Barbara Boxer, former U.S. Secretary of Education and CEO of The Education Trust John King, Facebook strategic communications director Anne Kornblut, UCLA law student Avi Oved, New York Times columnist Bret Stephens, University of Chicago Law School professor Geoffrey R. Stone and Washington Post columnist George Will.
Gillman will immediately start the search for the center's first executive director, who will manage operations and programming.
Fellowship program — cornerstone of the center
The first fellows, listed below with their projects, were selected by the advisory board from 75 applicants nationwide.
Robert Cohen, professor of history and social studies at New York University, will compare free speech crises at UC Berkeley in 2017 and the University of Wisconsin-Madison in 1967, then develop related curriculum materials for middle and high school teachers and incoming college students.
Carlos Cortes, professor emeritus of history at UC Riverside, will explore the history of diversity initiatives on college campuses and how those initiatives have affected students' and administrators' evolving views on free speech issues.
Ellis Cose, best-selling author and speaker, will perform a deep analysis of the challenges of protecting free expression in the context of polarized politics, accusations of fake news and a rise in white nationalism, supplementing his book project on the history of the American Civil Liberties Union.
Justin McClinton, Ph.D. candidate in education policy and leadership studies at UC Santa Barbara, will develop a toolkit that helps university administrators prepare incoming students for challenging ideas and civil engagement.
Candace McCoy, director of policy analysis in the Office of the Inspector General for the New York Police Department and professor of criminal justice at the Graduate Center, City University of New York, will study recent protests and changing police practices when groups decide that rioting or threats of violence are necessary to bring attention to their issues.
Elizabeth Meyer, associate professor of educational foundations, policy & practice at the University of Colorado Boulder, will aim to demystify First Amendment topics such as free speech, harassment and nondiscrimination in K-12 and university settings, including surveying educators on challenging acts of expression in their classrooms.
William Morrow, former UC Berkeley student body president, will create a playbook for student leaders on how to handle the unique politics, legal restrictions, community relations and complex media communications involved with expressing opposition to controversial speakers.
Gamelyn Oduardo-Sierra, legal counsel to the chancellor at the University of Puerto Rico, will focus on developing online resources, podcasts and educational guides about the rights of assembly, public forums and civic participation as avenues of social conciliation.
Carlin Romano, professor of philosophy and humanities at Ursinus College and the University of Pennsylvania, as well as critic at large for The Chronicle of Higher Education, will work with the country's top intellectuals and writers to set up debates on controversial topics at up to eight college campuses. He will write a series of articles connected to these debates, examining when and why conventional viewpoints tip into being unacceptable.
Keith Whittington, the William Nelson Cromwell Professor of Politics at Princeton University, will develop model guidelines for campus free speech, moving from the defense of principles to concrete statements and regulations that can be adapted and used by college administrators.
Center's oversight moved to UC Irvine
With Gillman taking the administrative reins of the center, UC Irvine becomes a command post for the study of free speech. A constitutional scholar and recognized First Amendment thought leader, Gillman brings extensive expertise to his new role. He and Chemerinsky co-authored Free Speech on Campus, hailed as a primer on the complex subject.
"Chancellor Gillman is the natural choice for leading this important center," Napolitano said. "The depth of his expertise and scholarship on free speech will guide research and promote discourse on this critical topic."
The California legislature drew upon Gillman's perspective in developing Assembly Concurrent Resolution No. 21, passed unanimously last summer. It urges state colleges and universities to adopt free speech statements consistent with the principles he articulated in a 2016 campus policy statement.
"Freedom of expression is the indispensable element in all our other rights in this country. Today's students are rightly concerned about hate speech, bullying and polarization. We can and must educate them and ourselves about free speech and civil discourse. It is essential to democratic government and our future," Chemerinsky said. "I look forward to working with Howard in creating a terrific center on free speech and civic engagement."