May 19, 2022
Sheri Ledbetter
,
UC Irvine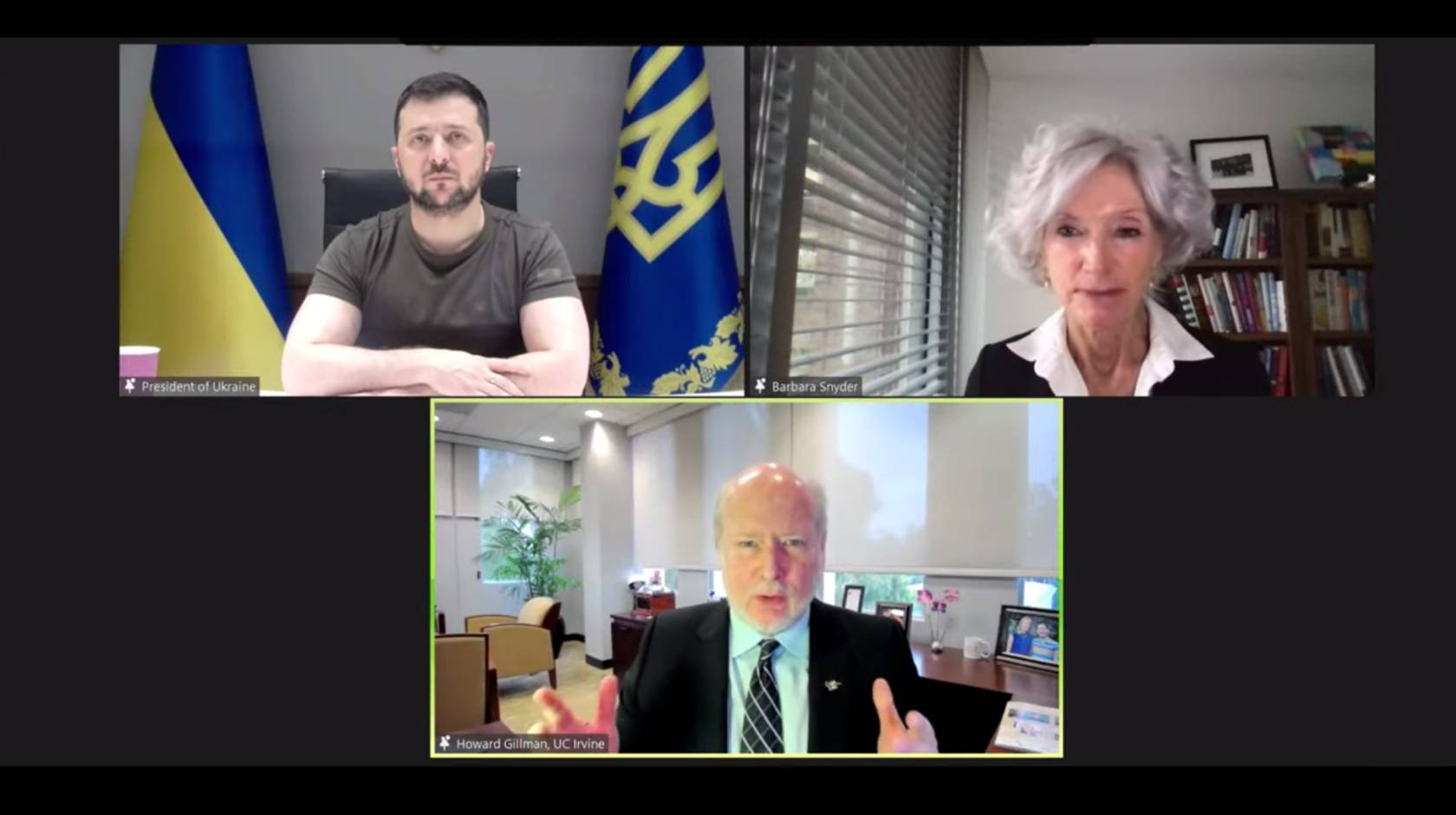 Credit: Association of American Universities Youtube
On Monday morning, May 16, Ukrainian President Volodymyr Zelenskyy addressed the Association of American Universities, a consortium of America's leading research universities. The one-hour event featured Zelenskyy sharing remarks for the first 15 minutes, followed by Q and A with AAU presidents for the remaining 45 minutes — whereby UC Irvine's Chancellor Howard Gillman took the floor on two different occasions to engage with Zelenskyy.
Through a translator, Zelenskyy opened the discussion sharing his thoughts on how Ukrainian leaders are already developing plans for rebuilding their nation. He outlined his vision for education in postwar Ukraine, including how an international network of institutions, including UC Irvine, can help displaced Ukrainian students and scholars continue their education and research.
Chancellor Gillman shared with Zelenskyy the work being done by Iryna Zenyuk, a Ukrainian American scientist and associate professor of chemical & biomolecular engineering at UC Irvine, who is organizing campus efforts to provide a safe place for refugees. (Learn more about Zenyuk's efforts in the UCI Podcast below.)
Appearing again at the end of the session with the final question, Gillman reiterated Zelenskyy's opening message of encouraging young people to not just be observers, but to take action. "Silence is not an option," Zelenskyy had said earlier in the program. Gillman asked Zelenskyy for his message to students about how they should think about the privilege of living in a democracy and what responsibilities they need to preserve and defend democratic values.
UC Irvine students, faculty and staff are encouraged to watch the dialogue to hear President Zelenskyy's remarks and responses to questions he received from Chancellor Gillman and other AAU university presidents. Note Zelenskyy's comment to Chancellor Gillman upon seeing photos on his desk and sharing that he knows he is "speaking from the heart." Moderated by AAU President Barbara Snyder, Zelenskyy's address to the AAU is available to view on YouTube.  Chancellor Gillman can be seen at minute 26:37 and again at 55:19.
Related links: