March 20, 2015
UC San Francisco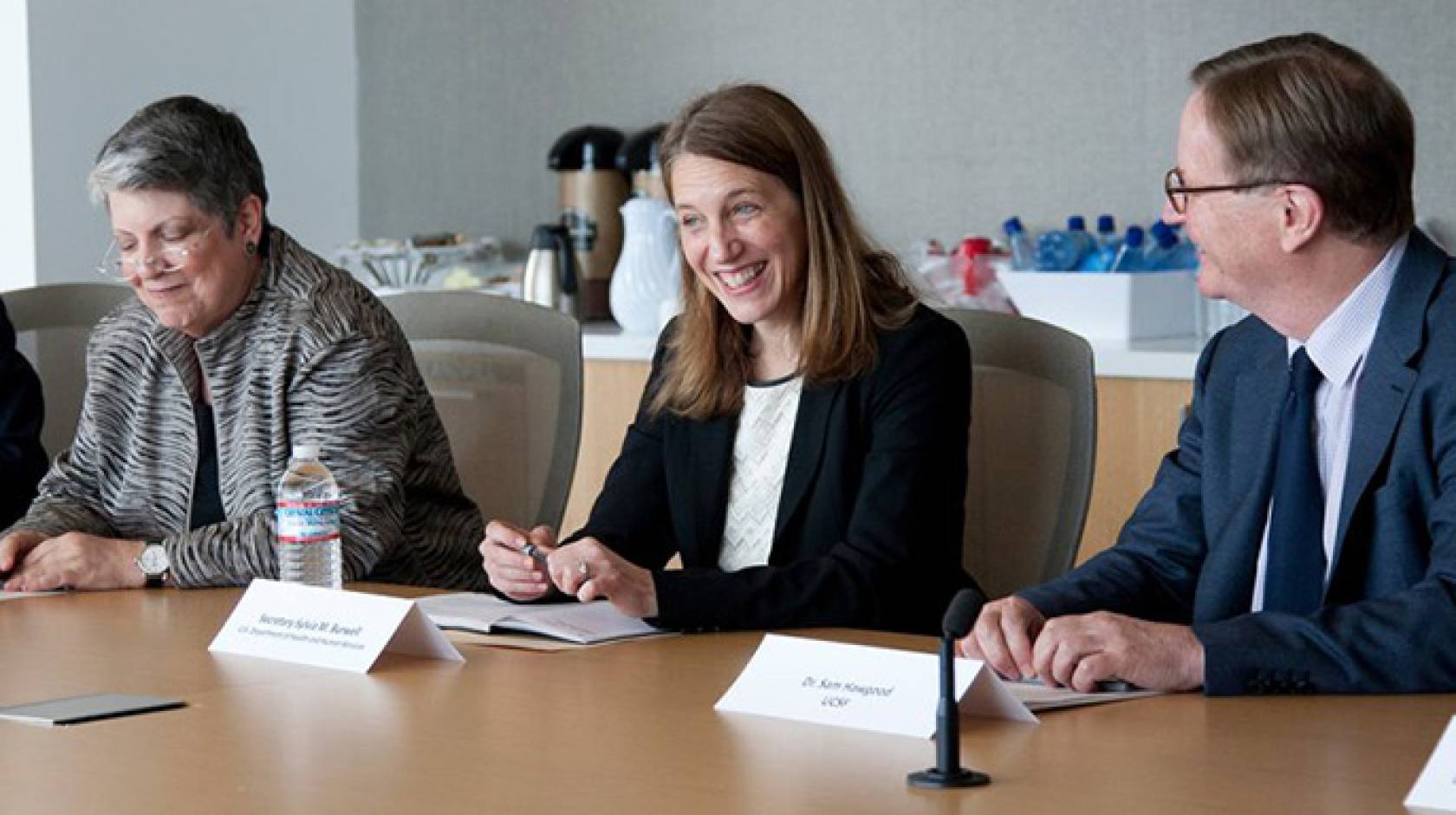 Health and Human Services Secretary Sylvia Mathews Burwell said precision medicine is the future of treating many diseases on her visit to UCSF's Mission Bay campus Thursday (March 19).
"Precision medicine … transcends ideology. It's within all of our common interest to cure diseases and to develop medical treatments that are highly tailored to the individual patient," said Burwell.
Burwell visited UCSF's Center for Advanced Technology to talk with UCSF scientists who are working to gather genetic and other data from patients with specific diseases in effort to develop targeted therapies.
She spoke with Geoff Manley, M.D., Ph.D., professor of neurological surgery, about his vital research on traumatic brain injuries and his work to develop more precise diagnoses that would allow more specialized and effective treatments. Robert Nussbaum, M.D., director of the UCSF Genomics Medicine Initiative, and Jonathan Hirsch, founder and president of Syapse, shared how collecting genetic data from cancer patients is improving treatment.
"The work [at UCSF] speaks to the vision that the president had when he talks and thinks about this issue," said Burwell. "In the State of the Union what he said was the country that eliminated polio and mapped the human genome needs to lead in a new era of medicine — one that delivers the right treatment at the right time."
In late January, President Obama asked Congress for $215 million to fund this developing field of health sciences.
Burwell outlined several components of the president's plan, including studying the molecular structures of cancer and establishing a cancer database that could be shared among doctors. She also referenced the President's plan to collect the DNA of 1 million American volunteers to research disease and develop medicines, and invest in next generation DNA sequencing tests.
"Advances in fields like genetics, immunology and data science; the adaption of technologies like electronic medical records and the dramatic decrease in cost of DNA sequencing have opened new doors of possibility," said Burwell. "To charge through them we're going to need to work together."