Using art to reimagine history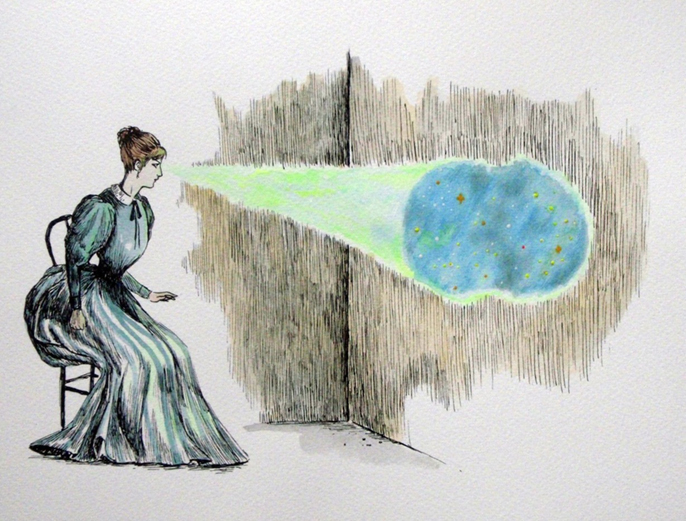 Christina Corfield is an artist pursuing her Ph.D. in film and digital media at UC Santa Cruz. Much of her artwork involves studying historical events with early modern technology. Her drawings are depictions of the fantastical tales of human contact with electricity and the fears of this technology in the late 19th century. We interviewed Christina and she gave her perspective on what it was like to start a Ph.D. program in the arts.
How does filmmaking fit into a Ph.D.?
My take on the matter is that producing a film is just as theoretically rich and critically engaging as a traditional piece of academic writing. It's true that there are differences in visual language versus written, but both can be held to the same academic standards.
What do you research and how does that fit into themes in your work?
My work is currently focused on the history of the California Gold Rush and the Pony Express. So I'm looking at visual aesthetics from the past as influences in my work. So I'm going to various archives such as at the Bancroft Library at Berkeley, but also visiting eastern California ghost towns to get more of a first-hand experience of the actual places where people lived and worked back then. I also hope to visit UCLA's Film and Television Archives which has a really great TV series from the 1960s about the Pony Express.
What is it like to do research in archives?
This is the first time I've gone in actual archives myself. I'm learning how to do research in them and even what it takes to get access to these collections, because in some cases you need to apply for grant money to travel to these archives. I spoke to a woman at the Smithsonian who said it would be better to look at some archives at Yale along with some private archives when it comes to the Pony Express. So by networking and speaking with folks at various places, I can dig deeper in finding what I need to research.
What advice would you give for this type of research?
I would recommend being efficient with your time. You often get a small window reserved to explore these places. Make sure to talk to the librarians themselves, because they know what's in the collection. This helps you to be efficient in finding what you need. In some cases I've come across archivists who are excited about my ideas and have helped do some of the research with me. I'd also recommend allotted time for unexpected discoveries in these collections. Almost every time I'll find something unanticipated and spend some of my time exploring these materials.
What's the benefit of attending UCSC for your degree?
I've attended small private art schools in my previous academic experiences, and one of the things I noticed about those schools, as good as they are, is that I wasn't actually in a diverse group of individuals. I think the benefit of a big university like UC Santa Cruz means I'm in classes with students who have backgrounds outside of the art world. This was something that I didn't expect and have found it very helpful. For example, someone may give me a critique of the types of plants represented in my drawings from an ecologist's position, which ends up enhancing my work.