What it means to graduate in 2020: UC's new grads reflect on the moment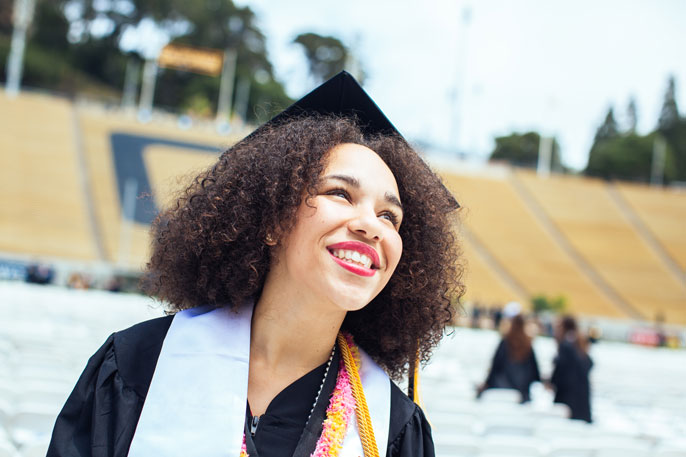 The Class of 2020 enters the world at a challenging moment. Yet our graduates have so much to be proud of, and so much more to look forward to ahead.
UC's largest and most diverse graduating class ever — some 58,000 strong — our newest college degree-holders bear an impressive array of skills and accomplishments. They have led undergraduate research projects, mentored fellow students, launched start-ups and nonprofits, organized for a cause. More than 80 percent hail from California, and 41 percent of them are the first in their family to college.
Our graduates enter a world that needs their idealism, brilliance and commitment to public service more than ever. It is one where opportunities to make a positive difference abound.
Here is what a few of our new grads had to say about being part of the historic Class of 2020, and what their UC experience has meant to them.
Leslie Nuñez
Nutritional science, UC Berkeley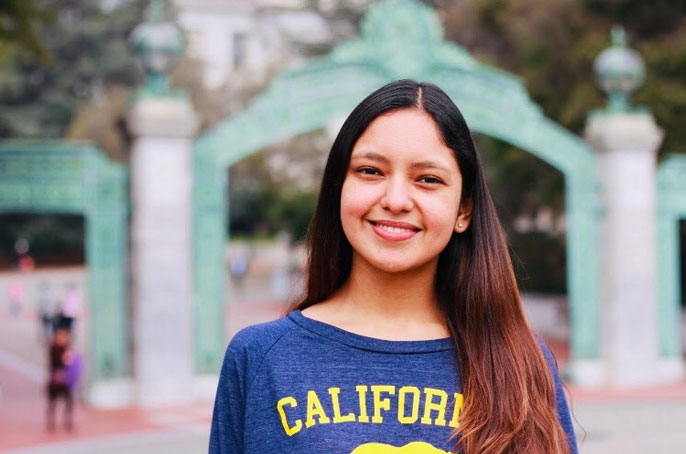 Los Angeles native Leslie Nuñez has overcome more than a few hurdles on the way to graduation — including being diagnosed with COVID-19, together with her parents, shortly after being sent home from UC Berkeley when the pandemic hit. Luckily, they are all on the road to full recovery, and the new UC Berkeley grad has a bright future ahead, ready to start a job she is passionate about: a life skills coordinator with Step Up on Second, a housing-first organization where she'll be helping people learn work and life skills to transition to more permanent housing.
She plans to apply to medical school and pursue her dream of becoming a doctor — a goal she's now more committed to than ever. "I don't know what kind of doctor I'm going to be or what I'm going to study, but I'm excited for all the doors graduating and having a diploma will open to me," Nuñez said. "I'm excited to be on the front lines. Being at home I felt like I couldn't do anything. I'm excited to help in any way I can."
Juan Robles Nava
Political science, UC Merced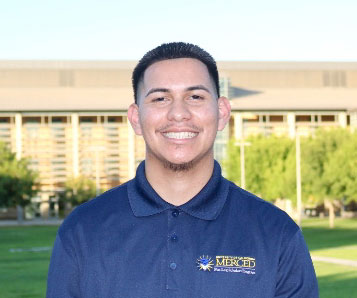 Hailing from Orosi, Calif., a small, rural town with a population of around 8,000 people, Nava spent summers picking citrus fruit in the fields alongside his parents before heading to college. Now he has very different ambitions: help other young people from similar backgrounds pursue and attain college.
While at UC Merced, Nava served as a peer mentor and president of Generation to Generation, a program that brought Central Valley middle- and high-school students to campus to learn about and experience college life. After graduating, he'll continue his current job with Fiat Lux Scholars. He ultimately hopes to work in education and launch a nonprofit to bring jobs and opportunity to the Central Valley. "My degree means so much to my family. They've always told me I could do it. This shows them that all their hard work paid off."
Kesia Eng
Psychology, UCLA
A once shy student who at times wondered if she would make it to graduation, Kesia ended up flourishing at UCLA: co-founding a club for first-gen students, hosting networking events for more than 200 people and discovering her interest in digital production. She even tried her hand at startups, entering a pitch competition with a game she developed that uses friendship and peer pressure to minimize digital distractions.
Her career goal is to combine her interests in digital media and the representation of Asian Americans. "To all my fellow college graduates: Congratulations: What we've done is no small feat. Don't downplay your accomplishments. I know my class is very resilient. No matter what you've had to contend with, college is such a special experience and you get to learn so much about yourself."
Tiana Curry
Mathematics, UC Santa Barbara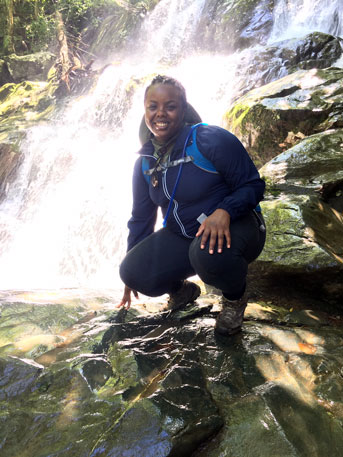 After losing her dad and struggling with instances of racism and discrimination that forced her to leave high school, Tiana Curry faced many barriers. But she continued her education, and found support — like Carolyn Martin, a teacher at Berkeley City College who pushed her to challenge the doubters and pursue her passion. She was also inspired by Tracy Camp, a Laney College math professor who gave her the courage to study the subject she loved most. "People in the education system told me, "you wouldn't be good at math." So by having a Black female math professor, I was inspired, I saw myself, and I was able to imagine myself in the field of mathematics."
At UC Santa Barbara, Curry majored in math and did a whole lot more. She participated in a research internship at the Smithsonian, where she was invited to be a part of the American Women's History Initiative and to focus on women researchers at the institute. She served as the co-president of a student organization that supports underrepresented students in mathematics, and also mentors transfer students. In her spare time, she does dance: modern, jazz, ballet, African — you name it. She was recently awarded the Alyce Marita Whitted Memorial Award for endurance, persistence and courage.
She now aims to be a data scientist working on projects to protect the environment. Her thoughts on graduating at a challenging time: "Any time I've had a setback, it feels so big in the moment, but then you just keep trying. There are so many times I've been stopped or blocked. But I've tried to remember that things are constantly changing and even hardships are temporary."
Layla Al Asadi
Psychology and human development, UC Davis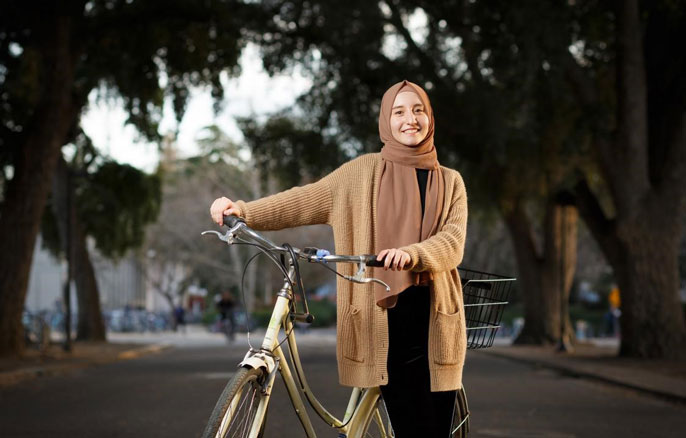 Layla Al Asadi was born and raised in Al-Adel, a small neighborhood within the crowded city of Baghdad, Iraq, and moved to the U.S. at the age of 12. "When I first came to campus, I remember feeling so intimidated by the huge crowds and massive buildings. Dorm life was an adjustment. I was also scared to death of biking! I was worried that I wouldn't fit in."
But she soon found Davis to be her second home. She has participated in undergraduate research, written for Her Campus Magazine, interned in emergency radiology at the UC Davis Medical Center, and participated in clubs, honor societies and service organizations — and even become an avid cyclist! She also runs her own business making chocolate-covered strawberries. "I don't think anyone knows what the future holds, but it is important to set goals, do the best you can to achieve them, and be flexible — there is always more than one way to succeed."
Mia Arnold
Mathematics, UC Irvine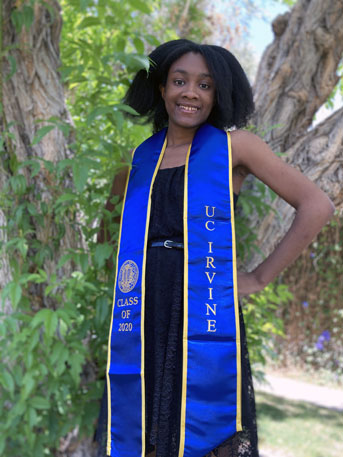 Growing up in Indio, Calif., Mia Arnold was the friend kids would go to for help with their math homework. "Algebra is like a mystery you're trying to solve. I love the process of figuring out the puzzle, and the way it all comes together." So it was a no-brainer when she got to UC Irvine that she would major in mathematics.
She also discovered a passion for teaching and mentoring students. She joined CalTeach, a UC program which prepares STEM majors for careers as K-12 educators in high needs schools. She serves as a peer mentor with UC Irvine's Foster Youth Resilience in Education program that helps undergraduates who have been through the foster system succeed, and has led programs that bring teens in foster care to campus to see college as something within their reach.
Her plans are to become a math teacher, putting to work both her love of numbers and her desire to help students strive to achieve their dreams. "Learning how to learn is an ongoing process," she says. "Being a math major meant I had to think more abstractly than before [and] aim for understanding rather than high grades.
Luckily, I have support from my study buddies, who have turned into some of my closest friends. Juggling a heavy load of classes, a job and extracurricular responsibilities can be draining. But I have a network I can go to for support — one that goes way beyond helping with math. That's helped make my whole college experience easier, more rewarding and more fun."
Bianca Del Toro
Psychology, UC Santa Cruz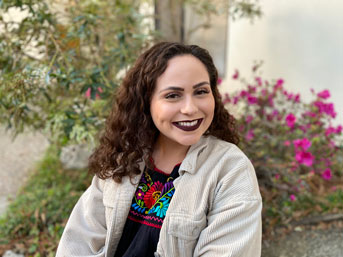 "My mom is a big factor for why I wanted to come to college. She worked long hours to make sure that my siblings and I were able to get a better future," said Los Angeles native Bianca Del Toro, who is graduating UC Santa Cruz with a major in psychology and minor in education.
When Del Toro first arrived on campus, so much was a mystery: financial aid, choosing classes, taking notes, how to get help. But she hit her stride and has since been involved in helping other first-gen students, participating in undergraduate research into the factors that foster a sense of belonging, and working with the First Generation Initiative to publish a newsletter, do outreach and plan events.
Now Del Toro plans to work in social work or education while applying to graduate school. "I am a different person today in so many ways. The way I'm able to analyze information and think critically about an issue has made me more confident. I want to do and learn so much more."
What she would tell that nervous freshman self: "Everything will be okay. There will be a lot of challenges and instances where you feel like giving up but you will get through it and at the end of the day you are going to make it. I would tell my first-year self to find your place, your people, and don't be afraid to reach out or seek help."
Jonathan Calero
Biochemistry, UC Riverside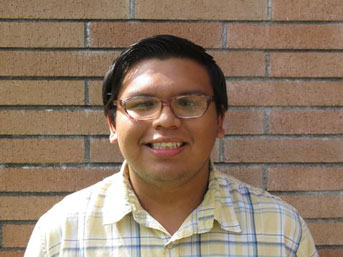 Jonathan Calero considered not attending college. He felt it was his obligation to start earning money to support his parents. A high school counselor managed to change his mind. Now, with a major in biochemistry and a string of high profile research internships under his belt, Calero is off to pursue a Ph.D. studying immune system responses.
At UC Riverside, Calero participated in the Dynamic Genome course, a biology class that lets students learn basic elements of biology and research by participating in advanced, hands-on research. "That's when I discovered: that's what I want to do," he said. As president of the Dynamic Genome Outreach Group, he shares that excitement with K-12 students, who come to campus to work on research projects with undergrads.
His first summer, he landed a research internship. More followed, including an internship in Washington, D.C., with the USDA studying a swine parasite and one with the City of Hope looking at the role of aging in breast cancer risk.
"It's still very shocking for me. I never envisioned myself even graduating college, let alone pursuing a career as a scientist," he said. "My mom will probably make this big Mexican dinner. She's very proud of me. My aunts and uncles see I've changed a lot and who I've become, and now they want their children to follow in my footsteps."
Christopher Hutchinson
Nanoengineering, UC San Diego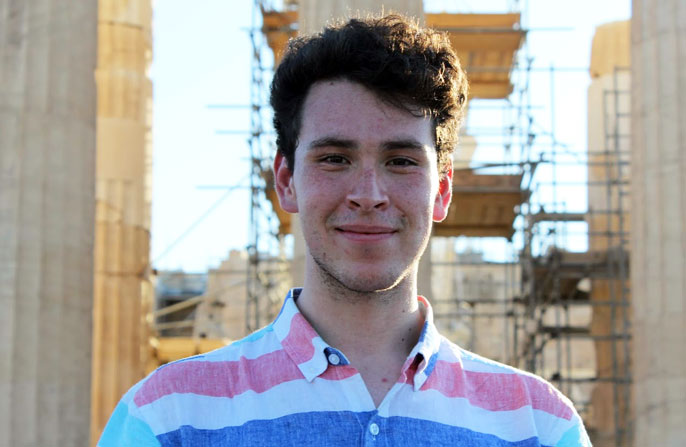 Exploring all the aspects of yourself is part of what college is all about — and it certainly fit that bill for Christopher Hutchinson. He found his niche in the diverse fields of theater and nanoengineering.
From his first days in Nano 101, "It amazed me how much it encompasses: physical principles, electronics and so much more. It's an area of science where everything is innovating. The nano department is such a really cool group of people — so intelligent with such a high level of expertise."
Also in his freshman year, he took a chance and auditioned for the spring musical. He got cast and was hooked. He's now seeking a job in the nanotechnology sector, ideally in a place with a thriving theater scene and opportunities to practice his art.
"I am the first in my family to have the opportunity and privilege to attain a higher education, making it possible to acquire the knowledge and skills I need to help me pave my own path in the world. It means I can share what I've learned with my family and community, as a guide and supporter. It means I broke the chain and did what others said I couldn't do."