September 30, 2021
Peggy Townsend
,
UC Santa Cruz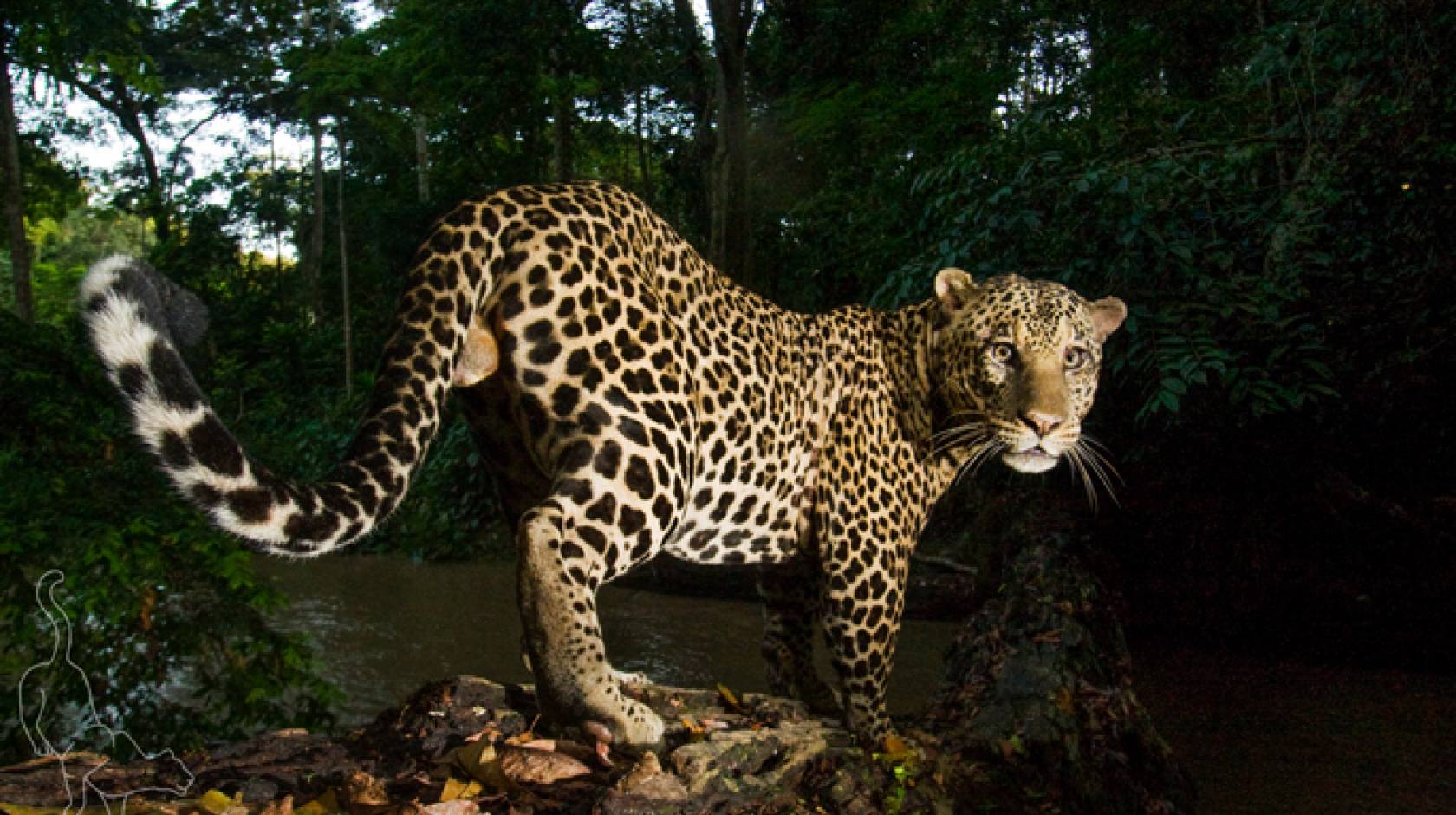 Credit: Sebastian Kennerknecht
Wildlife conservation photographer Sebastian Kennerknecht and a biologist colleague were setting up a camera in Uganda when both heard the ear-splitting trumpet of an angry forest elephant. The jungle around them was dense, a tangle of vines, branches, and aerial roots. Suddenly, the forest seemed to explode in front of them. The elephant had charged.
It was, said Kennerknecht, like the scene from the movie "Jurassic Park," where a roaring T-Rex crashes through the landscape, flattening trees as if they were blades of grass.
Kennerknecht and the biologist ran.
They wove through the dense vegetation, the charging, five-ton bull elephant hot on their heels.
He was so close, "you could feel the vibrations in the ground," Kennerknecht said.
With the elephant gaining on them, the two men split up. The biologist went right and Kennerknecht turned left.
"It was enough of a confusing moment for the elephant to stop," Kennerknecht said. "He did go back to my camera and mess with it a bit, however."
That elephant encounter was just one of the adventures the 2007 ecology and evolutionary biology graduate from College Eight has had during his career as a wildlife conservation photographer. Specializing in photos of wild cats, Kennerknecht has traveled to five continents in pursuit of his craft. He has camped in the mountains of Kyrgyzstan in order to capture photos of the elusive snow leopard, a spot so remote it was a four-hour horseback ride just to get to the nearest road, and documented the phantom coastal jaguar preying on sea turtles in Costa Rica. He has missed plunging into a river chasm as the vehicle in which he rode fishtailed across a narrow bridge during a rainstorm, tracked endangered Arabian leopards in war-torn Yemen, and has the distinction of being the only photographer in the world to successfully take a high-resolution shot of the mysterious Borneo bay cat in the wild.
His shots have appeared in newspapers, magazines, and on websites around the world. He spends up to nine months on the road.
"I love animals and I love them so deeply that I care about their conservation as so many of their populations decline," Kennerknecht, 36, said in a phone call during a rare moment at home in his small cabin in the hills of Pescadero. "For me, photography is the best tool in my tool belt to help in that fight."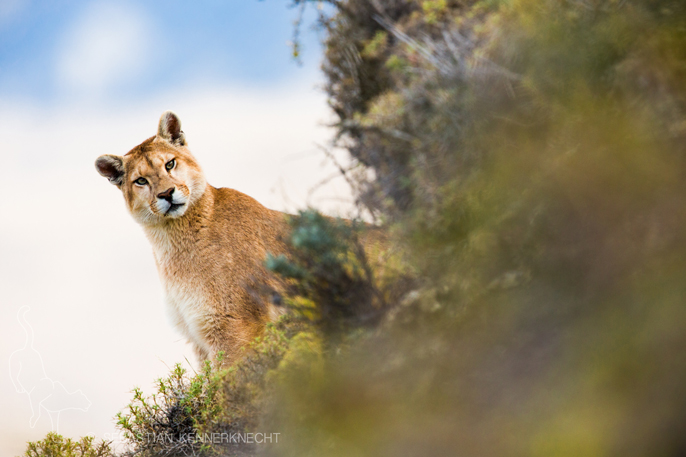 On the phone, Kennerknecht was voluble and animated, a born storyteller. It was at UC Santa Cruz, he said, that his passion for wildlife photography was born.
Rambling through the forested campus where deer and coyotes wandered, Kennerknecht said, he became obsessed with bobcats. He read up on the cat's behaviors, talked to a few professors, and staked out likely spots where bobcats might roam. It took two months but eventually he located a bobcat and her cub and was able to photograph the pair. One of his shots appeared in the local "Bay Nature" magazine. He was hooked.
Kennerknecht talked his way into an internship with famed Santa Cruz wildlife photographer Frans Lanting, missing his college graduation ceremony because he was with Lanting in Senegal helping capture images of tool-using chimpanzees but learning an important lesson, too.
"Working for Frans, there was this moment of 'Wow, I see how many people he reached with his photos,'" Kennerknecht said. "It doesn't matter what language you speak. When you see a photograph, you are able to feel empathy for the animal in it and that is huge for conservation."
There is one major problem about setting out to photograph some of the world's most elusive cats, however: You have to find them first.
For Kennerknecht that means not only using his knowledge of animal behavior honed while he was at UC Santa Cruz but also working closely with scientists in the field.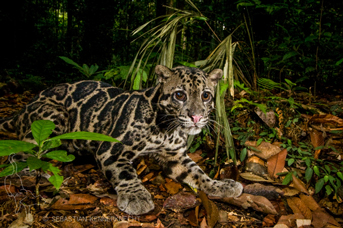 "My whole education of ecology, of understanding why animals do what they do, was huge," Kennerknecht said. "It got me from a level of loving animals to understanding animals. That was tremendous."
In the Tawau Hills Park on the island of Borneo, for instance, where he went to photograph the endangered bay cat, Kennerknecht learned one of the researchers' low-resolution video cameras had spotted the wild cat high on a ridgeline trail. Kennerknecht waded into the rainforest, which pulsed with the constant buzz of insects and was alive with biting ants, leeches, and nagging flies, and climbed to the ridge. There, he set up four waterproof SLR camera traps — cameras triggered by motion sensors — and went off to wait.
Three weeks later, Kennerknecht's now-mold covered cameras had caught no images of the cat, although, frustratingly, the researchers' video camera recorded a slightly blurry black-and-white image of the animal walking directly behind Kennerknecht's equipment.
A return trip, however, yielded the world's only high-resolution image of the small, chestnut-colored cat in its habitat.
"It was a combination of working closely with biologists and understanding the ecology of the cat," Kennerknecht said.
It was also a product of Kennerknecht's ability to suffer hardship and face risk in pursuit of his goal to raise awareness and protect the animals he loves.
"I want to be a voice for the animals that can't speak for themselves," Kennerknecht said. "I want to see them around [for a long time]. …I want to fight for them when they can't fight for themselves."
His photographs of cats, from jaguars to ocelots and caracals, have garnered millions of views and have filled his calendar with assignments that take him from Europe to Africa and South America.
Meanwhile, one of Kennerknecht's most recent assignments brought him full circle, working with UC Santa Cruz's Professor of Environmental Studies Chris Wilmers to capture shots of pumas in the Santa Cruz Mountains.
"He's someone who, one, has a sense of adventure and is tireless," Wilmers said of Kennerknecht. "To get good photos you have to be out there all the time, you have to want to be out in the field, and, two, he also has a great eye and really understands the biology and the ecology of the species. Finally, he's a wonderful guy to be around."
In fact, said Wilmers, whose team studies the effects of climate change and human activity on pumas, Kennerknecht volunteered his time to take the shots and gave them to the lab to use in whatever way was needed — an unusual gift for most wildlife photographers to give.
"They [the shots] help us promote the work we do here," Wilmers said.
To learn more about Kennerknecht's work visit his website. You can view more pictures at UC Santa Cruz's version of this article.