November 16, 2023
Scott Hernandez-Jason
,
UC Santa Cruz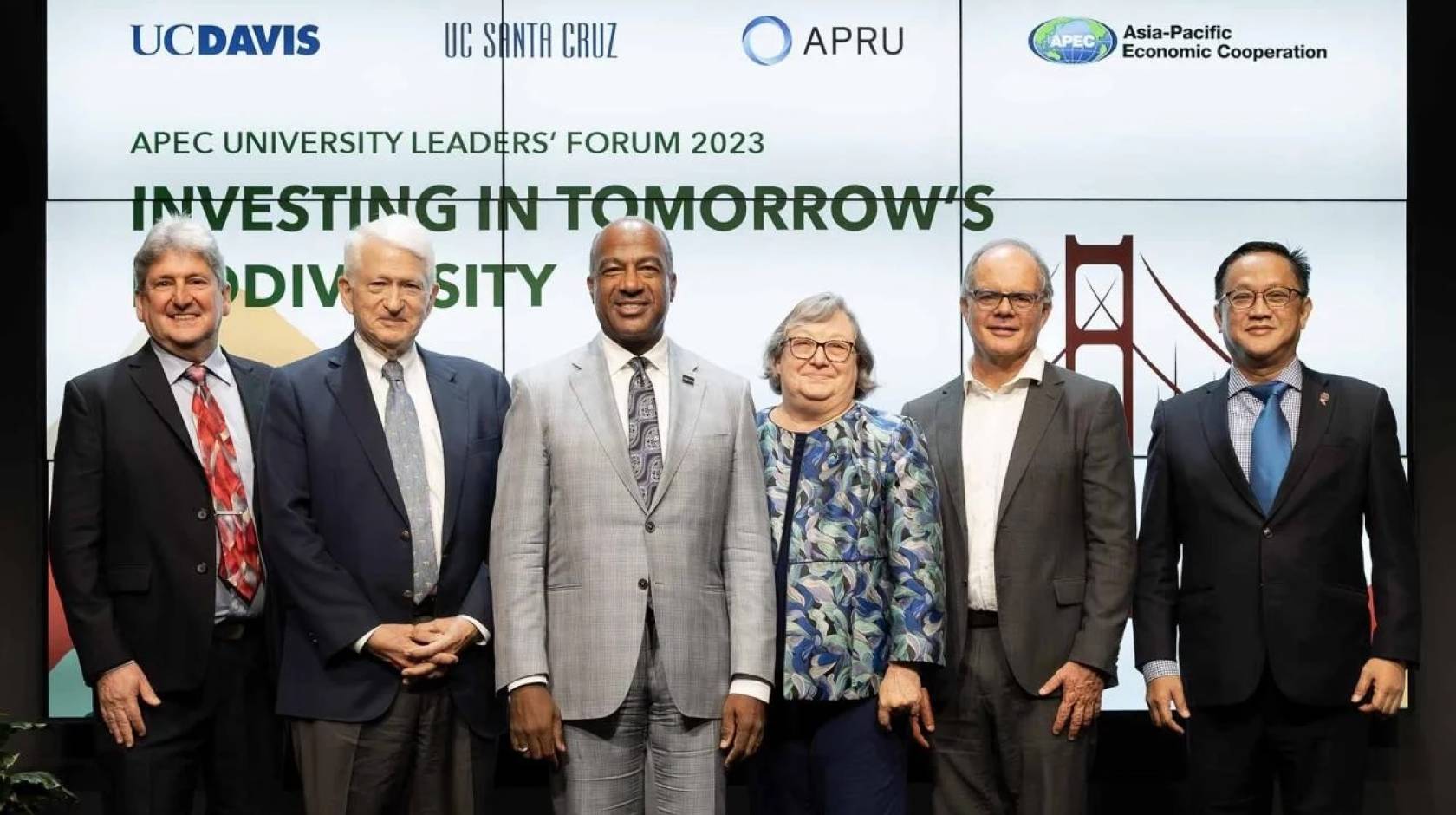 Credit: Peopletography/Sarah Gonzalez
With a focus on sustaining and strengthening global biodiversity in the face of climate change, UC Santa Cruz hosted the Asia-Pacific Economic Cooperation University Leaders' Forum, bringing together nearly 100 international leaders in education, industry, and government.
The forum, "Investing in Tomorrow's Biodiversity," also showcased innovative solutions-focused research at UC Santa Cruz to create a more sustainable future.
"Sustainability is the issue of our times," Chancellor Cynthia Larive said. "Developing lasting solutions requires innovation, dedication, and collaboration, and events like the APEC University Leaders' Forum give me hope that we will reduce the impact of climate change and sustain biodiversity for generations to come."
Co-sponsored with UC Davis and the Association of Pacific Rim Universities (APRU), the event was held in San Francisco on the sidelines of the annual Asia-Pacific Economic Cooperation CEO Summit. The forum featured high-level conversations between CEOs, policy leaders, university presidents, and top researchers to drive investment in biodiversity.
A dynamic program
The forum featured keynote addresses by Food Systems for the Future CEO and Managing Director Ertharin Cousin, who served as U.S. Ambassador to the United Nations Agencies for Food and Agriculture, and by California Academy of Sciences Executive Director Scott Sampson. Four panels showcased expertise from worldwide leaders in business, non-government organizations and higher education.
Forum speakers were passionate and engaging, spurring discussions on the importance of education, the interconnectedness of the health of people and the planet, the critical need to work together across sectors and with a diversity of perspectives, and the unique role and responsibility of universities in innovation and sustaining the biodiversity landscape.
UC Santa Cruz Assistant Professor of Environmental Studies Natalia Ocampo-Peñuela joined in a discussion about responding to changing biodiversity. Professor and Director of the Center for Coastal Climate Resilience Michael Beck talked about opportunities to mitigate climate change impacts on coastal communities. Associate Vice Chancellor for Research Eric Palkovacs served as an emcee and participated in the closing ceremony.
Advancing coastal resiliency, sustainability
UC Santa Cruz has a long-standing, deep commitment to environmental sustainability that is intertwined with campus research, teaching, and operations.
Sitting on the edge of the Monterey Bay, UC Santa Cruz is nationally recognized for its marine science and coastal sustainability research. Researchers with the Institute of Marine Sciences are increasing understanding of the world's oceans, the complex processes that affect their behavior, and their fascinating inhabitants.
Through the Center for Coastal Climate Resilience, UC Santa Cruz is tackling the most pressing challenges facing coastal ecosystems and human communities, including coastal hazards, food security, biodiversity loss, freshwater supply, energy, and human health.
UC Santa Cruz is also a pioneer in organic farming with more than 50 years of industry-leading research in organic agriculture and sustainable farming practices. The UC Santa Cruz Center for Agroecology is advancing equitable food systems through experiential education, participatory research, agricultural extension, and public service.
As universities continue to adapt and evolve in a rapidly changing world, the forum served as an important platform for fostering global leadership and innovation. Attendees gained new insights and learned about opportunities to collaborate on efforts to support the health of the planet.
Courtesy UC Santa Cruz