Dr. Carrie L. Byington started as executive vice president of UC Health today (Oct. 31). The University of California Board of Regents appointed Byington at its July meeting to lead the university's health enterprise following a nationwide search.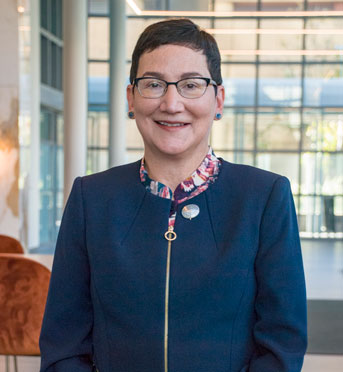 "Joining a system that is an engine for health care progress is a dream come true," said Byington. "UC Health is in a strong position to drive meaningful transformations that strengthen health education and improve patient care in California and beyond. Our UC system can serve as a model for the nation."
As the head of UC Health, and working in conjunction with campus leadership, Byington will provide strategic direction, oversight, guidance and development for 18 health professional schools on seven campuses. UC Health also includes nationally recognized academic medical centers in Sacramento, Irvine, Los Angeles, San Diego and San Francisco, the community-based health system of UC Riverside Health, clinical oversight of the university's student health and counseling centers, and administrative responsibilities for the self-funded and flex-funded health plans offered to university employees. In addition to those responsibilities, Byington will hold a tenured faculty position in pediatrics at UCSF.
In September 2019, the Regents approved the formation of UC Health's 19th school, a school of public health at UC San Diego Health.
As a thought leader in academic medicine and an elected member of the National Academy of Medicine and National Academy of Inventors, Byington brings a focus on eliminating health disparities, especially among vulnerable populations, expanding health student training opportunities, increasing student diversity to reflect California's population, and improving patient access to care. She has emphasized these areas in her initial communications to the UC community.
Byington has been a clinician and educator her entire career and her extensive research background spans the spectrum from basic laboratory experience to health systems science. Prior to UC, Byington served concurrently in the following roles: vice chancellor for health services at Texas A&M University, a multi-institution public university system; senior vice president of the Texas A&M University Health Science Center; dean of the Texas A&M College of Medicine; and Jean and Thomas McMullin professor.
Before joining Texas A&M in 2017, Byington spent more than 20 years in teaching and leadership positions with the University of Utah, most recently as associate vice president, faculty and academic affairs at the University of Utah Health Sciences Center and as principal investigator for the Utah Center for Clinical and Translational Sciences.
Byington received her bachelor's degree in biology from Texas A&M and her doctor of medicine from Baylor College of Medicine, both with honors. Byington trained in pediatrics at Texas Children's Hospital and in pediatric infectious diseases at UCSF.
Byington succeeds Dr. John Stobo, who announced in fall 2018 his retirement after more than a decade of service to UC.