The University of California Board of Regents approved today (Sept. 19) the appointment of Dr. Craig Leasure, a longtime UC leader with extensive experience in directing and operating large-scale national labs and weapons programs, as the next vice president of the university's Office of the National Laboratories following a nationwide search.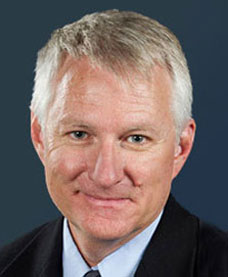 Leasure, who has served as interim vice president of the Office of the National Laboratories since February 2019, will be responsible for oversight of UC's three nationally affiliated laboratories: Lawrence Berkeley National Laboratory, Los Alamos National Laboratory and Lawrence Livermore National Laboratory.
Before his interim role, Leasure spent 28 years in a variety of critical positions with Los Alamos National Laboratory, including leadership of their national weapons program, and later as UC's associate vice president for national labs. Throughout his more than 30-year career Leasure has worked with Department of Energy laboratories, overseeing a broad range of critical functions, from running nuclear weapons programs to championing significant improvements in lab communications, safety and operations.
"UC's laboratories play a vital role in science and national security, among other areas, and thankfully we did not have to look far to find an exemplary candidate to lead the university's efforts," said UC President Janet Napolitano. "I have no doubt that Dr. Leasure is by far the best person to spearhead our continued collaboration with the federal government on nuclear security as well as the university's research to address energy, environmental, infrastructure and health issues."
Leasure will coordinate with the UC Board of Regents, the UC Office of the President and relevant governing boards to manage UC's cutting-edge research in science, technology and engineering, while supporting the business operations, compliance and stewardship of the three laboratories. In addition to strengthening key relationships between the UC labs and state and federal government, Leasure will be in charge of ensuring that UC provides an environment of the utmost intellectual integrity at the labs.
"I am incredibly honored to be given this opportunity at such an important time in our nation," said Leasure. "I look forward to continuing to work even more closely with my colleagues at the UC-affiliated labs, as well as supporting the world-class research we conduct as part of our public service mission."
The search committee for the vice president position was chaired by President Napolitano and committee members included UC Regent Charlene Zettel, UC San Diego Chancellor Pradeep Khosla, Lawrence Livermore National Laboratory Director William Goldstein, Lawrence Berkeley National Laboratory Director Mike Witherell, UC Davis professor Robert Powell and UC Merced professor Peggy O'Day.
"I've had the pleasure of collaborating with Dr. Leasure over the last year and deeply respect his laboratory expertise and capabilities," said Witherell. "The federal government relies on UC to support its priorities in science, security, energy and the environment, and Dr. Leasure is the perfect fit for this role, given his deep experience in these areas over his career."
Prior to UC, Leasure worked for Lockheed Engineering and Sciences Company at NASA's White Sands Test Facility, and spent his last two years with Lockheed as the department manager of the Laboratory Test Department. He oversaw the department's work in scientific, engineering and test operations at two major facilities, including hazardous testing for explosives, rocket fuels and oxidizers, high-pressure gaseous hydrogen and oxygen, and liquid hydrogen and oxygen.
Leasure received his bachelor's degree in chemistry from Florida State University, his master's degree in chemistry from Eastern New Mexico University, and his Ph.D. in analytical chemistry from New Mexico State University. He has written or co-written more than 20 scientific papers, and holds one patent for an improved ion mobility spectrometer.
Leasure will start his new role on Oct. 1 and receive an annual base salary of $384,500.