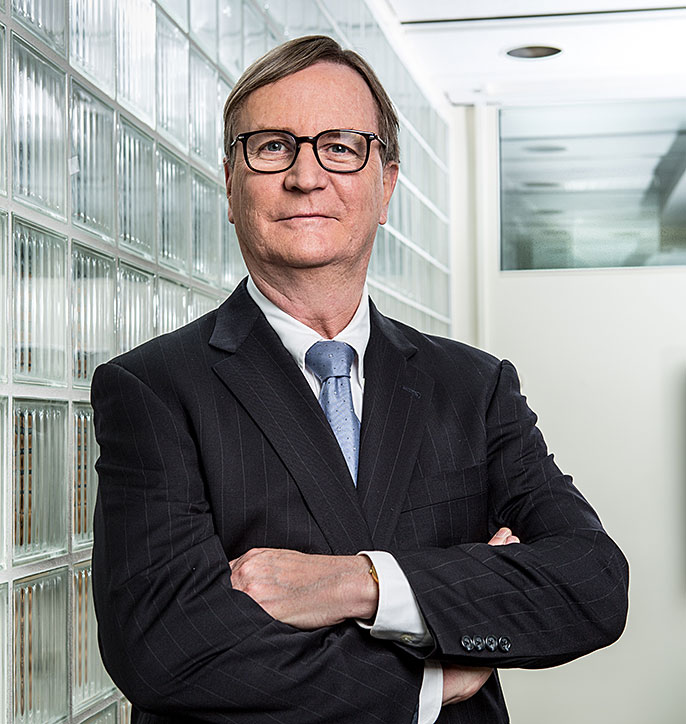 The University of California Board of Regents today (July 17) approved Sam Hawgood as the 10th chancellor of UC San Francisco, where he has served as dean of the UCSF School of Medicine and interim chancellor.
Hawgood, 61, was selected by President Janet Napolitano as the next chancellor after he rose to the top of a strong field of candidates. A search committee composed of regents, faculty, alumni, staff and students reviewed more than 375 candidates and interviewed seven finalists for the position.
"Dr. Hawgood's list of accomplishments in the lab, in the clinic and in the administrative suite is long and illustrious," said Regents Chairman Bruce D. Varner.
"Throughout a truly exhaustive selection process, Dr. Hawgood demonstrated the intellectual inquisitiveness, leadership acumen and powerful vision we seek in our chancellors," Napolitano said. "When an exhaustive search lands on a candidate from within the institution, it is a sign that the enterprise is fundamentally robust. We have been fortunate to have Sam as a member of the UC family for more than 30 years."
Hawgood had served as interim chancellor since Susan Desmond-Hellmann stepped down April 1, 2014, to become chief executive officer of the Bill & Melinda Gates Foundation.
UCSF, with an annual budget of $4.2 billion, includes nationally top-ranked graduate schools of medicine, dentistry, nursing and pharmacy, as well as affiliated hospitals, a pre-eminent biomedical research enterprise and a graduate division with nationally renowned programs in basic, biomedical, translational and population sciences.
"I understand and deeply respect the core values of UCSF – and both the principle and practice of shared governance with the faculty," Hawgood told the regents after they approved his appointment.
"But I know that, while we should remain connected to our past and preserve our values," he said, "our times call for a rigorous look at the reality of the world today and a willingness to move forward in new directions. I embrace the opportunity to work closely with the faculty as we embark, together, on this journey."
The Board of Regents approved a state-funded base salary of $500,000, plus $250,000 to be funded through an endowed chair, The Arthur Rock and Toni Rembe Distinguished Professorship, created specifically for the chancellor position by the UCSF Foundation, using no state funds. His total cash compensation ranks 34th among chancellors and presidents of the 62 public research universities that are part of the Association of American Universities.
Consistent with past practice, Hawgood will receive an annual auto allowance of $8,916, and the university will provide him with the existing UCSF Chancellor's home, which is suitable for duties such as fundraising. The residence is maintained with non-state funds.
With 22,800 faculty and staff, UCSF is the second-largest employer in San Francisco, and generates more than 17,000 additional jobs locally through its construction, its expenditures and purchases by employees, students and visitors.
Hawgood has served as dean of the UCSF School of Medicine and as vice chancellor for medical affairs since September 2009, after assuming the role of interim dean in December 2007. He previously had chaired the Department of Pediatrics, having first served in an interim role. He also served as associate director of the Cardiovascular Research Institute.
The School of Medicine has an operating budget of more than $1.9 billion, 7,400 faculty and staff, and about 3,655 medical and graduate students, residents, fellows and postdoctoral scholars. The school's clinical faculty is known widely for world-class medical care through its practice in the top-ranked UCSF Medical Center, UCSF Benioff Children's Hospital, San Francisco (newly affiliated with Children's Hospital Oakland, now known as UCSF Benioff Children's Hospital, Oakland), Langley Porter Psychiatric Institute, San Francisco General Hospital & Trauma Center, and the San Francisco Veterans' Administration Medical Center.
Under Hawgood's leadership, the school became the top medical school in the nation in research funding from the National Institutes of Health ($439.6 million in 2013), with many of its departments also leading the nation in their fields. It also became the only medical school in the nation to rank in the top five in both research and primary-care education, in the U.S. News & World Report's annual assessment of graduate schools.
Numerous organizations and publications have recognized Hawgood's scientific contributions. He is past president of the Society for Pediatric Research and a member of the American Association of Physicians, and in 2010 was elected to the Institute of Medicine (IOM), which provides authoritative advice to Congress, other decision makers and the public as part of the National Academy of Sciences. Membership in the IOM is one of the highest honors for individuals at the top of their fields.
"Curiosity-driven basic science is and will remain the jewel in the UCSF crown," Hawgood said, "but two realities must be faced. The first is funding. Federal funding in basic research and development is flat with declining purchasing power. I am committed to doing everything possible to strengthen basic research at UCSF.
"The second is the merging of technologic and biologic sciences in ways unimagined only a few years ago. Both these trends in the research sector suggest innovative public-public and public-private partnerships are needed as well as new routes to commercialization."
UCSF research has led to revolutions in health and therapeutics, from the birth of the field of biotechnology and first therapies for HIV/AIDS to clinical innovations such as fetal surgery and stem cell therapies offering the promise of transforming lives worldwide. The faculty includes five Nobel laureates, who have made seminal contributions to advance the understanding of cancer, neurogenerative diseases, aging and stem cell research.
Hawgood has been active for decades in clinical medicine. He served as division chief of the Division of Neonatology, then as chair of Pediatrics and physician-in-chief of the UCSF Benioff Children's Hospital before becoming dean. He has been serving as president of the UCSF Medical Group, the faculty association that represents more than 1,800 UCSF physicians.
He joined UCSF as a research fellow in 1982, working with distinguished scientists John A. Clements, M.D., and William H. Tooley, M.D., both pioneers in the discovery and therapeutic uses of pulmonary surfactant, the key lipoprotein that lines healthy lungs and enables them to expand with each breath. He has maintained his own laboratory since 1984. His research has gained him an international reputation in neonatology research.
A native of Australia, Hawgood entered medical school at the age of 17, and was graduated with First Class Honors from the University of Queensland in Brisbane with a degree in medicine and surgery (MBBS).
Hawgood and his wife, Jane, a social worker who recently retired after focusing on palliative care for adults, met at the University of Queensland. They have two grown sons.